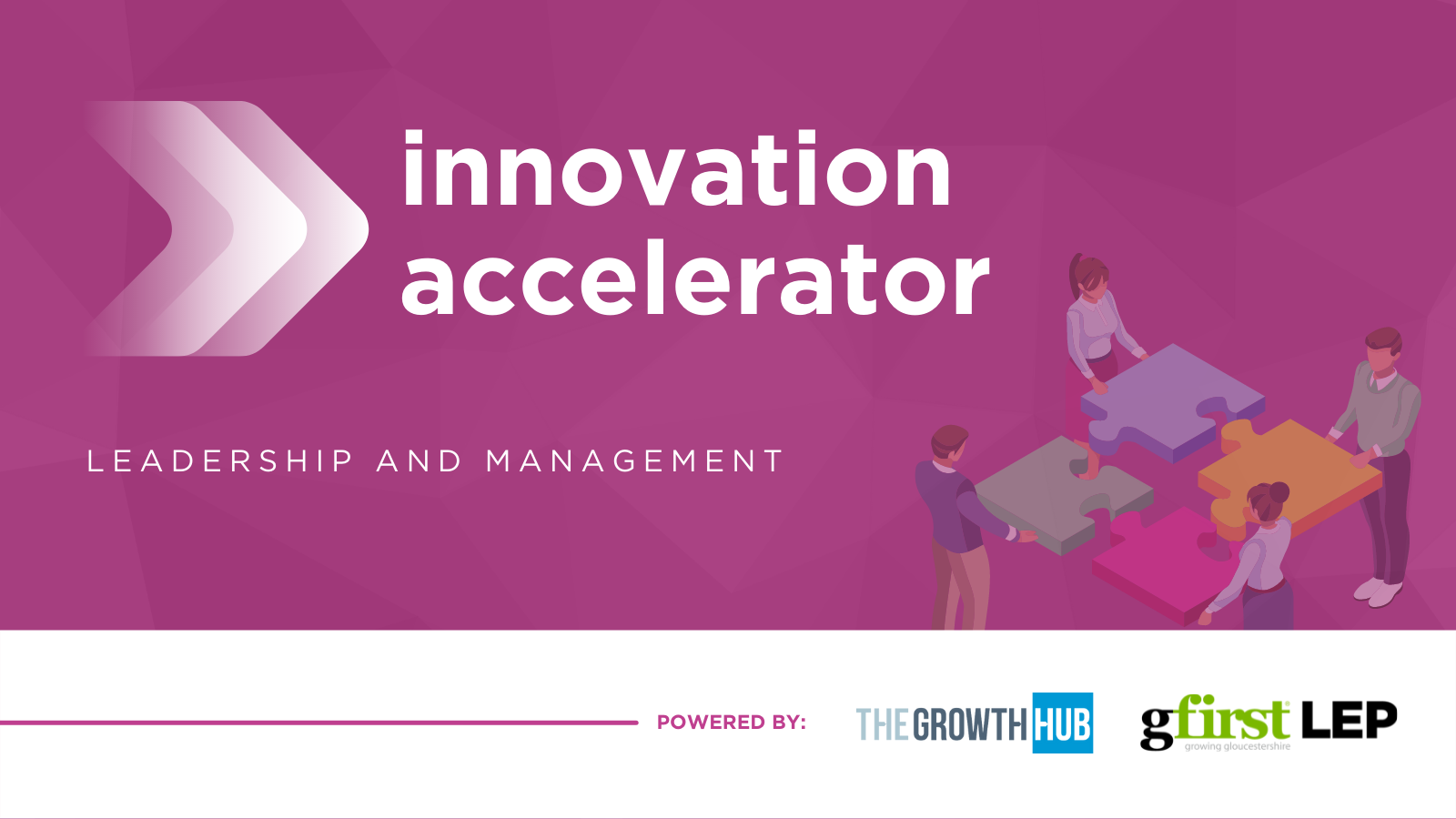 New pilot scheme launched to help Gloucestershire businesses innovate
How does your business respond to change? With panic? Resistance?
Whether economically, technologically, or culturally – change is par for the course in business. And today, it's happening faster than ever. The pandemic has forced our hand and required us to be more fluid and agile than before. The survivors have kept up with the pace. The thrivers have gone one step further.
As a business leader, it's how you lead and manage change that will set you apart from your competitors.
The Growth Hub and GFirst LEP are launching a new pilot scheme to help drive innovation within Gloucestershire's SME community. 'Innovation Accelerator' equips business leaders with the skills to embed innovation and change management within the culture of their business, in order to deliver sustainable growth.
Sarah Danson, Director of Strategic Growth for GFirst LEP commented: "We are looking for SME business leaders to take part in our pilot programme. This is a great opportunity to establish and advance the innovation mindset and change management skills required for growth."

"Through using our free online learning portal available 24/7, you will discover practical and independent resources to develop innovation within your business. Providing unlimited, free access, the portal can help you and your employees build a suitable framework to fit your companies culture and product or service offering."
We know that as an SME leader, your most valuable asset is time. Innovation Accelerator offers 24/7 access, working around your lifestyle and commitments. Unlike a typical online learning course, you can use Innovation Accelerator's invaluable tools whenever and wherever you need, with unlimited access for you and your team members.
You'll start by completing our simple diagnostic questionnaire which will record a baseline and provide recommendations for modules to complete based on your business needs. There is no set order, you can pick and choose what and when you study. 
Innovation

Accelerator

includes:
Idea generation

Idea management

Product and service development

Commercialisation

Process analysis and improvement

Process automation

Business planning and management
Our practical, easy-to-apply resources are delivered through slide material backed with audio plus a reading list, video hyperlinks, tools and templates – providing everything you need to innovate.
Expert, bespoke support provided
Plus, you will be supported by innovation experts Rod Horrocks and Paul Spenley through drop-in webinars to apply the knowledge you've learnt through the programme, to your business.
Rod Horrocks, Delivery Manager of Innovation Accelerator, commented: "We will fully support leaders who take part in the pilot programme. You will be able to receive bespoke advice and one-to-one support."

"Your feedback is key. We want leaders to share their experience to help shape the content and delivery before a major roll out of the programme to all SMEs across the county."
Innovation Accelerator will support you to develop new skills (or brush up on old ones) and provide you with the confidence you need to start increasing your innovation initiatives.
Open and free to all
Whether you are just starting your business or lead a well-established SME, the free Innovation Accelerator programme is open to all and will add value to all individuals and business sizes. With the flexibility to work at your own pace, you'll have free access to the online learning portal in a way that suits you.
Register your interest in Innovation Accelerator now. Our team will then provide you with login details granting access to the Innovation Accelerator portal.
You can feedback to the team behind Innovation Accelerator via: innovation@thegrowthhub.biz