11th
October 2023
|
09:00 - 11:00
WORKSHOP
Event description
Do you want to be sustainable but don't know where to start? The Growth Hub in the Forest of Dean is delighted to offer insight, inspiration, and practical guidance on how a business can start to implement a journey to Net Zero.
Led by Growth Hub Net Zero Guide - Andrew McKenzie and supported with an insightful case study by Mark George from The Dean Heritage Museum, an accredited museum, educational charity, and tourist business in the Forest, this 2 hour, fully funded event will provide the perfect introduction to carbon auditing and ways of reducing a carbon footprint.
Please note, this workshop will be held on location, see below for more details.
What will I learn?
The scope classifications and methodology behind the GHG protocol.
How to collate data, both primary and secondary, to undertake an audit.
How the exercise maps out the aspects and impacts an organisation has with its environment.
How a carbon footprint provides a baseline on which to start a journey towards Net Zero.
Who should attend?
Any business that wants to learn how to gain a baseline and start decarbonising their operations towards Net Zero.
Event Accessibility
The Growth Hub is committed to providing universal access to all of our events. Please contact the Forest of Dean Growth Hub team on forestofdean@thegrowthhub.biz or call 01594 546661 to request disability accommodations. Advance notice is necessary to arrange for some accessibility needs so we request you contact us at least five working days before the event whenever possible.
About the speaker
Andrew McKenzie (Specialist Business Guide - Sustainability) , Gloucester Growth Hub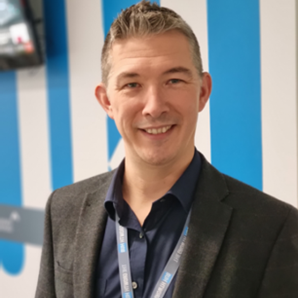 Andrew is a sustainable-business leader focused on helping organisations lighten their footprint as they address the opportunities and challenges of climate change. Andrew has worked across multiple sectors supporting clients to develop and embed purpose-driven strategies within their operations. As a champion of innovative technologies and solutions, Andrew has worked with businesses to improve their resource efficiency, reduce their environmental impact and establish market differentiators.
Mark George , Dean Heritage Museum Trust (t/a Dean Heritage Centre)

Mark George is the Centre Manager of the Dean Heritage Centre, taking the operational lead and developing a strategic development and sustainability plan for the Museum. His is also a Director of the Forest of Dean and Wye Valley Tourist board and Chair of the Our Forest leadership Committee. Mark is passionate about Net Zero and working with the Growth Hub Net Zero team, is showing the way on how sustainability can be applied to the heritage sector.
Location
Vantage Point Business Village, Ground Floor, Building Seven, Western Avenue, Mitcheldean Gloucestershire GL17 0DD
Event organised by
Forest of Dean Growth Hub
The Forest of Dean Growth Hub is based at Vantage Point. Partnered with Vantage Point, The Forest of Dean Growth Hub is here to help every Gloucestershire business grow.
---
Key themes
Apply to attend this event
Sorry, this event is full
You might also be interested in
05th
December 2023
|
09:00 - 12:00
WORKSHOP: How to Build your LinkedIn profile
Free WORKSHOP event
Tewkesbury
Apply to attend
07th
November 2023
|
09:00 - 12:00
WORKSHOP: How to create your 12 step social media strategy
Free WORKSHOP event
Tewkesbury
Apply to attend
03rd
October 2023
|
09:00 - 12:00
WORKSHOP: How to grow your business on Instagram
Free WORKSHOP event
Tewkesbury
Apply to attend