17th
December 2018
|
15:00 - 17:00
Spotlights
Event description
As a small or medium-sized business, marketing can be everything. You might feel that yours isn't delivering the quality or quantity of customers you need, limiting your opportunity for growth. You might be overwhelmed by all of the marketing channels available; should you be in magazine or on social media, at local events or in national press? You need to stand out from the crowd of competition.

In this one to one clinic with Nigel Knowlman, discuss your current challenges and how your business is prepared to meet them:


Do you have a clear marketing strategy for your business?


Do you truly understand your target market and what your customers want?


Do you understand what's special about your business?


Do you know the best ways to attract and keep your customers? Is your pricing strategy making you the best returns?
What is a Spotlight?
Spotlights are your opportunity to spend up to an hour with an expert consultant, one-on-one. These sessions normally have a specific focus, but their value is in having the undivided attention of a subject expert who can answer your specific queries.
About the speaker
Nigel Knowlman , Sunnyfield Marketing Ltd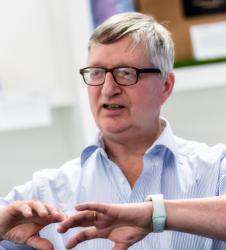 Nigel Knowlman has 25 years' experience in marketing, including 10 years as UK Marketing Manager for Spirax Sarco in Cheltenham. He spent three years in South Korea and has experience in the Health, Environmental and Utilities sectors and the BBC. Since 2013 Nigel has run his own marketing consultancy and is a founder of the Business Kitchen which brings together groups of SME's to help them achieve their ambitions. Nigel is a member of the Chartered Institute of Marketing and a published author on support for small businesses.
Location
The Growth Hub Oxstalls Campus Oxstalls Lane GL2 9HW
Apply to attend this event
You might also be interested in
29th
January 2020
|
09:00 - 12:00
ONE-TO-ONE: How to Start an Eco Business
Free One-To-One event
Tewkesbury
Apply to attend
28th
January 2020
|
10:00 - 13:00
ONE-TO-ONE: How to Take your Product from Idea to Reality
Free One-To-One event
Cirencester
Apply to attend
30th
January 2020
|
09:00 - 12:00
ONE-TO-ONE: How to Plan Well and Maximise Profits
Free One-To-One event
Gloucester
Apply to attend