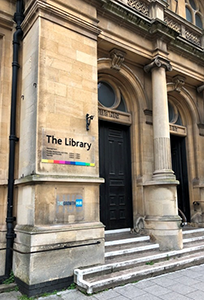 In partnership with GFirst LEP, Gloucestershire County Council has embedded Growth Hubs into all of its 31 libraries across the county.
The Growth Hub @ The Library is a focal point for business owners who are seeking the relevant information, support, and knowledge needed to grow. Providing access points to free business support and resources, The Growth Hub @ The Library is an entry point into the wider network of Growth Hubs around the county.
Selected libraries have co-working spaces and business areas, whereas some simply have literature and guidance. Coleford Library is even home to an Innovation Lab, containing 3D printers, a digital sewing machine, virtual reality headsets and other programmable technology to support your business.
You can drop into any library to access The Growth Hub's online support, or find out what additional support is available by completing an eligibility check. Those businesses which are eligible will be contacted by The Growth Hub team, to discuss their needs and how The Growth Hub can help.