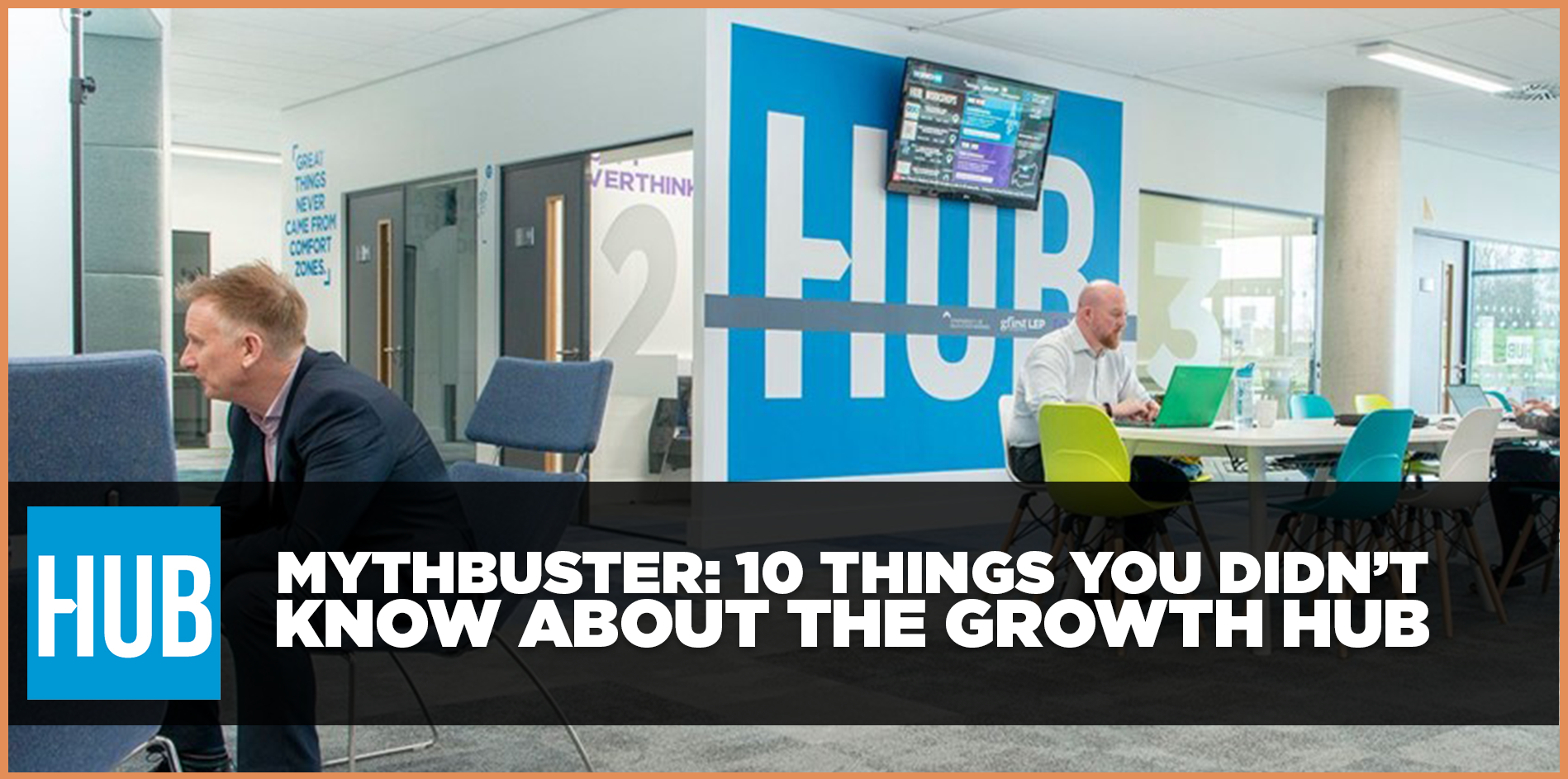 Although we've supported more than 10,000 businesses and welcomed countless more people into our Growth Hubs over the past seven years, there are still lots of myths and misconceptions about what we do. We have heard some clients dub us the 'best kept secret in the county', but we want to change that.
1. We're not just for start-ups
Far from it. In fact our focus is on high-growth firms, which is where we can make a real difference to the economy. Almost half of all businesses that we have supported in the last 12 months are more than two years old, and more than 15 per cent are turning over £500,000 or more.
Our shiny co-working spaces and free support may come across as perfect for start-ups, but it's our neighbours, Start and Grow Enterprise, who are the specialists in that field.
2. There are more Growth Hubs than you think
For a long time there was only one Growth Hub, but so much has changed since then. From the first of the new wave of Hubs at the Royal Agricultural University in Cirencester and at Tewkesbury Borough Council, to the opening of mini-Hubs in every Gloucestershire County Council library (31 of them in total) to the exciting recent launches of Hubs in Stroud, Cheltenham, and the Forest of Dean. Now, you're as close to your local Growth Hub as you are to your gym. But we're a lot more fun.
3. We are extremely well connected
Not like mafia-connected. Like the extended network of our team is incredibly far-reaching. Our advisors come from an eclectic mix of backgrounds, with former leaders in banking, aerospace, telecoms, retail, corporate, and much more. Add to this that they have collectively worked with just about every type of local business, and it'd be a tough ask to find somebody they couldn't introduce you to.
4. There is no end to your support
Those business leaders who have been through one of our programmes will be very familiar with the concept of three hours and 12 hours. If you're a small business working with a Business Navigator, you're entitled to three hours of support. If you're a larger business working with a Business Guide, you're entitled to 12 hours.
But many people believe this is a maximum. It's not. It's a minimum. Through a mix of direct meetings, facilitated introductions, workshops, and training – many savvy business leaders have found themselves on the receiving end of 20+ hours of free support.
5. And yes. It really is free. No catches. No secrets.
Any support offered by any Growth Hub in Gloucestershire is 100 per cent free. You don't have to pay for the support you get from our Navigators, Guides, or workshops.
Some of our Hubs have developed additional services you can pay for, like subsidised offices, or membership programmes, but their business support remains free, full stop.
6. Our signposting is supercharged
Signposting gets a bad name. It's a palm-off. It's a redirection of a question. Not with us.
We pride ourselves on only recommending that you speak to the people, companies, and agencies which can add real value to your business. Part of the reason we spend so long getting to know you is so that we can properly diagnose and prescribe the right support, and that includes support from outside of The Growth Hub. Our team spends hours every week making sure they're aware of what's available, when, and where – so that you can focus on the tough stuff.
7. We bring in the big guns
It wouldn't be possible to do what we do with just our in-house team, especially not our huge workshop programme. So far this year, we've already delivered 73 online events on specialist subjects, and for that we've drafted in almost 40 speakers, trainers, and delivery partners from across Gloucestershire and beyond.
We don't pretend to know it all. When somebody asks for something niche, we go out to market and find the person who can deliver it.
8. 10,000 chances to learn something new
Within the membership area of our website is a little-known resource of huge value. Another one of the services that we pick up the bill for, so that you can have free access, is our subscription to the Complete Business Reference Advisor, or COBRA.
COBRA is home to more than 10,000 guides, factsheets, and FAQs on everything from raising investment to commercial property, or from supply chain management to commercial contracts. Or quail farming. Or jam making. The usual.
9. There's a bit of paperwork to complete
Okay, this one isn't a myth. We do ask you to complete a few forms whenever you access our support. It's the trade-off for not paying to attend our events or get free advice from our consultants. We think it's a good deal. Don't you?
10. There is, sometimes, funding available
It's the most common question we're asked – do you have grants available?
Most of the time, the answer is no. We always do our best to point people in the direction of other funding we know about, but historically we haven't offered grant funding ourselves. But during COVID, all of that changed. We have now offered a number of different grants to Gloucestershire businesses, the latest being a "Recovery Fund" which awarded up to £3,000 to successful firms looking to harness tech to build their businesses back up.
_____
Whatever you've heard or haven't heard about what we do, the only way to really find out is to come and speak to us.
We're always designing new programmes, recruiting new specialists, and addressing new requirements of the market. In short, what we do is changing all the time.
We'd love to show you. You can apply for support here, find out about our events here, or drop us an email here.