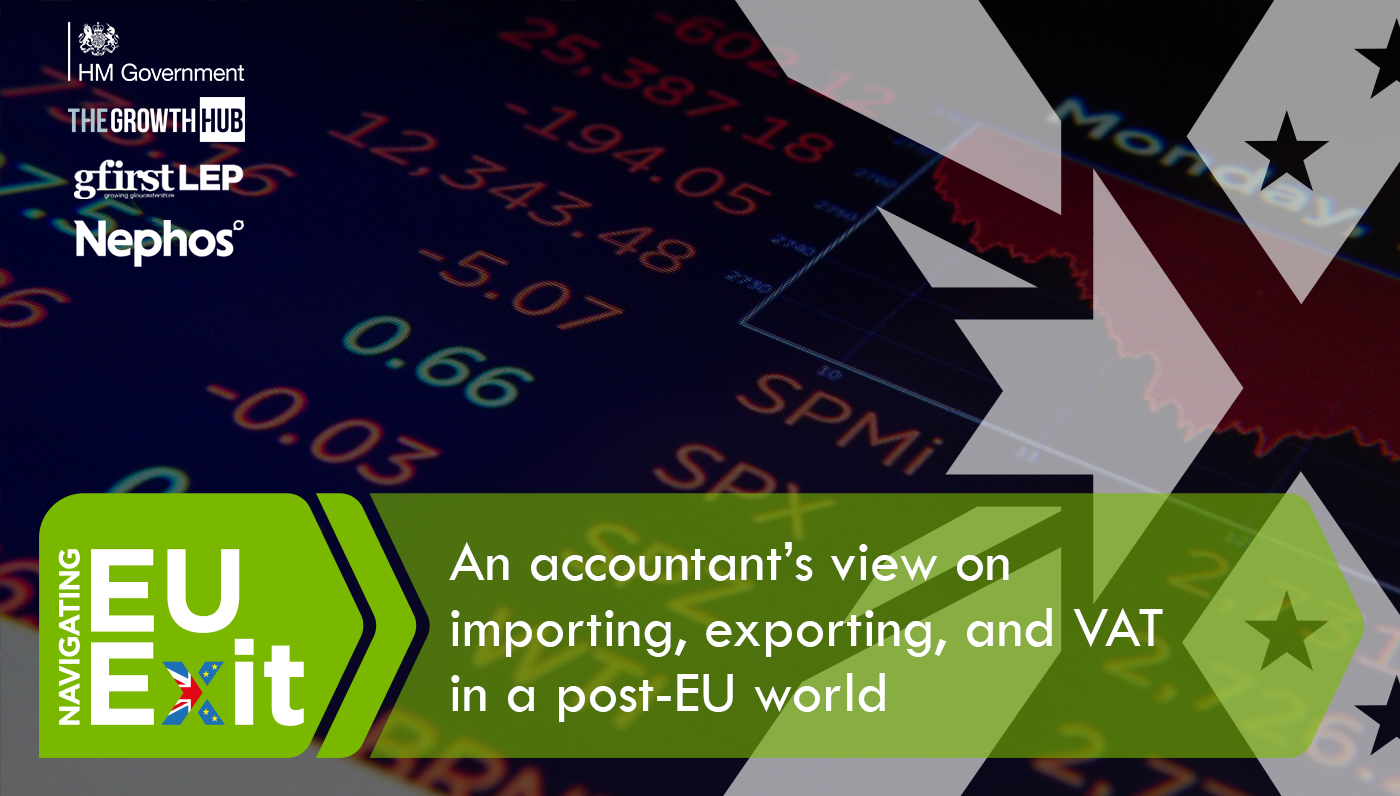 There are 101 angles to tackle the challenges of EU Exit from: commercial, data, trade, legal, HR. But what many businesses are most concerned with, whether they trade goods or services with the European Union, are the numbers.
Leanne Grant, from Nephos Accountants in Cheltenham, returns to the speculations she made when writing for us almost a year ago, with fresh insight of what EU Exit now realistically entails.
Britain has finally exited the EU. If that wasn't monumental enough, we've had a pandemic that has lasted longer than we could have imagined, and is likely to continue affecting us for the rest of this year, if not longer. So much has changed, so much is still changing. I think it is safe to say that uncertainty is at the forefront of everyone's minds, especially for business owners.
When we first spoke back in May 2020, we saw the introduction of a multitude of support from the government to help cope with COVID, in the form of grants, furlough schemes, loans and much more. The HM Treasury Spending Review for 2020 states that nearly £280 billion was spent last year to help businesses, the NHS and the general population survive the pandemic. Alongside this, we have the exit from the EU to contend with. For businesses dealing with the EU, this has probably been a very scary process to go through. We have noted everchanging information, as well as our digital systems and software trying their best to adapt to the latest news. Things are changing day by day, but below we have highlighted the main items to focus on that have changed since we last met.
Importing goods into the UK
Make sure you have your EORI number. We mentioned this in our last article – it is vital to helping with the smooth transition of the goods in process. If you haven't got one, or have forgotten, you can get one here. You will need to check whoever is sending the goods Is able to export them from their company. You will also need to decide who will make customs declarations and transport the goods. Most businesses use a transporter or customs agent. The key new piece of information to note when importing is commodity codes for the goods you are importing. These codes will determine the rate of duty you need to pay. It is also worth noting that it may take a little longer than normal to get items in, as the process is a lot more in depth than before.
Exporting goods from the UK
Before starting, make sure you check duties, rules and restrictions for your goods in the destination country. This will help avoid any hidden costs. You will also need to apply for licenses to export your goods. The full list of rules can be found here under section 2. Again similar to importing, you need to make sure you have your EORI number. The rest of the process is now the same as importing – get your goods through customs, check your commodity codes and remember it may take time!
VAT
Because the UK is no longer part of the single EU VAT area, this means the sales tax is now collected by each company. Businesses are now having to deal with rulebooks from 27 separate countries, when they are used to dealing with just one. To minimise any issues, speak to your suppliers before you place an order to check they're registered and charging UK VAT. Also make sure you are checking your cost of import duty as this can be due on delivery and range from 0 to 25%.
It has been a very long processes waiting for EU Exit to happen, but we are finally there. As we adapt to a post-pandemic and post-EU world, one thing we can take from all of this is our ability to come together in the face of adversity. The UK has persevered, and brighter days are ahead.

If you would like to speak with one of our dedicated EU Transition Advisors, please get in touch by emailing euexit@thegrowthhub.biz and stay up-to-date with more content, news and events by bookmarking www.thegrowthhub.biz/euexit

For the most current and official updates, please visit https://www.gov.uk/transition