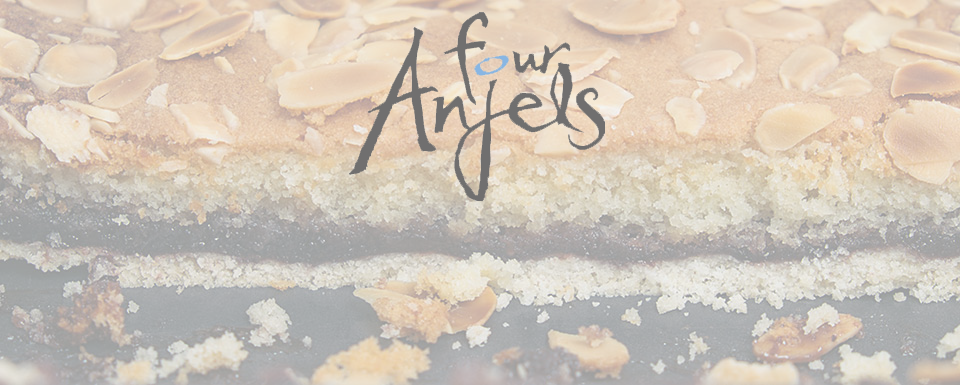 Introduction
Four Anjels was founded in 2010 by Andrea Stevens, Steve Greenhalgh, Dr Barry Cronin and Trevor Stephens. The inspiration for the business came from their shared vision to create a bakery in the heart of the Cotswold's that employs passionate bakers to make bespoke hand made products.
With just 5 staff, 1 oven and 1 mixing bowl, Four Anjels began production of a range of biscuits for a handful of independent stores. Over the last 6 years the business has grown to such an extent that it now employs 40 people and supplies major brands including Caffe Nero, Graze and Pret.
Challenges & Opportunities
Following strong growth in sales since 2010, Four Anjels found themselves at a point where changes needed to be made to sustain the planned development of the business.  Phil Stevens, Project Manager said:
We knew that we needed to relocate to new premises, but we also saw that we were entering a period of significant change. We needed guidance to manage the change efficiently and further business support around the issues that would naturally come from a period of change and rapid growth.
The team set out to find the right kind of support. Having met with a variety of different advisors and business consultants Phil remained skeptical about the advice being offered.
Initial contacts wanted to take us down a seemingly predetermined path and I wasn't confident that advice being given was appropriately tailored to the Four Anjels business model. When we made contact with The Growth Hub and were introduced to our Business Guide Sarah Gregg, we knew from the very first meeting that we had found the right partner. She took the time to really get to grips with our business and requirements, and then showed us how The Growth Hub could provide us with effective support.
Solutions for Growth
Sarah introduced Phil to a range of funding channels and providers which were best suited to the requirements of the business, both in terms of short and longer terms goals. Phil comments:
The Growth Hub was able to access  funding routes that we wouldn't have otherwise found. Either directly involved or offering checks and reviews on applications we were making, Sarah gave us guidance every step of the way.
Four Anjels were successfully awarded almost £300k in funding from SEED and the South West Growth Fund. This money was invaluable in helping the team with the essential relocation to larger premises in Tewkesbury. Sarah also helped the business successfully apply for R&D tax credits, further bolstering the bottom line. In addition to the funding, Sarah also brought Four Anjels together with a range of expert organisastions that could assist with reviewing and making recommendations for process efficiency including MAS.
With so many positive outcomes for the Four Anjels team, what's the one thing that has made the relationship with The Growth Hub so fruitful? Phil believes it's all down to partnership.
The approach that we and the Growth Hub team have taken is centred around collaboration. Our success has come from the fact that we are both equally committed to working together. From our side, we do what we are asked to do and we continually communicate with Sarah and the team, and from The Growth Hub the same applies.
Speaking of the partnership Sarah continues:
Working with Phil and Andrea has been exceptionally rewarding. They have such a great business model and ethos, I feel we really have been able to make best use of all that we have available to us to help them reach their goals. As well as the external support that we have been able to broker, it's really positive to see how many dedicated Growth Hub events the team attended and which delivered a tangible benefit to their programme. Meet the Mentors and our Financial Advice Panel have been two such events which have provided a valuable focus and delivered real results.
What's next?
With the relocation project well underway, and with the very best network of specialist support in place, Four Anjels are now turning their attention to different aspects of the operation. Phil explains:
Innovation is a key theme for 2017 and we are planning in a number of Innovation Workshops so that we can really focus in on this hugely important aspect of business growth. In addition to this we're looking at additional areas of support surrounding the use of digital communications and IT and specific guidance for Apprenticeships and training.
Sarah has also put Four Anjels in direct contact with the Enterprise Europe Network who provide expert support for sales growth overseas.