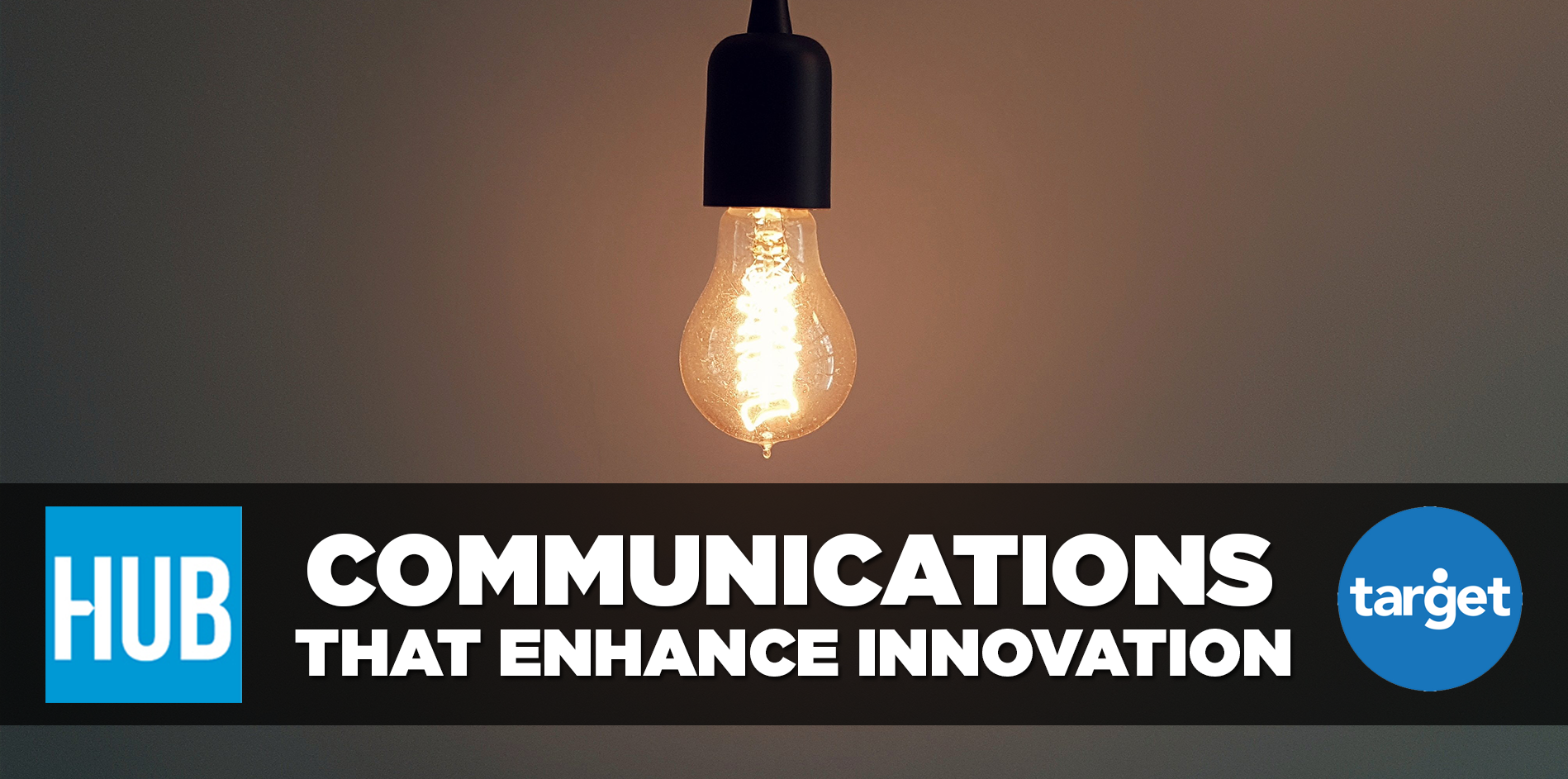 This post was written by Sarah Bryars, Chief Executive of Target, a Cheltenham-based specialist communications agency. As part of our Gloucestershire Expertise series, we are giving local leaders the opportunity to share their knowledge and experience, to help other ambitious enterprises grow. If you would like to contribute to the series, please email ross.jukes@thegrowthhub.biz

Sarah Bryars shares her years of experience in communications and their impact on innovation...
In a fast-changing world, standing still means falling behind. There's so much talk about innovation, but what does it mean to innovate? And what role might communications, marketing and PR play in making a success of innovation?
Target is on a mission to help clients communicate brilliantly; to be understood, distinctive and chosen. Every day, we see how effective communication makes a difference to an organisation's success (and bottom line). Get it right and your teams are motivated (more productive), customers learn something that makes you relevant to their world (so they're more likely to buy), and influencers say good things about you to people that may become your customers (expanding market reach).
This month Target is publishing new research exploring the particular communications challenges faced by firms embracing innovation.
We see four key aspects of innovation where internal and external communications may have an influence; culture, customer co-creation, value propositions and market diffusion. But first let's be clear about what we mean by innovation.
An innovation strategy
We think it's helpful to think about innovation as a spectrum of activity. Two of the UK's leading professors on the subject, Keith Goffin and Rick Mitchell, describe three degrees of innovation; incremental, breakthrough and radical, each progressively different from the innovator's core existing offer and customer base.
Decisions about what type of innovation to pursue come down to business strategy, vision and objectives. A market leader keen to maintain its dominance may choose a mix of incremental improvement (selling updated versions of existing products in existing markets), product development (designing new products for existing markets) and market extension (taking existing products into new markets). A firm ready to embrace 'risk' may choose diversification, experimenting in a new market with a radical innovation that is a departure from its core product.
Innovative people
While many firms have clear processes for product development involving technical specialists, marketing and operations roles, others take a company-wide approach to innovation. That's particularly important for those prioritising incremental innovation; every department can contribute to the 'pursuit of better', innovating systems, processes and ways of working.
Communications to enhance innovation
So, back to the four key aspects of innovation where communications may be particularly important.
Culture
Culture can be simply described as 'the way we do things'; the attitudes, behaviours and values that are evident within a specific company. The values that leaders prioritise will affect how employees behave and, in turn, how customers experience the business.
An intent to be innovative does not need to be explicit within the values, but a positive and engaged workforce is conducive to an environment in which innovation can take place (and evidence shows it can boost productivity by 18%). Internal communications are important for embedding and reflecting the culture of the organisation consistently across departments and sites. This may be conducted through a mix of formal, informal, personal and group communications, from face-to-face 'town halls' to WhatsApp groups.
In our study, internal communications scored highly as having a bearing on their successful innovation, but most participants identified room for improvement. How engaged is your team?
Customer co-creation
Is it better to be customer-led or to lead the customer? Your answer may differ whether you are planning incremental improvements or coming up with something that's radically new. In some cases, involving a customer in developing an innovation can create their 'buy-in' and enthusiasm, becoming an advocate among those they influence from the get-go.
Whichever perspective you take, communication and customer interaction can help to understand their context in order to create products or services they will value. Relationships and dialogue with customers may be more important than involving them in specific product idea generation, but in our research communications with customers were often reactive and inconsistent.
What's your strategy for gaining (and sharing) customer insight among your team?
Defining value propositions
Being clear about the value a customer will derive from buying your product or service is commonly referred to as a value proposition. Finding the right words to express this succinctly can be challenging for many businesses, our study showed.
What's valuable to the customer may vary, particularly for those firms who need to consider how to communicate with specifiers as well as end-customers.
Thinking about it early in the process of designing an innovation can help to keep everyone focused on what the customer benefit will be – so when it's time to launch, clear messaging may be more straightforward to achieve.
Market diffusion
The way each of us responds to new ideas or technologies differs. Some people love being the first to try radically new products, others wait until there's plenty of proven experience in the market.
As innovations become established and take more of the market share, communication strategies need to adapt to cater for those hungry 'early adopters' and a more cautious majority.
Different messages and channels will help your customers to move from awareness and understanding, to a decision that this is the right solution to meet their particular need.
Do you have a multi-layered strategy?
It's clear that communication has a bearing on innovation in many ways, so build it into your plan early to really maximise the impact within your business.
If you'd like a free copy of Target's report, contact Sarah.Bryars@targetgroup.co.uk