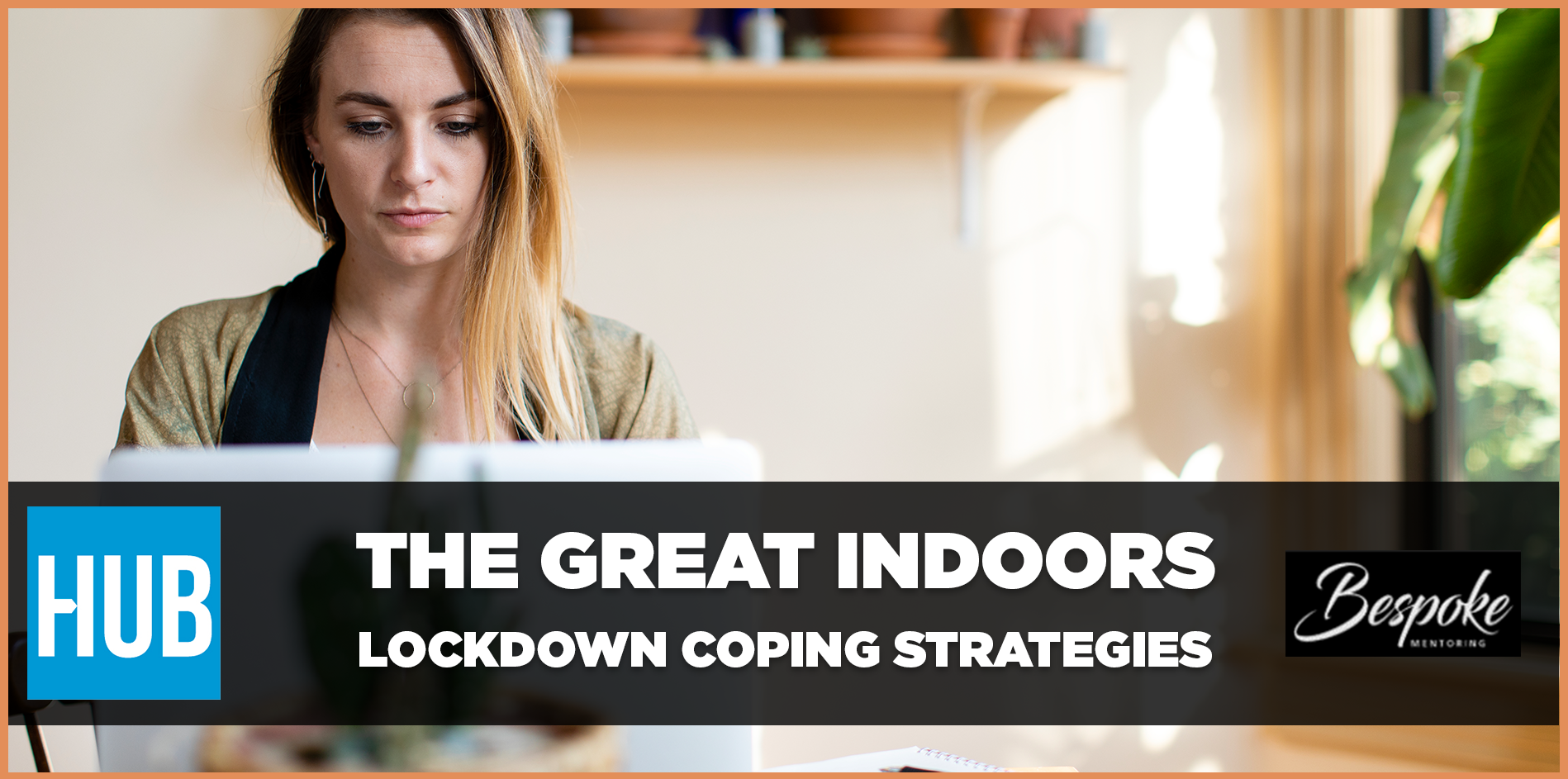 This post was written by the Bespoke Mentoring team. Bespoke Mentoring supports businesses, schools and charities to get the most out of their people. Whether as a structured programme for all staff, or a unique mentoring plan for senior management; the practices of enhancing wellbeing and raising aspirations are designed to drive real results fast. From government departments to city law firms, Andy and Chris have worked with 100+ organisations to help them improve their people, purpose, and profits. You can join Andy and Chris at a free online workshop on Wednesday 6th May, register for your free place here. 

As part of our Gloucestershire Expertise series, we are giving leaders the opportunity to share their knowledge and experience, to help other ambitious enterprises grow. If you would like to contribute to the series, please email marketing@thegrowthhub.biz.
This is all a bit bonkers, isn't it? 
The last couple of months have felt like a B-list disaster movie, and sometimes it's been difficult to accept that it's happening in real life. And as of right now, whilst we wait for a Government update, we are all working to establish what our 'New Normal' may look like. 
But it is what it is. There's nothing that you or I can do about it. We can only manage our own lifestyles and mindsets, and help those in our household to do the same. So whether you're isolating alone, or you're suddenly stuck at home playing the new role of parent-teacher-carer for your young family, here are some coping strategies that will help you stay positive and focussed throughout lockdown:
The obvious bits
Routine is important. Wake up at the same time and try to go to bed at the same time. Your body will accept the things that it's used to doing, and if that means still setting your alarm for 7am when you don't have a meeting until midday, resist the temptation. Obey the call of your to-do lists, they give your routine structure, and they provide a sense of achievement. The physical act of ticking a task will give you a little serotonin boost and keep your motivation high. 
If you have kids, this routine is more important than ever, but expect it to go berserk within the first hour of the day. Don't let that get you down, it's there to guide, not control. And accept that you might need a different routine for each of your children, and it's up to you to design this with them in mind. Remember, a quality hour of productivity is better than a whole day of unfocussed half-tasks. When it comes to kids, take every win you can. 
If you can exercise every day, do so. The chemicals released by your brain during a workout will stick around for the rest of the day, and you are far more alert and focussed after training. If you can do this outdoors, then do. If you can't, try to at least get out for a walk every day too. The vitamin D, the fresh air, the adjustment of your eyes to distance. It all helps. 
Make the effort to connect with others. Whether it's via video calling, through text, by phone, or even by letter; keep in touch. We are social animals by nature, and our brains are wired for companionship. Sometimes we need time alone, of course we do, but spending a couple of hours catching up with friends is one of the most valuable ways to spend your time. It will de-stress, it'll give you perspective, it'll make you smile and laugh. You can't put a price on those feelings. 
The not-so-obvious bits
All we can do is control the controllables. A big part of Andy's Paralympic training was to only focus on himself. You can't influence the other athletes, or the humidity on race day, or that you didn't get the sleep you wanted last night. You can only control your own mind and body, so focussing on your own game is the only option. During lockdown, forget about the fact that you've seen Doris walk her dog twice today, or that your neighbours had their friends over. Forget about whether your colleagues are pulling their weight. Do your job, look after your family, and stay positive in your outlook.
Sometimes, something will take you by surprise. Whether it's your son knocking over your freshly brewed coffee with a sniper shot from his Nerf gun, or your partner accidentally unplugging the internet during your Zoom conference call; things happen. You will get emotional. You will feel trapped. Before this happens, have an escape plan in mind. If it's a cup of tea in the garden to compose your thoughts, great. If it's a 20 minute nap to reset your feelings, great. Just bear in mind what your response to a setback is going to be when it happens, and your recovery is going to be so much easier than whatever your frazzled instinct tells you to do.
And finally, now more than ever, we're all using TV to escape. It's a distraction, it's entertainment, it fills the time we'd normally be doing other things. But one of the best things you can do to maintain your positivity is avoiding negative TV. Don't watch the same scare-mongering news reports every day, but equally as important is to stay away from shows and movies that might bring you down. In a normal world, bingeing those sad but heartwarming documentaries, or getting stuck into a horror box set, is absolutely fine. Crack on. But be aware now that, whether we know it or not, we're all a bit more sensitive, a bit more stressed, and a bit more worried. Exposing yourself to negative content is probably not the smartest idea right now. That straight-to-DVD remake of Nightmare on Elm Street is still going to be there in a few months. Stick Anchorman on instead.
The same applies to music choice. Adele can be filed away. Mr Blue Sky can go on repeat.
Be mindful of your mental health today. Your actions can go a long way to determine your outlook, which will determine your happiness. 
You're not stuck at home, you're safe at home. 
Mindset matters.
If you'd like to join Andy and Chris at the upcoming 'How to Manage your Mindset - Business in Unprecedented Times' workshop, register for your free place here.