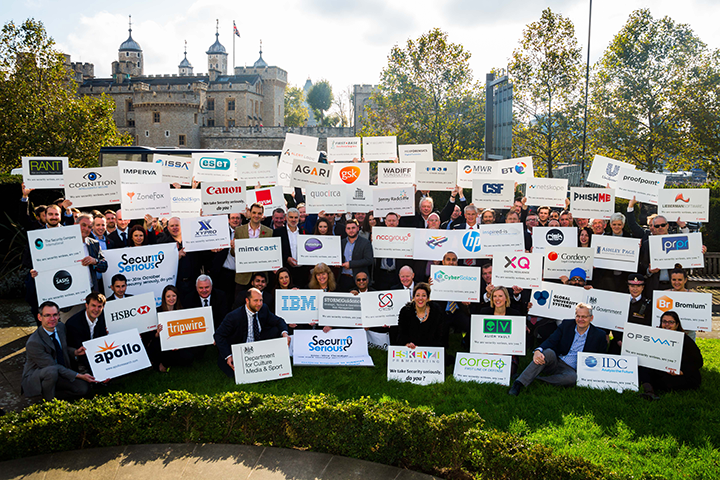 The National Cyber Skills Centre was in London on 26th October for the kick off of Security Serious Week where over 100 cyber-security experts came together for a photo call outside Tower of London to show support for a more secure online future and put a stop to the number of breaches hitting large and small organisations.
The National Cyber Skills Centre at The University of Gloucestershire delivers Essential Cyber Security training at the new Cyber Institute opened at the University's Park Campus in Cheltenham this September.
The first ever Security Serious Week, runs from Monday 26th to Friday 30th October and will see 70 of the world's most renowned experts in cyber-crime and security freely offering their time and expertise to companies who want to become more security savvy and cyber-aware. A timetable of conferences, workshops, training sessions and webinars is taking place throughout the week and is aimed at educating users in a number of security disciplines.
Security Serious has a microsite detailing everything that is being organised and offered over the five days, including a resource library containing a number of government sponsored and industry donated literature that informs organisations of their obligation to protect the data they collect and best practices to do so.
Yvonne Eskenzi, the driving force behind this campaign, explained, "Security Serious is all about those that can't, learning from those that can – it's simple really. The week brings together our leading experts to convey their words of wisdom to those people and organisations who want to become more security savvy. The response we've received for this campaign, and the calibre of the supporters on board, all prepared to selflessly give their time to help create a safer online community is inspiring."
Security Serious has attracted a number of high-profile supporters from the UK's leading businesses, universities, associations and government bodies – including: National Cyber Skills Centre, Unilever, BT, HP Security Voltage, Canon UK, HSBC, Publicis Groupe, GlaxoSmithkline and many of the world's leading IT security vendors.
To find out more about Security Serious, the organisations supporting the campaign and planned events, visit https://www.securityserious.com
To find out more about Cyber Security please visit the National Cyber Skills Centre free resources at:
www.insights.cyberskillscentre.com
www.cyberskillscentre.com/resources
(Photo courtesy of Julian Dodd)