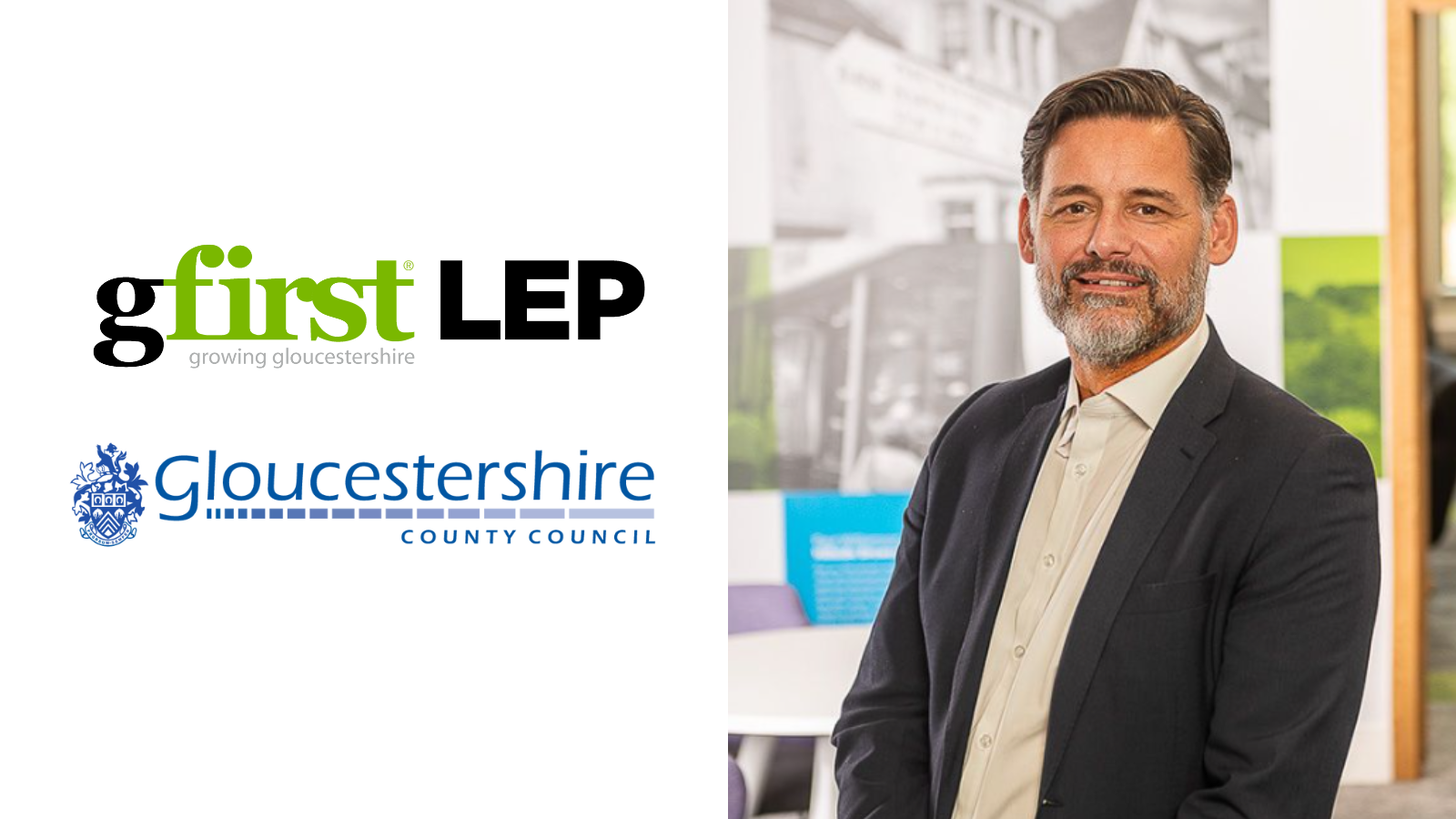 As a result of central government's drive for giving more powers to the regions and the devolution agenda in England, all Local Enterprise Partnerships will be integrated into their combined authority or upper-tier local authority, by 2030. In Gloucestershire, this means GFirst LEP will be combined into Gloucestershire County Council.
The Government published its Levelling Up the United Kingdom white paper on 2nd February 2022, detailing that devolution will happen across England, 'fully integrating the business voice of Local Enterprise Partnerships and their services into devolved structures.' [gov.uk]
Agreed at the latest GFirst LEP Board meeting, we are pleased to announce Gloucestershire County Council has appointed David Owen as Director of Economy and Environment.
The appointment will see David seconded to the council for four days a week from 1st November 2022, on a three-month rolling basis. David Owen will remain Chief Executive of GFirst LEP.
This comes as Gloucestershire County Council is preparing a bid for a 'County Deal', which would see it gain additional economic powers and also see Gloucestershire's Local Enterprise Partnership included within the council.
David's secondment will strengthen the bid and ease the transition towards working more closely with the LEP if the County Deal application proves to be successful. The County Deal bid is currently being prepared but there is no timescale yet on when it may be submitted.
The proposal for David to join Gloucestershire County Council was approved by the GFirst LEP Board and he will take over responsibility for waste and environment, libraries and registration, and employment and skills.
David Owen, CEO of GFirst LEP, said: "I'm really pleased to be joining Gloucestershire County Council, working alongside my role with GFirst LEP, to support businesses and sustainable economic growth for Gloucestershire. We've worked successfully in partnership for over a decade and this move presents a great opportunity to move towards a county deal that incorporates the wider partnership and talents of GFirst LEP."

Ruth Dooley, Chair of GFirst LEP and Partner at Hazlewoods LLP, said: "David's secondment to Gloucestershire County Council is a very positive step in charting the course for GFirst LEP's future in a new devolved structure. It is key that GFirst LEP continues to represent the independent voice of business in Gloucestershire and to support the responsible and sustainable economic growth and prosperity of our county." 

Cllr Mark Hawthorne, leader of Gloucestershire County Council, said: "David will bring great experience and knowledge to the council so I'm delighted to welcome him. This appointment will allow for closer, more coordinated working between us and the LEP so we can achieve our aims and ambitions together. He will help to drive the economy of the county forward and strengthen our bid for a County Deal."
Over the next few years, while the devolution deals are being decided and formed, the government will continue to support Local Enterprise Partnerships to play their essential role in supporting the local economy.
GFirst LEP's work will continue in driving inward investment into Gloucestershire, representing the independent business voice through our Business Groups, working with schools and businesses through our Careers Hub, supporting SMEs through our Growth Hub network and championing our local food and drink producers and hospitality industry through Made in Gloucestershire.
In 2023, working with partners across the county, GFirst LEP will be refreshing the Local Industrial Strategy for Gloucestershire. The original strategy was published at the start of 2020 just as the country went into lockdown. It will now be updated to reflect the missions of the Levelling Up White Paper and changes to the economy following the Covid pandemic. The strategy will highlight the key challenges and opportunities for business. It will also identify the top business-backed infrastructure projects that will turbocharge the local economy in Gloucestershire, outlining huge potential for development and investment.
For more information about GFirst LEP and for further updates, please visit: www.gfirstlep.com.