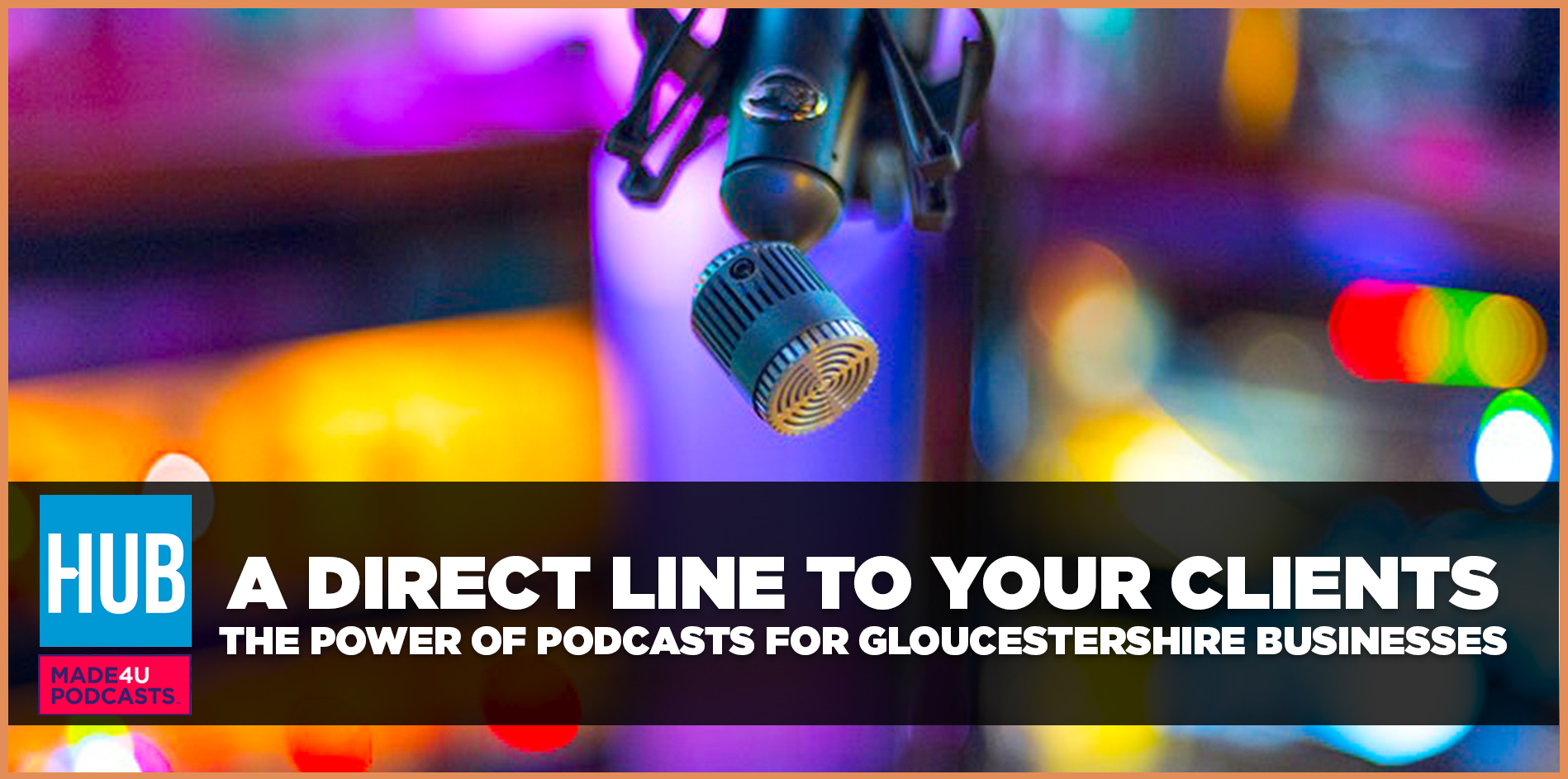 This post was written by Serena Gay, founder of Made4U Podcasts which launches and runs lively and intelligent podcasts for corporate clients of all sizes.

Her speciality is explaining the process of podcasting in simple, easy to follow ways and for those who just want it made for them - she's ready, willing and able!

Serena's skills range from podcast production expertise to pithy and persuasive copywriting for broadcast and print. She is a former BBC World Service news journalist, and her voice can be heard in museums all over the world guiding visitors round exhibitions and on podcasts for all kinds of client!

Serena also runs free Podcasting workshops with the Gloucestershire Growth Hub network, to be notified when her next event is running, email talktous@thegrowthhub.biz. 

As part of our Gloucestershire Expertise series, we are giving leaders the opportunity to share their knowledge, experience, and personal stories to help other ambitious enterprises grow. If you would like to contribute to the series, please email marketing@thegrowthhub.biz.
If you are already a podcast listener, you'll know how much trust you put in your favourite presenters' voices.
To be able to establish a bond like that is pure gold dust for any business.
Indeed, in the US, companies small and large have cottoned on to the value of speaking directly through a podcast to their niche customers and the same is now happening in the UK.
Some fascinating podcast statistics were published in spring 2021 by Ofcom – the UK's communications regulator.
As a podcast launch consultant – they certainly made my heart sing!
A solid 25% of the British public now listen to podcasts on a weekly basis. That amounts to 16.5 million people and compares with 7.1 million in 2019.
People learn about podcasts on social media and from friends mainly – so by word of mouth. Currently, slightly more men than women listen – and overall there are more younger listeners (aged 16 – 44) but older ones (aged 45 - 64) are hot on their tails.
Podcasts have become well and truly embedded in people's daily routines. 57% listen at home while relaxing but people also listen in the car, on public transport, while walking or exercising, doing the chores or at bedtime. Most podcast lovers will listen to between 3-5 podcasts a week while 20% listen to between 6-10.
Of real interest to those of us in the business podcast production world, is the fact that listeners are predominantly in the AB socio-economic range with C1s not too far behind.
So, regular listeners clearly tend to be more affluent which can only indicate a valuable advertising market. We will get on to that later.
When those surveyed were asked why they listen, the largest number of respondents (61%) said they listened to podcasts for entertainment. No surprise there. But 21% said it was to get practical advice.
Fifty percent of respondents love listening to business podcasts but the same people are also keen on comedy, serious discussion shows, arts or music podcasts, politics, true crime, science and technology…. The list goes on.
Surely, this shows how much people enjoy the versatility of the medium and the way it allows them freedom to curate their own listening schedules.
Entrepreneurs with podcasting ambitions should take note of what action respondents are prepared to take post-production.
15% buy products mentioned in the podcast.

31% followed advice or recommendation given.

A whopping 62% talked to friends or family about what they heard on the podcast.
It's also encouraging to see that 65% listen to the entire episode so they'll catch any calls to action that the host issues as they close the podcast episode.
And as the UK's audio research body, RAJAR uncovered in its 2020 survey, podcast listeners tend to earn 28% more on average than the general population and are more likely to have advanced degrees.
Nothing could bode better for UK business podcasters. 
A study in the US in 2019 by Claritas and Market Enginuity showed that podcast advertisements drive a far better lift in sales than any other form of advertising.
This may have to do with the fact that the podcast host – that trusted voice you know so well – tends to read out the advertising content. In fact, research shows this is by far the most effective way of delivering an ad.   
The podcasting stats speak volumes. This medium is proving hugely popular but it is still in its infancy - we're really only at the beginning of the podcasting phenomenon.
Maybe you should think now about launching your own podcast to grab your place in the podcasting firmament!
Serena's Podcast Launch Pad series can be found on Spotify here, and her Business Revival in Gloucestershire series can be found on Spotify here. 
The Growth Hub in Gloucestershire also has a Podcast series, listen to Series One here, and keep an eye out for Series Two coming in September 2021.