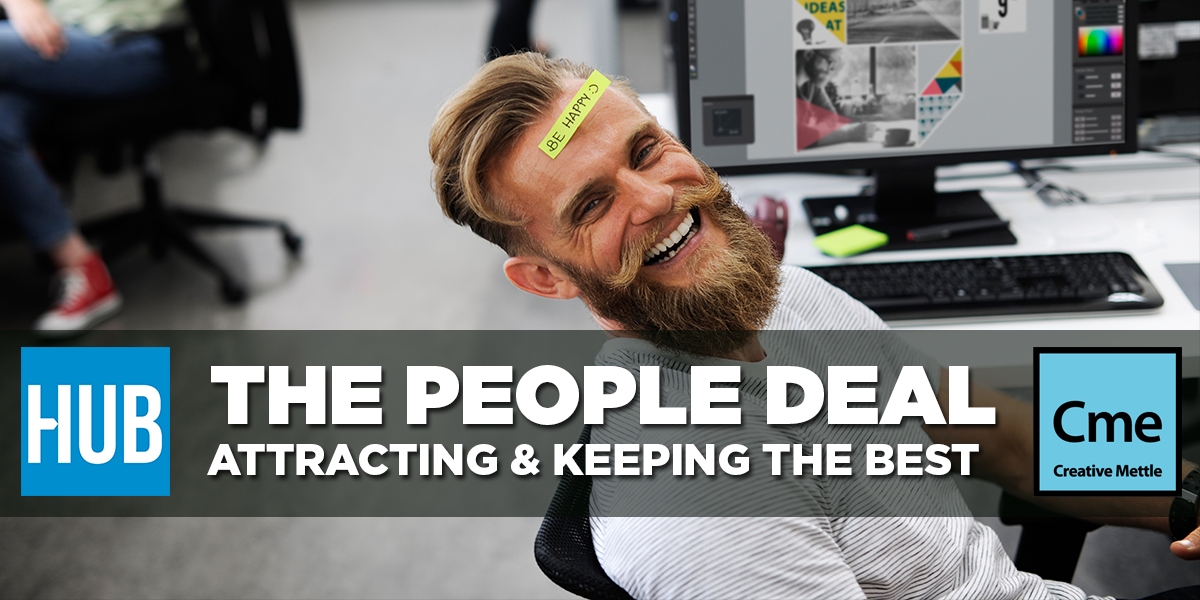 This post was written by David Townsend, Founder and Director of Cheltenham-based Creative Mettle and Enjoy, as part of our Gloucestershire Expertise series. We are giving local leaders the opportunity to share their knowledge and experience, to help other ambitious enterprises grow. If you would like to contribute to the series, please email ross.jukes@thegrowthhub.biz

On making your business attractive to the best talent, David writes...
First up – what is an Employee Value Proposition?
EVP. Every business has one and some are better than others. But many are not cognitive of exactly what theirs is. Ignorance, or even denial of its existence, can be very dangerous for the attraction and retention of the skilled, motivated people that all businesses need to flourish.
The technical definition of EVP is a comprehensive offering that you will provide to employees in exchange for their efforts. It encompasses many elements including culture, work / life balance, recognition, development, and compensation / benefits.
At Enjoy and Creative Mettle we believe in a simpler definition. It's your People Deal.

 
What does great EVP look like?
If you can master your EVP you'll benefit from motivated, driven staff. The sort of people who can't wait to tell everyone where they work at when they're at parties and barbeques!
They're entirely bought in to the business. They are motivated to notice issues and contribute to the well-being of the company as well as fulfil their own individual tasks. They do this because they feel they get a great deal from their employer; so they're prepared to give a little extra back.
How do I influence our EVP?
Salary
Start with the obvious! Clearly everyone likes to work for a company that can afford to pay them at the going rate.  Preferably a little more…budgets are budgets but it's worth remembering that highly skilled people often know their own worth and if they don't, it doesn't take long to find out! A company prepared to offer a little more often sends out signals that they expect the very best - and are prepared to pay for it!
Perks and benefits
Most people can list common benefits offered to their employees: Company car; pension; death in service; health care; subsidised gym; discounted rates etc. However, do stop and think about how the individuals in your company might view each of the above. The topic invites generalism which can be dangerous, however millennials in junior positions may be less likely to value pensions or DIS, instead favouring cars, free gyms and discounts. As vital as it is to value and nurture these individuals it's worth remembering that more experienced employees could be more focussed on their long term future, valuing pension provisions or even the ease of parking; more than free cinema tickets! Either way the point is that a "perk" is only a perk if the intended recipient views it as such!
How do you make them feel? The little things.
A great way to motivate is to create visible recognition. Spot rewards can work really well. It doesn't matter for what. A great sale, fantastic customer service, being a great first impression, creating an enquiry through a chat in the pub, staying late to bring a project in, suggesting a product enhancement, noticing a colleague is struggling, making a cost saving, taking responsibility for something outside their job spec! It REALLY doesn't matter.
What sort of spot-reward works? Again this is subjective. We've noticed some clients excel at this by providing something unique to the individual. Managers ensure that interests are recorded in on-boarding, one to ones and general conversation so that spot rewards are meaningful. Race tickets for the horse enthusiast? Shopping vouchers for the fashionista? A cookery course for the Paul Hollywood fan, cinema tickets, even a supply of scratch cards for instantly rewarding the sales team.
Don't forget to highlight and celebrate the more obvious benefits, especially when recruiting. Many companies give staff little extras but it becomes part of the scenery. Free fruit? Birthdays off? Flexitime? Work from home? Christmas break? Charity day?  Study support? Share options? Make sure they're explicitly mentioned in job adverts. "Great benefits"… doesn't really cut it.
Empowering a workforce through involvement.
It's easy to see the value in ensuring that everyone's voice can be heard. Much harder to implement - especially for larger businesses. It's critical though, that if a company flourishes on the hard work of innovators; ideas people employed to create value with their thoughts, ignoring their opinions on the way the business is run is a betrayal!
The creation of any kind of forum, be it physical or digital encourages people to contribute to ideas both inside and outside of their core function. The sense of involvement in areas that they may be surprised to be asked to contribute to, ensures they feel that they work for a company that values them as intelligent people.
Businesses tend to hire people to fulfil strategic objectives, often task based. That's fair enough but companies with excellent EVP recognise the hidden talent in their workforce and facilitate its exposure through sponsoring special projects. Projects can take many forms, can be suggested by anyone but must be approved by the board. The project should benefit the company in some way but budget is committed and time given to investigate and develop the idea.
We look to lever insight around our client's EVP, especially project work to promote opportunities to candidates who wouldn't have otherwise considered them. Imagine a skilled developer -  let's call her Jane for the purposes of this illustration. Jane is in demand, she knows her value and can choose to work for a myriad of employers all desperate for the skills she possesses. How does she choose? It's difficult, most roles are paying a similar amount, some are further away from where she lives but she'll travel for the right role. However, Jane like most of us has her interests and passions outside of her day job. She is passionate about the environment, volunteers at a local ecology group and is a keen cyclist.

Now imagine her reaction when she's told that one of the companies who'd be interested in her, take their green credentials very seriously. Their special projects usually centre on how to improve their environmental impact. The last project resulted in the construction of excellent secure cycle storage at work. The project involved a one-hour focus group to gather ideas which were reviewed at the next board meeting. A project was chosen and backed, the proposer became project manager and worked with a team of people they didn't ordinarily work with to plan and implement the project. Beyond the obvious benefits to staff health and wellbeing this brought a great new team dynamic was built and team members learned about areas of the business outside of their own domains. In addition to contributing to great EVP and CSR, the process has huge value to the company, not least in developing and retaining existing talent but also now, in attracting new key hires.
If special projects sound like too big a step, consider how your employees would view how decisions get made in the organisation. I'm not suggesting that you get the whole business involved with strategic direction but it's possible to surprise people by including them in decisions they don't expect to be involved with, especially where they'll be some impact on them personally. Think parking arrangements, decorating decisions, shift patterns, which stationery supplier to use - even which brand of coffee to get in. Merely asking people's opinions, can foster a great sense of inclusion, as long as their responses are treated with respect.
EVP works best when measured regularly. That can be a challenge but consider facilitating an anonymous survey, similar to Net Promoter Score. Asking questions such as how likely staff are to recommend to a friend or what could be done to make them feel more included in the business is a great way to continuously improve your EVP.
Well understood EVP is critical to the development of a solid employer brand. Engage staff by gathering their insight into the business to help define it. If possible, refine messaging to three simple messages and empower managers to deliver to their teams. Once the brand is understood, try to tie the reward and recognition policy back into the behaviours identified in the brand definition. We have some fantastic examples of how this been achieved, please feel free to contact me if you'd like more detail.
Enjoy and Creative Mettle have been helping businesses engage with exceptional talent for 16 years this year, so please allow me to finish with some tips on how to use your EVP in the recruitment process.

 
When creating job adverts please stop to consider the audience. An advert is not a job description; it should be designed to appeal to the audience it seeks to engage. Consider what the company stands for and what type of individuals you seek to attract. Innovative people resonate strongest with a culture of continuous focus on development. Creative people want to understand the creative process and the autonomy they'd be afforded; analytical people are drawn to detail… if a personality type underpins the main focus of your requirement then it's best to highlight and showcase the synergy in your employer brand which should be clearly visible in anything in the public domain - especially job adverts.
Finally, allow potential new recruits to speak to existing members of staff doing the same job during the interview process. This can be carried on as part of a buddy system should they be successful and start with you. Candidates get the opportunity to see the journey undertaken by others in the business and what their own future could look like as well as get an honest impression of what it's like to work with you. Discussing the social scene is important, especially describing any activities that team members CHOOSE to do together rather than company sponsored events. If a candidate is able to visualise themselves engaged in a social setting the chances are they can imagine themselves comfortable in a professional setting. It's been known for candidates who were on the fence about an opportunity to be all ears when they realise the team they'd be working with play in the same football league as them or ride their bikes on the same hill!