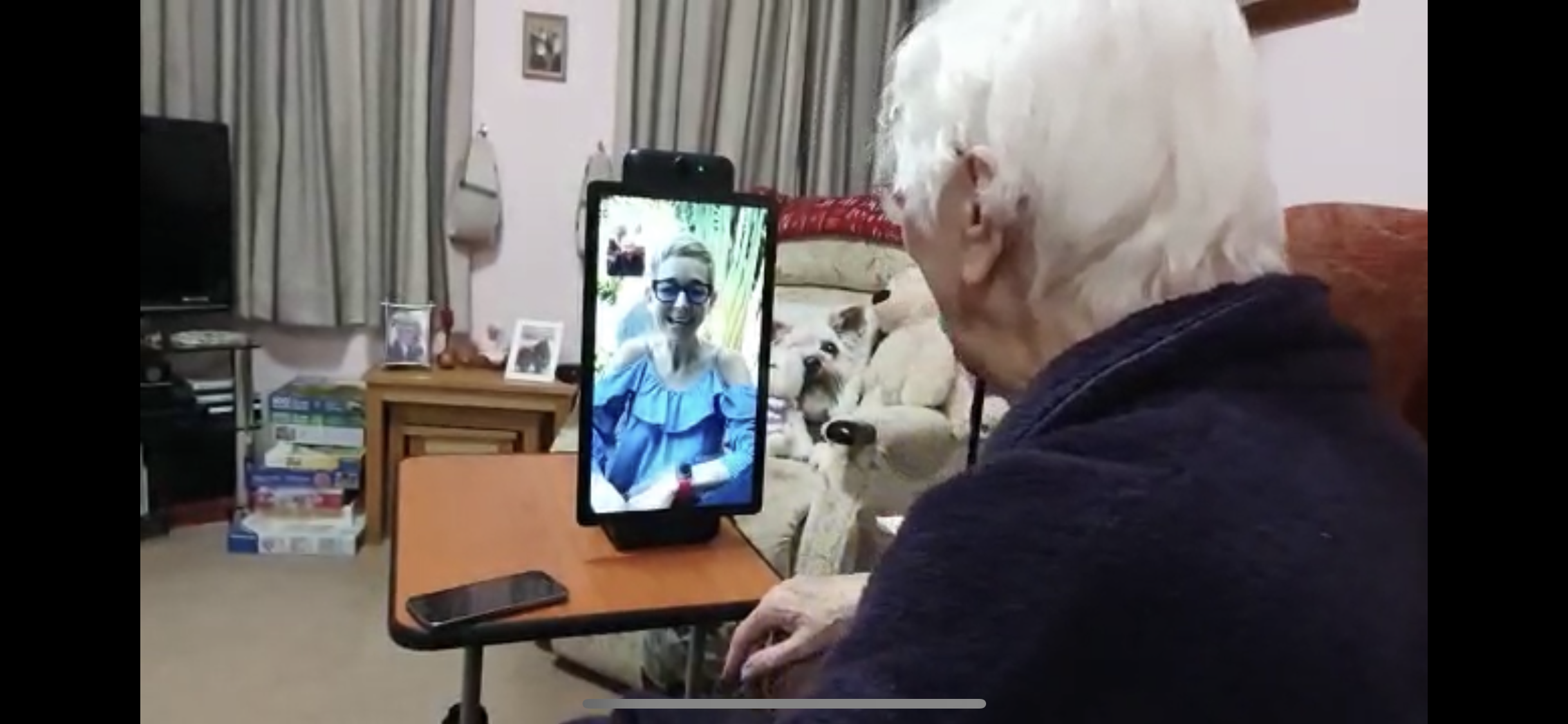 A Gloucestershire based communications agency, specialising in the care sector, is the instigator behind a global movement to tackle loneliness in older people, with nearly 80,000 volunteers from around the world having already signed up to the initiative, which it now plans to turn into a not-for-profit social enterprise.
In partnership with one of its care home clients, Pic PR, based in Beckford, Gloucestershire, has taken the lead in promoting an international 'Adopt a Grandparent' campaign – working on the project free of charge during the ongoing lockdown period.
Initially starting as a localised client campaign looking to physically pair volunteers, the campaign turned digital in the wake of the coronavirus crisis and the necessities of social distancing.
Thanks to extensive PR coverage, totalling more than a thousand articles across titles that include the BBC, Sky News, ITV, Reuters, Daily Telegraph, Mail Online, the Independent, Metro, Evening Standard, Daily Express and more within the UK, as well as being featured on Good Morning America, CNN, ABC News, NBC, CTV, People magazine, iHeartRadio and others around the world, there's been an explosion of interest in the campaign, with even Hollywood actors getting involved.
Almost 80,000 volunteers have now signed up from across the UK, the US (including Hawaii), Canada, Dubai, New Zealand, all over Europe and further afield, with all of them looking to partner up with and 'adopt a grandparent' via regular video calls, or by sending letters or other forms of correspondence.
Given the wealth of applicants, Pic PR and their care home client are now fundraising in a bid to turn the initiative into a not-for-profit social enterprise having been overwhelmed by the level of interest.
As part of the expansion of the initiative, Pic PR has reached out to other care homes, inviting them to join, with 25 having done so, so far, helping to create a larger pool of 'grandparents'. The next stage includes the development of an app to streamline the pairing process, while including all the necessary safeguarding measures within it.
Abbie-Jaye Wilson, Operations Director within the agency and one of the key people working on the project, said:
"We were initially anticipating perhaps several dozen volunteers who we could partner up with residents. However, they number a little under 1,000 across the care home group, which means now we have more than 70,000 extra volunteers to offer to other homes. A mind boggling amount!

To date, within the agency, we've been facilitating the pairings; arranging screening calls, liaising with care home managers, creating information cards, organising consent forms and more. All of this takes considerable time, but we've been doing it around the working day and within our spare time, as it's not part of our day-to-day work with our client. To help this process continue and indeed expand on it, we need to set up a not-for-profit social enterprise, which will require full time staff working on it, as well as a digital app to streamline proceedings."
The pairing process is done via a mix of criteria. Not just simply based on likes or dislikes, the screening calls uncover more about individuals' backgrounds and their personal life experiences, helping to maximise the potential from any relationships. For instance, a recent pairing has seen an LGBT family paired up with an 87-year-old bisexual care home resident, who, using their respective lived experiences, are able to form a strong bond.
With reminiscence therapy an ever-growing area of support for older people, especially those living with dementia, the pairings help individuals to recall positive times within their lives – something that's a key element of the Adopt a Grandparent initiative.
Support is growing apace, with Person Centred Software, a software provider for the care industry, having contributed a large donation to the fundraiser, while other, smaller amounts, are steadily flowing in.
David Barrett, MD of Pic PR, said:
"What started as a comparatively low level initiative, absolutely took off in mid March and has continued to accelerate ever since. Initially, we were considering letting the enthusiasm for the project simply wash over us, believing we weren't in a position to harness it. However, we soon realised that we had something really promising here, with the potential to do a lot of good. We're not doctors or nurses, but we recognised that through Adopt a Grandparent we could do something to help others within the wider context of the ongoing coronavirus crisis.

As a communications agency, we know the value of staying connected. In a care home, with residents currently missing family and friends, loneliness is a genuine problem. We're hoping to do what we can to assuage that, utilising the flood of positivity we've seen for the scheme. To make this possible though, we need extra resources and this is where the fundraiser comes into play."
The Adopt a Grandparent fundraiser, which is initially centred on generating enough to cover the costs of the app, can be found via: https://www.gofundme.com/f/adopt-a-grandparent-app
There's no financial obligation whatsoever to be involved with the campaign, and those interested can register via: https://chdliving.co.uk/adopt-grandparent
So far, the campaign is receiving between 200 and 300 emails a day from volunteers yet to be paired, who are sending pictures, songs, poetry, fun videos and more. These are being shared with residents, helping to deliver cheer and goodwill throughout CHD Living's homes.
David Barrett concluded:
"In unsettling and often scary times, it's fantastic to see such heart-warming sentiment coming from people all over the world. We're hoping to project that uplifting positivity, helping it to reach all of those who need it, wherever they happen to be."