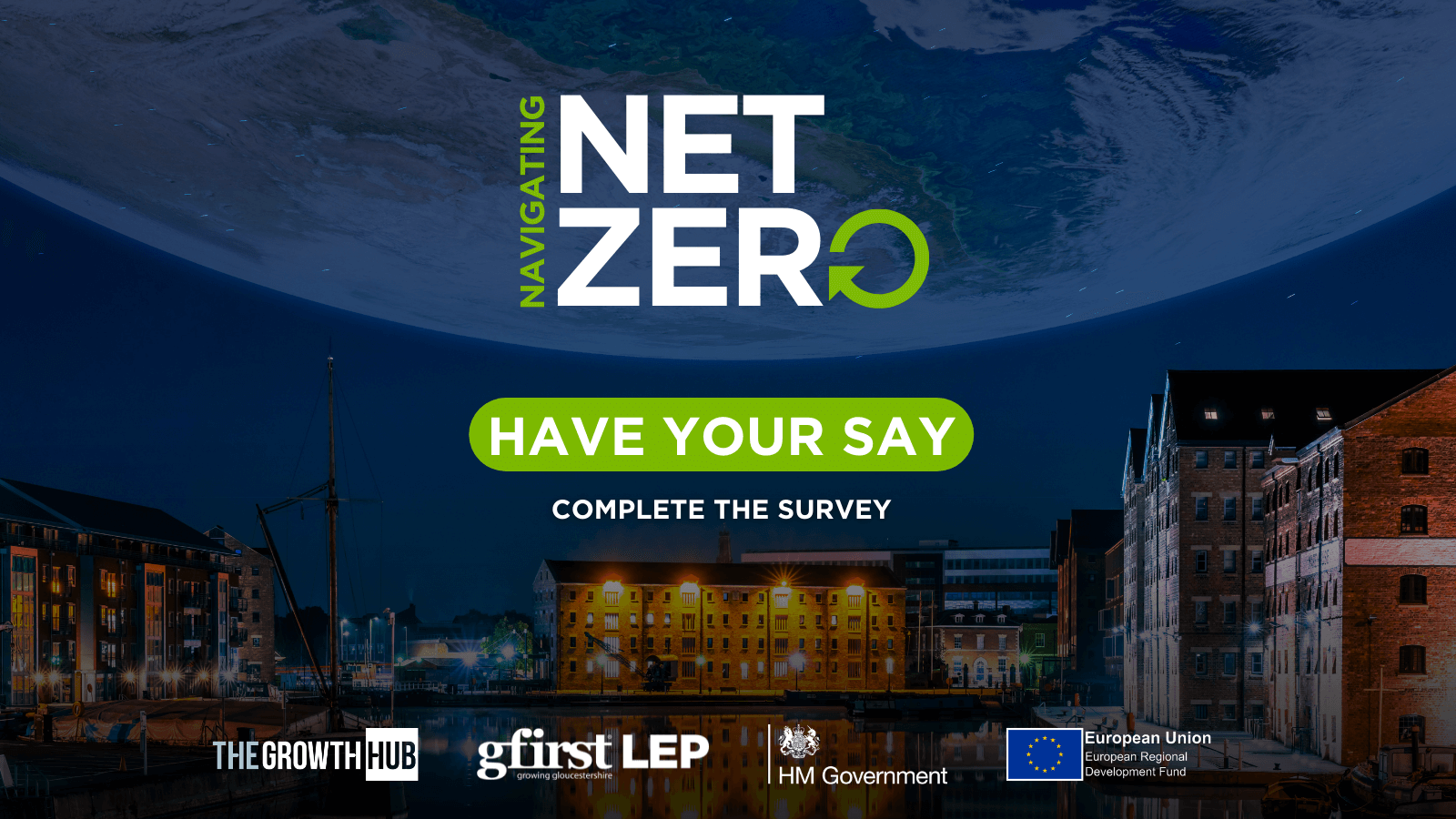 A little after 10pm on Sunday 13th November 2021, Glasgow's much-anticipated COP26 climate conference concluded.
Inspired by the commitments made at the summit, thousands of businesses around the UK are now gearing up to play their part in the fight against climate change. 
If you are in the same boat, but you're not sure where to start, we're here to help. 
Navigating Net Zero

 
Today, we're launching a survey and new support to help you cut through the noise, understand what's needed, and make a start on your own Net Zero pledge. 
The Growth Hub is here to support Gloucestershire businesses which want to join the fight against climate change. By providing bespoke, free support – including consultations, signposting, and events (coming in 2022)– The Growth Hub can help local companies get started on their journey towards a more sustainable future. 
Jointly delivered by GFirst LEP and The Growth Hub, this support will build on goals set out  in the Local Industrial Strategy and will take Gloucestershire one step closer to becoming the greenest county in the UK.   
Sarah Danson, Director of Strategic Growth for GFirst LEP and lead for Navigating Net Zero, said: 
Gloucestershire has a fantastic natural heritage and we want to do everything we can to preserve and protect what makes it such a great county to live and work in. We also acknowledge the need to play our part on the national and international stage, in the fight against climate change. Navigating Net Zero is all about making that as easy as possible, so that as many businesses as possible can get on board. Just like our support for EU Exit and COVID-19 over the last two years, we are here to help, support and simplify. Whether you're a sustainability veteran or a complete novice, we want to hear from you. We need your feedback on what works and doesn't work, so that we can put the right support in place.
Have your say

 
Help us to help you, by completing our Net Zero survey. As a business owner, we want to hear from you about the challenges of making your company more sustainable. 
We'll take this insight to the Government, to gain more local support for you. 
Meet the team

 
Our dedicated team, based across The Growth Hub Network, are on-hand to help you identify the challenges and opportunities presented by Net Zero. Between them they have a vast network of contacts and resources, which they will leverage to help you find quick wins, positive steps, and ways to reduce and abolish your carbon footprint.

Matt Rigby is an experienced senior business leader and change manager, who supports his clients to navigate and overcome tough situations. Having worked with hundreds of Gloucestershire business leaders to help them find their feet throughout Brexit and COVID, he now turns his talent to Net Zero.
Sarah Danson is a seasoned project manager and leader, who has, for the last decade, played a key role in driving growth in the economy, skills, and employment base of Gloucestershire. She now brings to bear a formidable level of local and national knowledge, in pursuit of a truly Net Zero future for Gloucestershire.
Andrew McKenzie is a sustainable business leader and innovation champion, having supported businesses for 20 years in improving their resource efficiency, reducing their impact, and establishing market differentiators. Andrew was in-house sustainability lead for a multi-award-winning SME and is now sharing his knowledge and experience with a wider audience.
Toby Waller brings 25 years of supply chain experience to the table, including work with offshore teams and international sales. Providing support across Gloucestershire, Toby's mindset will help signpost businesses looking to improve their understanding on Net Zero.
How do I get started?

 
We're here to help you every step of the way, especially when making the first.
To begin with - tell us about the priority of Net Zero within your business. Complete our Net Zero survey and show us the barriers you face going green, and what support you need the most. 
We're also challenging every business in Gloucestershire to join their peers around the UK in making a climate change commitment at the SME Climate Hub. Once signed up, you'll have access to tools, ideas, and incentives to help you meet your pledge.  
And finally, you can get in touch with us directly. If you want to speak to the team about your Net Zero challenges, drop us an email.