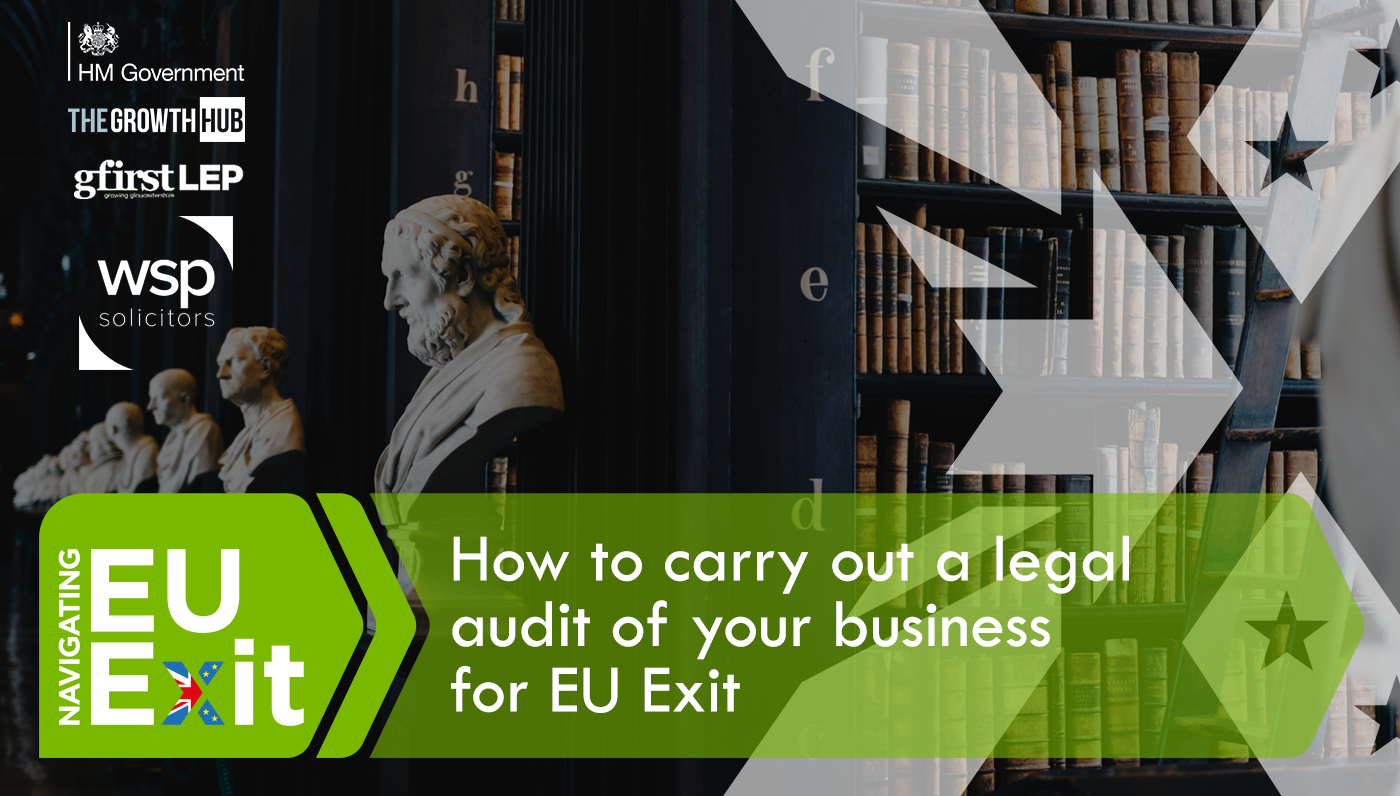 The twists and turns of EU Exit are uncharted territory for all of us, and there is likely choppier water ahead.
Shelley Bonney, Commercial Solicitor from WSP Solicitors, is advising businesses to prepare for what's coming by getting their paperwork and processes ship shape. How?
A legal audit, which might look something like this...
Contracts
Check how your key contracts might be affected by Brexit.
For example, do your contracts refer to any terms that should be reviewed in light of the UK leaving the EU? Do they make references to the UK being a Member State in the EU?; 
Compliance
Make sure you have registered for the new import procedures if these apply to your business. 
Businesses dealing with or dependent upon cross-border transit may face additional obstacles. Importers and exporters will need to have measures in place to comply with additional administration and pay additional tariffs;
Employees
Consider the impact of Brexit on your workforce.
From 31st December 2020 EU citizens working in the UK and UK citizens working abroad will face additional requirements for work, residence and travel. Some businesses are already experiencing changes in the labour market and currency effects. The cost and availability of certain supplies/ goods may change as a result so you need to bare this in mind as well as considerations such as how what steps need to be taken to register an EU citizen working in the UK and what you can do to hire/retain EU staff. 
Cash flow 
Funding from the EU will cease.
Therefore, funding for certain sectors may change, you need to check if you think this applies to your business. You may also wish to investigate what help you can get to access potential new markets.
Supply chains
Supply chains may be affected by tariff and country of origin requirements.
Where goods contain constituents from multiple sources, identification of country of origin rules will change. In addition, you should consider if your business is likely to affected by supply chains issues or boarder delays and if so how would they impact on your business, for example do your contracts include penalties for late delivery? What will be the impact if there are delays in you receiving goods or services vital to the operation of your business? 
It is important to note that new UK regulations are likely to replace EU law and bring into effect future trade arrangements. Legal uncertainty is therefore likely for some time while these changes are put into place.
WSP Solicitors are an independent legal practice, with offices in Stroud, Dursley and Gloucester. The firm has been offering straightforward legal advice and support to local people and businesses for over 250 years. 
They provide a wide range of legal services for you personally and also your business. These include Residential and Commercial Conveyancing, Wills, Trusts and Probate, Family Law, Personal Injury, Buying and Selling Businesses, Commercial Contracts and Dispute Resolution.

If you would like to speak with one of our dedicated EU Transition Advisors, please get in touch by emailing euexit@thegrowthhub.biz and stay up-to-date with more content, news and events by bookmarking www.thegrowthhub.biz/euexit

For the most current and official updates, please visit https://www.gov.uk/transition