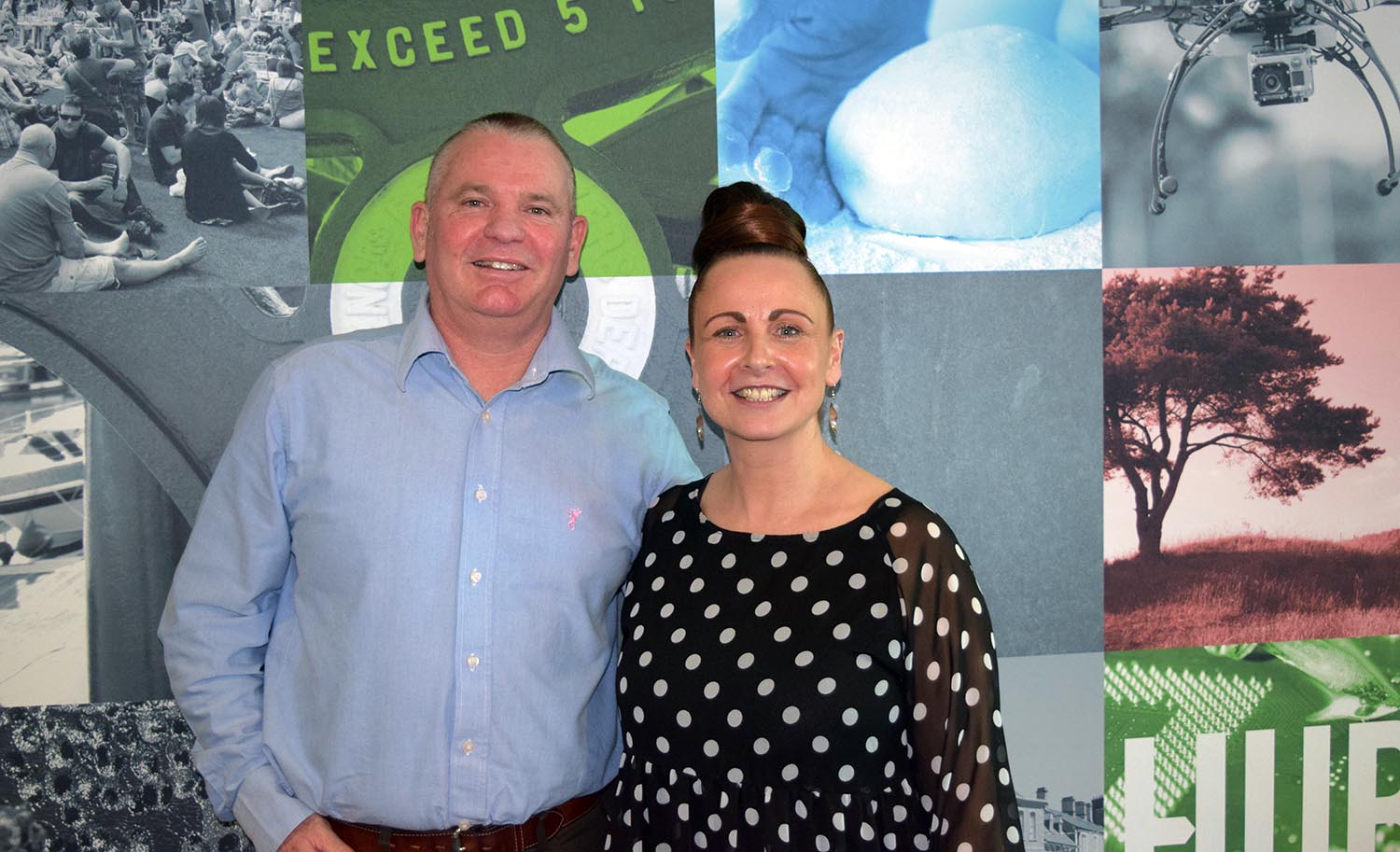 The Name Label Company is a Tewkesbury-based business that supplies garment labelling to schools & care homes in the UK and camps & nursing homes in the USA. At the helm are Emma and Matt Busby, two driven and enthusiastic leaders, who have spent the last four years growing the business as quickly and efficiently as possible. In pursuit of this, Emma heard about The Growth Hub through a contact and made immediate plans to visit;
When we first came to The Hub, I remember being impressed on all fronts. Obviously the incredible space is the first thing that hits you, but the main thing was the amount and range of support on offer. I had checked the website beforehand and made a mental note of the 5 or 6 events and courses that seemed like they'd help us to grow – when I came to visit I probably doubled that number.
Matt, with business partner Emma, looked at their list of business challenges and tallied them with what was being offered at The Growth Hub. The most immediate problems were;
The difficulty of marketing to multiple sectors
Future planning for a new business model
Recovering from recent cyber-crime and preventing future attack
Protecting their intellectual property
Getting affordable resource to cope with demand.
Meeting with Tina Paton, Business Navigator, they drew up a plan of support that addressed all of the above. First was an appointment to see the Marketing Advice Panel; a group of impartial experts with diverse skill sets and years of experience;
"The panel event was a real lightbulb eureka moment. We were halfway down the road to spending lots of money rebranding the business into individual elements; for our different products, services, markets etc. The panellists were very blunt in their advice, which was exactly what I needed. We felt confident in trusting them; they have no agenda and they're not selling anything. But they saved us thousands of pounds and countless hours, time and money that we've been able to invest into the other challenges that we had."
Over the past year, Matt also attended a cyber-crime advice clinic at The Growth Hub to deal with a recent attack on the company's VoIP phone. Matt was able to recover quickly and put safeguards in place to prevent future breaches – "another intervention that's potentially saved us money." More recently, Matt attended two masterclasses covering Business Planning and LinkedIn;
"The LinkedIn masterclass was another one that picked us up and set us on the right track, just like the panel did. In January, we attended the Business Planning masterclass. We knew that not having a physical plan wasn't doing us any good, but before that session I never felt able to sit down and really put my heart into the plan. Now – I have a plan that looks ahead to the next financial year and we're already seeing the benefits."
Having connected Matt with the University of Gloucestershire to look for student placements and apprenticeships, Tina is also helping him to find the right expert from The Growth Hub's Mentor Network. Regarding the future, Matt's outlook is bright.
"When we first found The Growth Hub, we had a high turnover but we were making zero profit. We were worried about our brand, our IP, our cyber-safety and our future. Even in a relatively short space of time, we've seen the upward curve and our margins are improving month on month. It's a case of spending time tackling each challenge and eventually you create a leaner, more focused and scalable business. If we'd have found The Growth Hub when we started, who knows where we'd be now?"
If you're a high-growth business in Gloucestershire and looking for support, we want to hear from you. Take a look at our events and masterclasses, get in touch via talktous@thegrowthhub.biz or give us a call on 01242 715400.