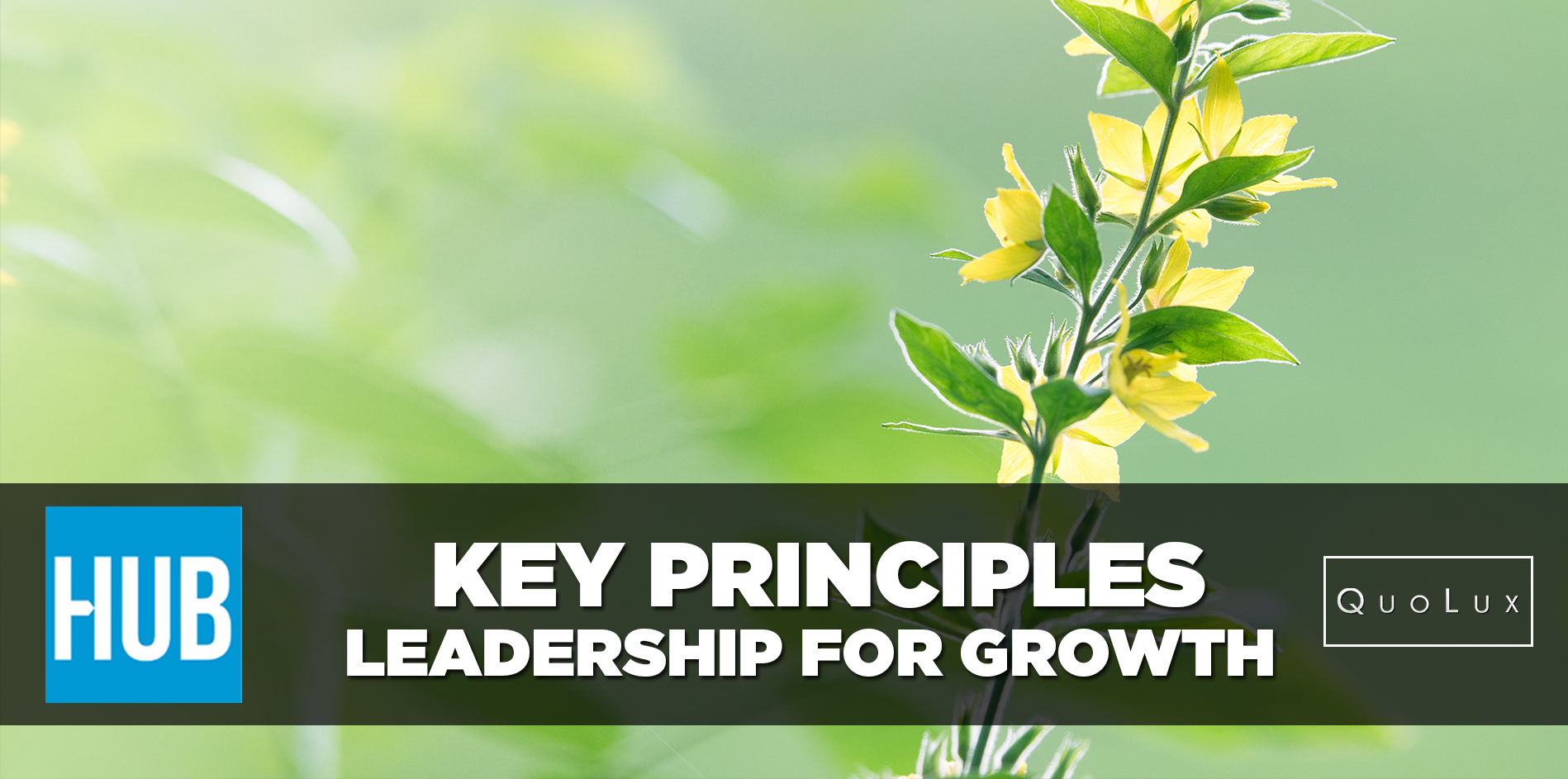 This post was written by Stewart Barnes, Managing Director of QuoLux, leadership and strategy development specialists. As part of our Gloucestershire Expertise series, we are giving local leaders the opportunity to share their knowledge and experience, to help other ambitious enterprises grow. If you would like to contribute to the series, please email ross.jukes@thegrowthhub.biz

Stewart Barnes shares his thoughts on how to lead for growth...
It's widely recognised that leadership and business performance are intrinsically linked, and that without the right person at the helm organisational success hangs in the balance.
But what makes a good leader? And what are their key areas of focus to help drive business growth and achieve success?
Firstly, remember that good leaders are made, not born.  Each of us can discover, develop, hone and practice skills that can empower us to become better leaders. That's the experience of hundreds of leaders we've worked with on LEAD, an intensive leadership development programme for owner-managers and directors, run by QuoLux.  It aims to help people become the best leaders they can be, by bringing together individuals to learn, share, reflect and support one another as they work on real life business issues – so that they feel equipped to deal with whatever is thrown at them.
These are just some of the key principles for leadership growth that our delegates explore:
Strategy
Setting out a clear business strategy based on marketing planning – where you should compete in order to gain (and sustain) competitive advantage – is fundamental to help achieve growth.
To formulate a strategy that will deliver significant and lasting impacts, leaders first must understand where sales and profits come from, segment their market, build strategies for the segments they choose to compete in, then align their operations to deliver the value that customers seek. Effective leaders do this consistently over a period of time.
Finding your focus is crucial but it's not an end in itself. What requires real concentration is the relentless follow through and even the most accomplished business strategists can't take on that role alone.
Creating a strong team around you and equipping them to lead their departments towards a simply articulated vision, through a clear business strategy, is vital.
Process
Together, the leadership team needs to continuously switch focus between the big picture and the close detail, the helicopter and the microscope. It's important to get the details right; to understand what's happening on the factory floor or customer service desk, what's impacting productivity, influencing the order book. Do we have the right systems and structures in place to deliver the strategy? 
But spend too long at the microscope and when you lift your head your goals could be further out of sight; you risk strategic drift. It takes practice to become comfortable switching to and from, but this is exactly what we see so many leaders achieving on our LEAD programme.
Culture
Culture and engagement are driven by leadership, meaning that leaders need to be accountable for building a strong and enduring ethos, listening to feedback, and engaging and retaining their teams.
Studies show that employee engagement is not just a 'nice-to-have' it's a business imperative, linked to several performance outcomes including productivity, profitability and customer satisfaction.  Effectively managing employee engagement is also one of the safest, quickest and cheapest routes to growth.
Professor John Oliver OBE, who's renowned for his work around employee engagement and is a LEAD masterclass speaker, highlights four areas for 'quick wins':
Communication – the cost of not communicating clearly with your team can be catastrophic. Systems need to be put in place that allow a healthy two-way dialogue, with regular measures to ensure effectiveness.
Recognition – this is often one of the most neglected areas of employee engagement. It's the key to building cooperation and understanding whatever the size of your organisation, so you need to take it seriously.  There are various recognition 'tools' that you can use, from a simple 'thank-you' to formally recognising good team practice.
Management style – the best management style is one that is constantly modified according to circumstances and perceptions. Effective leaders are adept at facilitative and situational leadership.
Continuous improvement – don't rest on your laurels! Review and improve the way you engage with your team and keep asking - is it effective and all inclusive?
Independent research has shown that LEAD alumni grow their businesses by around 27% after just one year on the 10-month practical programme. Cohort members can also have their learning accredited and achieve a Postgraduate Certificate in Leading Business from the University of Gloucestershire – which can then be the basis of a Diploma and a Master's Degree.
Chris Creed, Chief Executive Officer of Creed Foodservice, notes: "LEAD was life changing for me. Our business wouldn't be anything like it is now without it."
The next LEAD programme begins in November 2018. Get in touch if you'd like to find out more, email stewart.barnes@quolux.co.uk