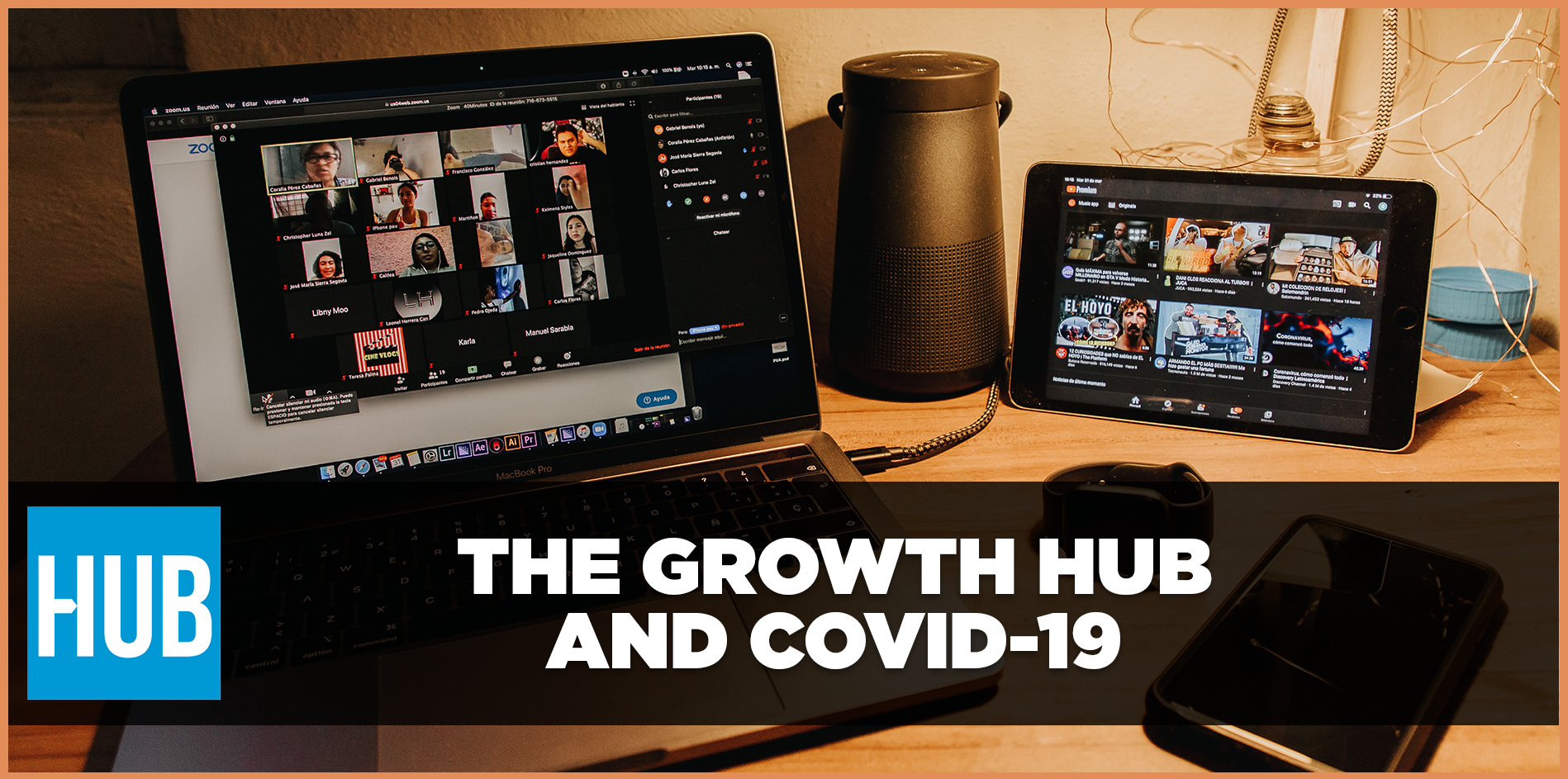 Most of us have never experienced anything like this before. 
COVID-19 has made students of us all; learning new ways to work, using new technologies, and finding new ways to tackle our challenges. Whilst we may have closed the doors of our Growth Hubs across Gloucestershire for now, our teams are working harder than ever to support businesses remotely.
Our MO has always been to simplify things for you. To help you find the path of least resistance to where you're trying to get to, by taking out the middle man, by making game-changing introductions, and by being a friend in-the-know for you to bounce off.
None of that has changed. Whilst our chance to chat over a coffee might be on pause, now more than ever we are making ourselves available to help you and your business find the opportunities and hurdle the challenges which lie ahead.
Hear from two members of the team below on their experiences over the last few weeks and how they've been working with Gloucestershire businesses. 
Tina Paton - Business Navigator
Tina, one of our Business Navigators, is a support specialist with a wealth of top tips, insider secrets, and connections with the who's who in Gloucestershire business. Having built her own firm up from scratch, Tina now supports others to achieve their own growth ambitions as quickly and efficiently as possible.
Changing your entire work-life pattern is no easy feat. One day you're in the office with all of your kit and colleagues, the next you're converting your kitchen table into an office which might be your new home for months. When you add children, pets and a husband to that; you very quickly learn that routine and resilience are key.

Keeping your motivation up is going to be your first challenge, no matter how driven and passionate you are. Such drastic changes can throw anybody off kilter, and blur the boundaries between work and home, making it easy to fall into the habit of working more, or less, hours than usual. Pick a spot in your house, make it professional and private, and stick to the hours you worked before.

Finances are often the next question we're asked about. Furloughing in particular; a word that many of us had never used until two weeks ago, but has become part of our everyday vocabulary. We are getting queries from individuals in unique circumstances, who feel like they are slipping through the cracks of Government support. Whilst we don't have all the answers, we study the changes to guidelines every single morning and make sure that we can point you in the right direction as fast as possible.

There are so many industry-specific support packages, that it's impossible for you to keep up with the support landscape and run your business. Just last month, we helped a client find a brand new Film and TV Emergency Relief Fund that his firm qualified for. It's our job to stay on top of business support, so that you can focus on the business.
Andy Kime - Business Guide
Andy Kime, one of our Business Guide working across the Gloucestershire Growth Hub network, is a highly experienced business consultant who works with rapidly-growing firms on their opportunities and obstacles. Having spent years in business banking, Andy is extremely well connected in the financial sector and leverages his formidable network to find unique solutions for his clients.
For many of my clients, growth isn't on the radar. So I listen. Providing an external perspective and a rounded view has always been my mantra, but it's never been more important. Add a little humour, some motivation, and useful insight; and all of a sudden you've made a big difference to how a business owner is getting through the day.

It's been my focus to make sure that I equip my clients with the resources, knowledge and level-headedness to make key business decisions during turbulence. I have dipped into my network of fellow advisors, consultants, and former colleagues; to make sure my own understanding of business options is razor sharp. 

Firstly, do not overlook the impact of managing the money going out. It's just as important as identifying what you can get in. Make full use of what you pay for already, by contacting your bank, accountant, and mortgage lender to seek advice, or to make temporary arrangements to maintain liquidity. HMRC, too. Check your bank balance for items which can be paused, or cancelled, at this time.

One of my clients, a holiday accommodation provider, had been hit hard by the lockdown. A week in, she was struggling to get hold of her bank, and was understandably beginning to panic about cash flow and defaulting on loans. Through my channels, I was able to find the answers she needed, and supported her through the payment-holiday process. The result was no need for further borrowings, payment breaks in place without credit impact, and the personal relief of business continuity that meant time to focus on health, family and eventual recovery. 

But to all of my clients, no matter size or sector, the best advice I can give is to use your time productively to prepare for the recovery. However challenging your new work-life balance is, you are no longer sitting in traffic on a commute, you are in less meetings, and you aren't getting tied up in conversation at the coffee machine. Spend some of this time defining what your business will look like post-recovery, as your background long-term goals are still key to driving your business's direction, even if short-term survival is the only thing you can see in the foreground.
We can't meet face-to-face right now, but everything else is still on the cards. Through digital support from our teams across the Gloucestershire Growth Hub network, telephone and video-conferencing, all of our support, training and events are still taking place.
We are here to help you keep your business surviving and thriving throughout the COVID-19 pandemic, and just as importantly, we'll be here to help you when it's over.