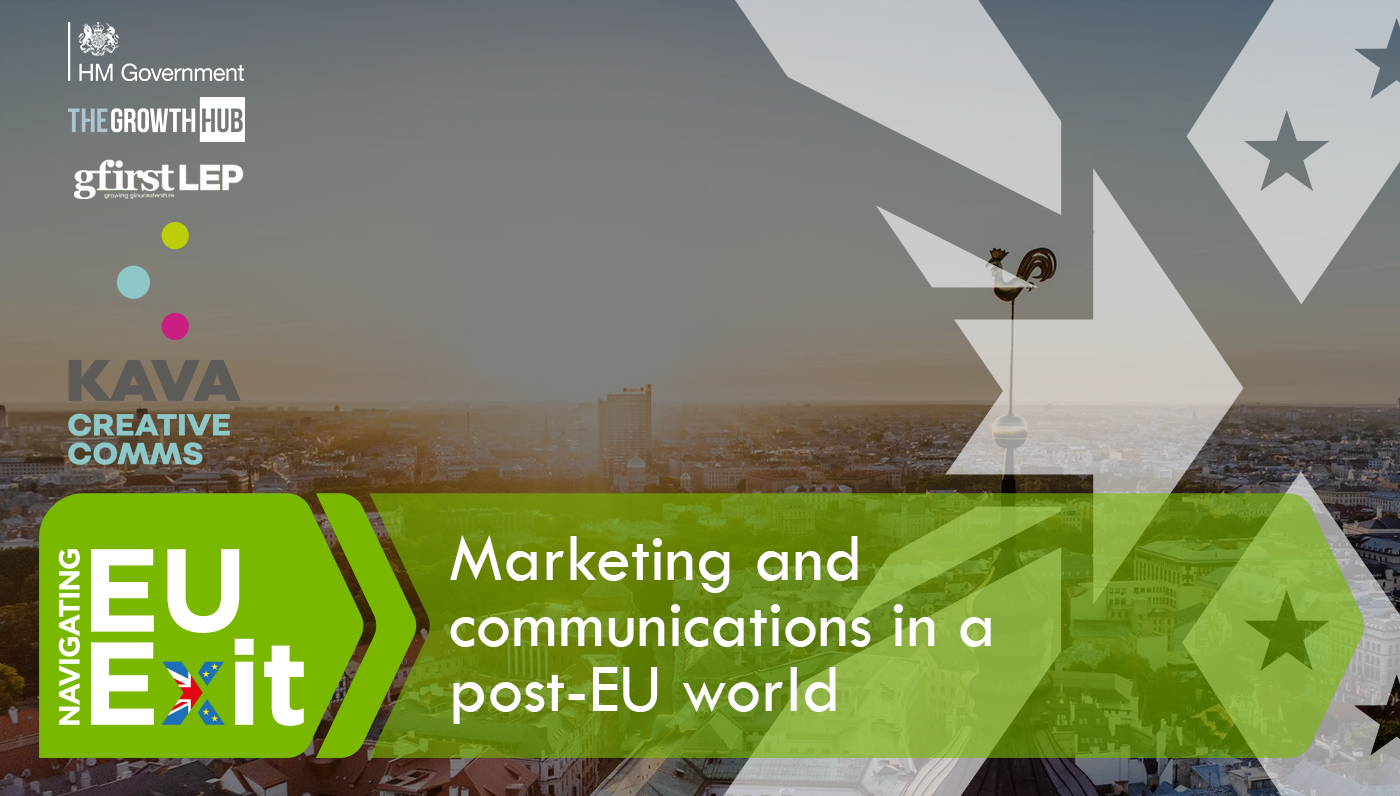 A few years ago, a junior colleague who started work in PR in late 2016, genuinely asked: 'What did the media talk about before EU Exit?' and more than four years later, I suspect he's still wondering. EU Exit has been a headline for half a decade, including the run up to the referendum, but now we have a new topic: post-EU.
Following a lengthy period of discussions, debates and negotiations, Britain has finally left the EU and the transition period has finished with a deal being struck a matter of days before the 31 December deadline. But as well as the restrictions and paperwork for continuing to trade in the EU, what does this mean for marketing in practical terms?
Keeping up appearances
Anytime uncertainty abounds, there will be an increase in caution around 'discretionary' budgets, but there's a lot to be said for maintaining spend in areas like marketing, creative, PR and social media. Not least of which is to maintain an activity level that your existing customers / audience are used to – keeping up appearances you could say. 
But over and above this, there are two other primary reasons to maintain or even increase marketing activity. 
Speaking up
Firstly: if your competitors are holding back, the opportunity to increase share of voice is greater than ever. Stealing a march over the competition, just when potential customers are seeking new markets for their products, is a fantastic opportunity in itself and while it's easy to cut marketing budgets as ROI is often harder to quantify, marketing is key to long-term growth, and keeping up a positive outward appearance to existing and potential customers instils confidence in your stability, presence and prospects.
Planning for growth
Secondly, and closely related to the point above, marketing is instrumental in building a sales pipeline and as we emerge from an economic downturn, and indeed from the financial shadow of the global coronavirus pandemic, work undertaken now will bear fruit in the months to follow. We've been here before; the financial crash on 2007 saw a lot of businesses struggle and we saw first hand how intelligent marketing and positive activity built the foundations for recovery. Almost without exception, those that invested in their marketing through the quieter months, saw returns when the economy recovered and consumer confidence returned. 
Business as usual
As well as these positive steps, there are a number of more mundane, but very important marketing tasks that need to be checked now that we've left the EU. Obviously, there are GDPR requirements to adhere to, but I'll leave that particularly minefield to the legal sector. From a marketing and creative angle, there are a number of things that a good creative agency should keep on top of for its clients. At Kava, we manage the websites for most of our clients, and part of our commitment is ensuring that their privacy statement and cookie policies (among other things) are up to date and compliant with relevant legislation.  
A changing situation
Of course businesses in the EU are going to have concerns about trading with the UK, especially if goods are to be transported across borders. But changes to excise duties or import taxes shouldn't be a long-term deterrent. Once the baseline conditions are understood, planning and strategy for logistics will be established, and disruption should be kept to a minimum. Yes, we will all have to get used to the new conditions that apply to travel, for example, exhibitions, conferences and business meetings given the potential need for a visa, but comparatively, this uncertainty will quickly settle down and we will enjoy a much more stable market and trading relationship than we have had for the past three years. 
Better the devil you know…
Britain has been a trusted trading partner with European countries for decades. Yes, things have changed, but those links have the potential to survive and indeed thrive. British-made is still synonymous with quality for many sectors, and that hasn't changed. Let's take a fictitious example: Pierre, a French importer of British goods has enjoyed a strong relationship with his British supplier for 20 years, and now there is a change to the import process. Is Pierre more likely to stick with the product and company he knows, trusts, and understands and get to grips with a revised customs process, or is he going to cut all ties and re-tender with EU partners of unknown quality, provenance and with no trading history to avoid what is likely to be a relatively minor, short-lived disruption to his supply chain? Of course he isn't. As long as his suppliers give him no reason to doubt their continued ability to supply him.
Harness the power of communications
We are fortunate to live in an age of easy, fast and effective communications. If this transition had happened 40 years ago, updating customers in other countries would have involved expensive international phone calls, slow cross-border postal services or maybe a fax. But today, we have email, instant messenger, websites, eshots, newsletters and social media as well as a world wide web; things that would transform any business relationship of the 1980s, but are expected now. And this speed of communications means disruptions can be communicated, customers kept up to date (to the minute) and logistical issues that could previously have been debilitating, even disastrous, are now nearly completely avoidable. 
But…
There's always a but… and in this case, it's that all these possibilities, these existing relationships that can endure, will only do so if you invest in your marketing and keep your customers, existing and potential, up to date. Communicate, tell people what's happening and share delays and successes and you will instil confidence in both your abilities and your integrity. 
Communication is key to so much in modern business, and marketing is therefore more vital than ever in maintaining relationships and accessing new markets. Return on investment may be hard to quantify, and depending on the baseline awareness and activity that it builds on, it can take time, but in the long-term, it will be money well spent. 
Thank you to Toby Aiken for contributing this article. Toby is the Marketing and Communications Director of Kava Communications - a full-service branding, comms and creative design agency based in Dursley.

If you would like to speak with one of our dedicated EU Transition Advisors, please get in touch by emailing euexit@thegrowthhub.biz and stay up-to-date with more content, news and events by bookmarking www.thegrowthhub.biz/euexit