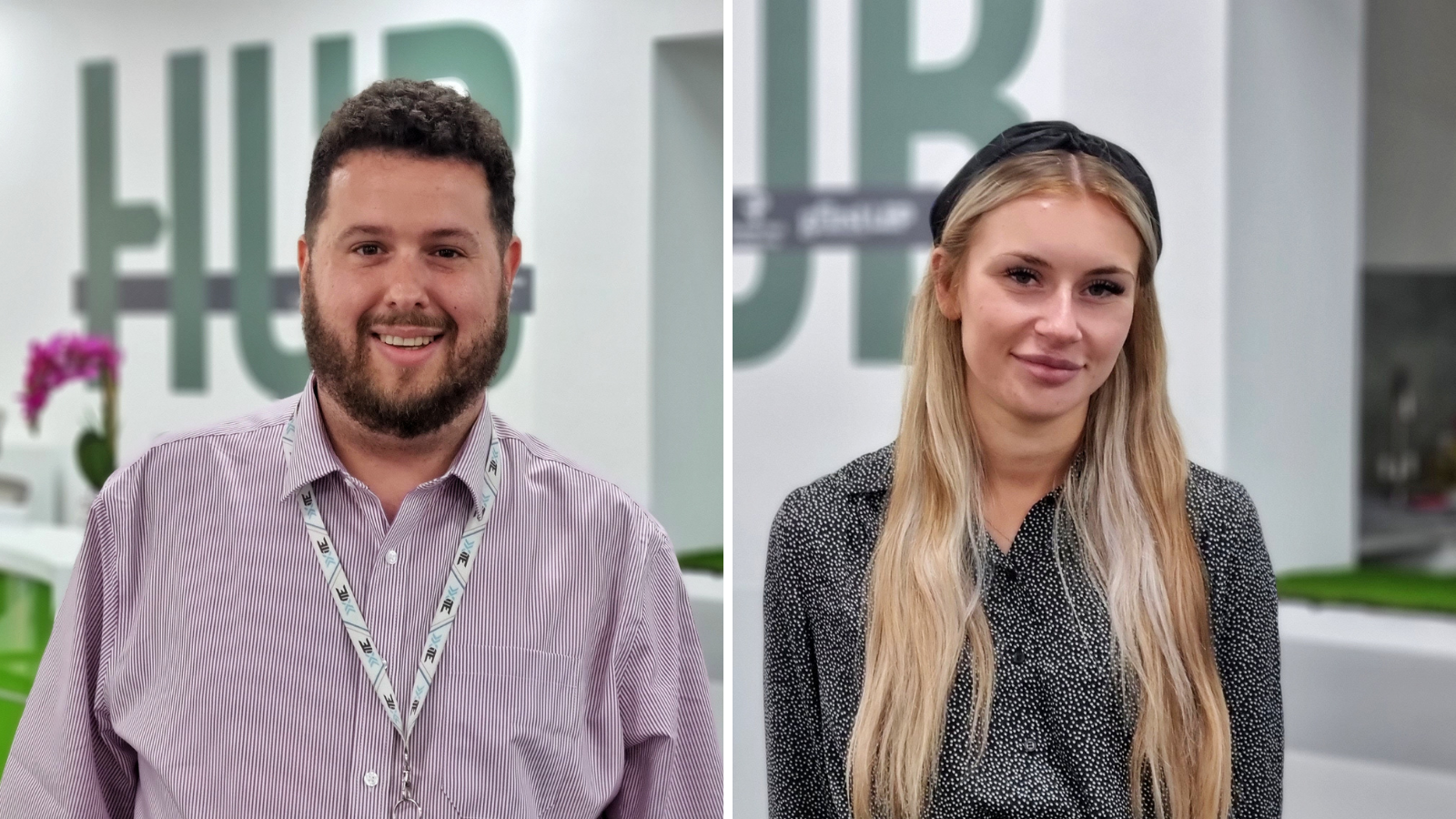 Our brand-new Forest of Dean Growth Hub is looking incredible. The finishing touches are being made and it's almost ready to welcome Gloucestershire businesses through the doors.
Including a large meeting room, co-working, and incubation offices, our newest Hub has fast free WiFi, break-out areas, printing facilities, dedicated parking by appointment, tea and coffee station, and later in the year, a café and outside seating area. Complete with high-quality video conferencing technology and a friendly team on hand to help you make the most of this new Forest facility. But who are the new faces ready to welcome you to The Growth Hub? Meet Tom and Freya.
Tom El-Shawk, Business Navigator at the Forest of Dean Growth Hub
"The idea of The Growth Hub blew me away. I had no idea that there was anything like this available. The fact that this large new facility is here in the Forest of Dean is so exciting.
If I were looking to start or grow a business, where or who would I turn to? The answer is The Growth Hub. A place where you can get specialist advice, receive the help you need, and have access to resources you didn't know existed. It's an incredible project to be a part of.
Before joining The Growth Hub, I was part of the team at The Bells Hotel and County Club in the Forest of Dean originally starting as a Marketing Coordinator and progressing to Hotel Operations Manager.
The new Business Navigator role at the Forest of Dean Growth Hub seemed like a fantastic opportunity to expand on the contacts I have made through my previous role and help build something that is going to be transformative for the Forest.
Growing up in the Forest of Dean and living here for most of my life, I've witnessed many of my friends moving out of the area looking for job opportunities that aren't necessarily available in the county. I can now help prove that in fact there are opportunities in the Forest of Dean and Gloucestershire, you just need to be pointed in the right direction. It's a great feeling to be supporting the area I've grown up in to develop business opportunities for the community.
I've got a keen interest in technology so I'd love to see new tech businesses coming through the doors of the Forest of Dean Growth Hub. Come and say hello, I look forward to seeing you soon."
Freya Lake, Host at the Forest of Dean Growth Hub
"Before joining The Growth Hub team, I was a specialist at a brewery teaching gin tasting masterclasses and have lots of work experience with accounting and administration. I studied at Hartpury College to complete an Extended Diploma in Business and I have a keen interest in supporting businesses to grow. That is why I was first attracted to the new Host role at the Forest of Dean Growth Hub.
The best part of my role will be supporting businesses here in The Forest and connecting them with other businesses across Gloucestershire and beyond.
There is nothing like The Growth Hub in the Forest of Dean currently. It's a brilliant resource for all small and medium-sized businesses to use. When businesses come to The Growth Hub, they can expect guidance on where they can get support, advice about funding, help with their business plans and they can even use The Growth Hub as a space to grow their business. There is so much flexibility for how businesses can use and benefit from the working space at The Growth Hub. Whether a business owner needs a quiet place with no distractions to focus or they need a large meeting room to host an important event, we are here to help.
The Forest of Dean Growth Hub is based at Vantage Point Business Village so we're already part of a thriving business community. It will be great to involve businesses on-site here at Vantage Point and the wider community across the Forest of Dean. I can't wait to host coffee mornings and networking opportunities to provide opportunities for SMEs in the Forest of Dean to connect and grow. Gin tasting networking event, anyone?"
Find out more about our new Forest of Dean Growth Hub
For more information about the Forest of Dean Growth Hub, visit: www.thegrowthhub.biz/forestofdean or email us at: forestofdean@thegrowthhub.biz