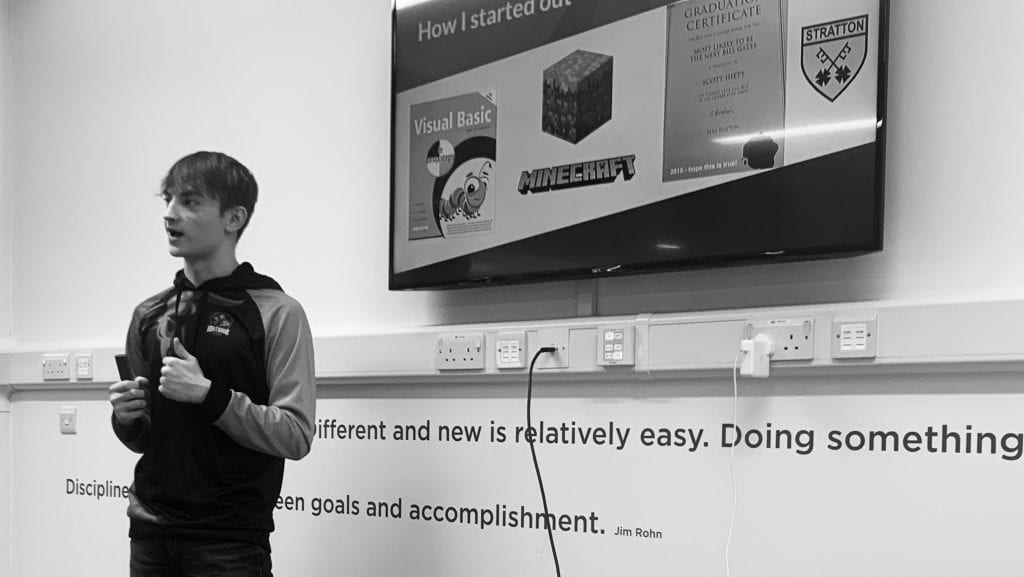 This post was written by Joe Nagel, Innovation Director at The Innovation Beehive. Founded over 10 years ago, The Innovation Beehive exists to release the creative potential of people at work, through world-class innovation training and leading-edge innovation consulting. Joe helps to release the energy and potential of people at work by supporting clients to identify their needs and connecting them to the right solutions for them. On March 3 The Innovation Beehive are publishing a new White Paper on Leadership 4.0: New Leadership for Disruptive Times. Free print and electronic copies can be ordered via this page.  

As part of our Gloucestershire Expertise series, we are giving local leaders the opportunity to share their knowledge and experience, to help other ambitious enterprises grow. If you would like to contribute to the series, please email marketing@thegrowthhub.biz. 
His name is Scott Hiett. He is 16-years old and still in school. Yet he has already set up online businesses, created machine learning based algorithms, and has secured a job as a product manager leading a team of product developers for an Esports infrastructure company.
We were privileged to meet him at our offices at the Growth Hub in Cirencester, where he came to share his story with the entrepreneurs who use that space.
If you're slightly cynical, you may wonder what you can learn from the experience of a 16-year-old.
It goes without saying that someone who has achieved so much at a young age will be tenacious, intelligent and more worldly than you might expect from an average 16-year-old. However what blew us away was his understanding of the world of innovation, his perception of the direction that technology is taking us, and his ambition to seize the opportunities that this new world of Industry 4.0 offers to him and his generation.
From Minecraft Mods to Featuring in Forbes Magazine
First though a little about his background.
His story starts when a seven year old Scott receives a WH Smith Voucher for his birthday.  He buys a book (yes a book!) on coding. He doesn't necessarily understand everything but he follows the step by step guides and sees the results. He loves the process and the results and he continues to learn and develop his skill.
Fast-forward a few years to a slightly older Scott playing Minecraft and wanting more from the game than it was offering. Instead of just playing and then stopping when he got bored, he started to develop Mods (modifications to the game's code to change game-play). He noticed that other people starting using these. And this was the first time he truly saw the potential value in what he was doing. In the open-source environment of Minecraft, he was able to have an impact on the experience of others.
Later, his love of gaming, or Esports, led him to form the Matador gaming club in his school, which is the number one club in the UK. This has taken him to national and international competitions and he has been a commentator at a number of these major Esporting events.
His biggest breakthrough, however, came when he was invited to attend a Hackathon at a Finastra. His team won the Hackathon with their idea HYBER, an AI-based foreign exchange app that allows users to grow holiday money ahead of their trip. The prototype worked so well that the team were able to uncover it's major flaw – if too many people were using it, the app would begin to influence the market, thereby creating a feedback loop that would render it unable to compute correctly. Effectively, Scott discovered his AI was too clever for itself! This amazing success led to him being featured in Forbes Magazine.
Now, Scott is still in school to finish his GCSEs but also works 12 hours a week a Programming Manager for an Esports infrastructure company. He manages a team and is working on a major project that will transform the mechanics of this growing industry.
He is also developing a top secret project which promises that 'the future is code'… watch this space!
A nice story, or a lesson to us all?
So what can we learn from young Scott about the world of Industry 4.0?
We took three key principles from Scott's talk, that could make a difference to the way you think about the future:
The Future of Jobs: Scott had no idea when he bought that book on coding that he would discover a hobby that would give him purpose, opportunity, and money. He just found a hobby. It is well documented that in the Fourth Industrial Revolution, jobs will be transformed and a host of new ones will emerge. One way to be prepared for this uncertain future is to become a master of what fills you with passion. Then you will be prepared to either gain fulfilment from it for its own sake, or seize the opportunity to put your hobby to work for you and for society.
 
The Future of Entertainment: Scott shared the surprising fact that people watch gaming videos more than all the major streaming services combined, and the total value of the industry has grown from $130 million in 2012 to a predicted $1.7 billion in 2022. Check out the graph and you'll see that this is starting to look like an innovation disruption curve. The question is: what is being disrupted? Probably not conventional sports. But could it be that the great disruptors of the 2000s – the streaming services are on the brink of disruption from participatory entertainment?
 
The Future of Business: Scott was asked what he would say to companies that are unsure about using technology in their business. He had some stark advice, that aligns with everything we have been saying about the Fourth Industrial Revolution: "as harsh as it sounds, if you're a company and you're not accepting the changes that are coming, you're going to get to a point where the change has moved on so much that your company has fallen so far behind that your company is going to be in a lot of trouble!". And that's to put it mildly. The Fourth Industrial Revolution is all about unbridled change and transformation. If companies can't adapt and transform with or ahead of this curve, they are going to fail.
The Embodiment of The 4.0 Leader
Scott's story is inspirational to us, and not just because he is young and has achieved a lot. We're truly inspired because he has demonstrated some of the core behaviours that make for a great leader in The Fourth Industrial Revolution: a 4.0 Leader:
Leading in Head: He has built up his knowledge and capability, not just functional capability but also strategic insight into future trends.
 
Leading in Heart: To get to where he is today, Scott has cultivated win-win relationships with people in business, technology, and Esports, as well as influencing teachers (and probably parents!) to enable him to pursue his passion.
 
Leading in Health: By finding purpose in his work, Scott shared that he feels fulfilled and empowered in his life. Ultimately, so much of what we do to focus on our holistic health is grounded in a need and desire to feel fulfilled and self-empowered.
 
Leading in Habit: Scott made it a habit to build up his skills in coding and he has formed new and positive habits to maintain the complex and full life he is living. As leaders, we all need to focus on maintaining positive habits in order to enable ourselves and our teams to thrive.