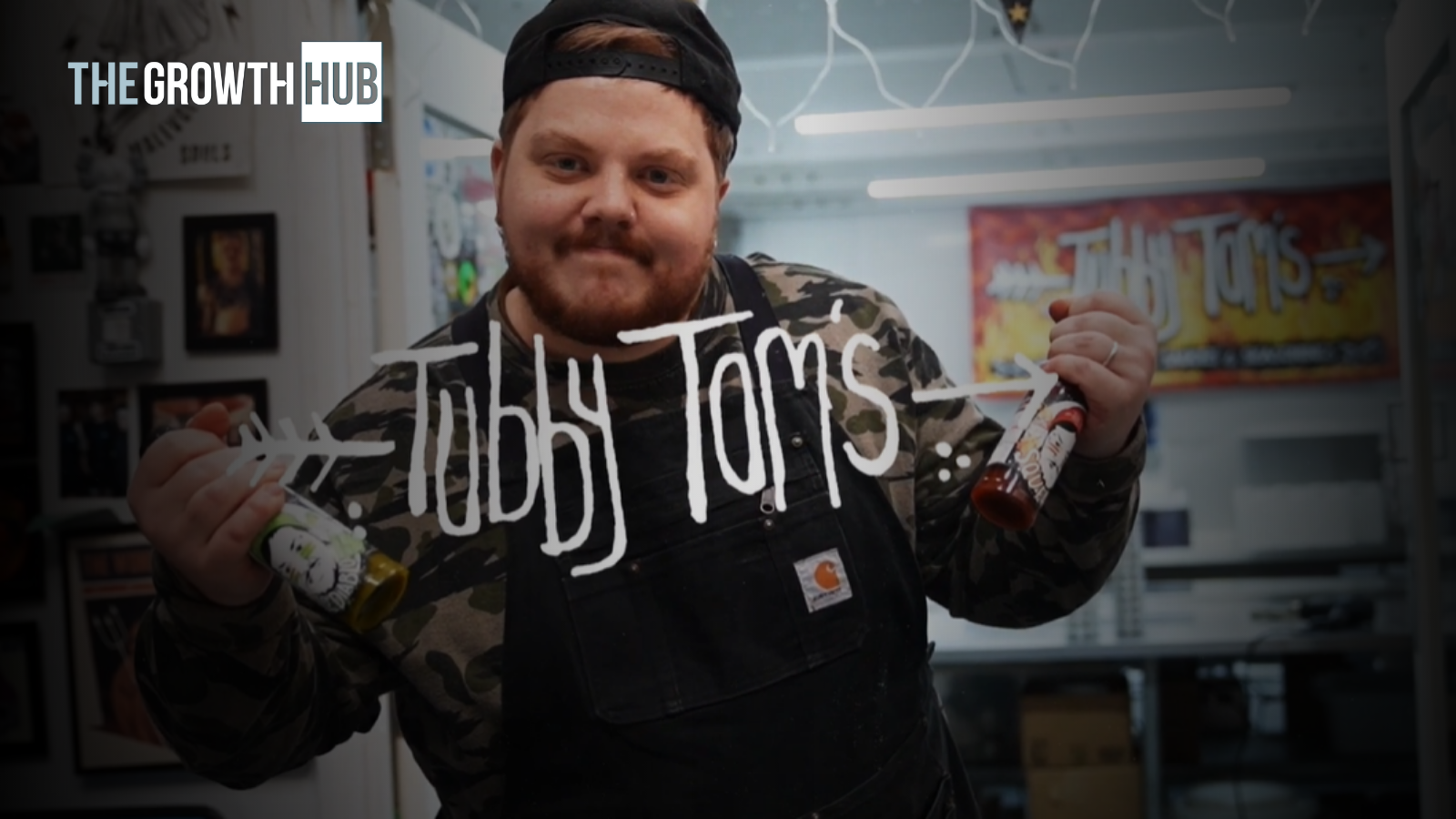 Over the past four years, Tubby Tom's, producer of hot sauces and seasonings based in the Forest of Dean, has transitioned from a solo operation to now having six staff members, a new production unit and a growing network of stockists that can choose from over 70 unique creations. Tubby Tom's has upscaled its production from 13,000 bottles a year to an impressive 166,000 with support from The Growth Hub.
Tubby Tom's first worked with The Growth Hub back in 2018. Our partnership helped integrate the brand into our extensive network of contacts and streamline Tubby Tom's production — considering everything from exports to external funding. 
The main project was to pull a plan together amidst Tubby Tom's initial rapid growth period, that looked to create a future-proof roadmap for the next five years. The Growth Hub's plan helped steady the ship and ensured the brand set a strong course for sustainable growth. 
The most important target for Tubby Tom's was to secure a central hub of operation, where production, packaging and distribution could all take place under one roof. Fortunately, in December 2018, the brand secured an industrial unit in the Forest of Dean, which served to catapult the business by increasing its production capacity and facilitating its relocation to a new specially designed kitchen.
Now, four years on and having survived the hardships of the pandemic, the hot sauce producer is bottling over 22,000 litres of extra sauce per annum for its growing customer base. Tom has since built on his social media presence, subscription box service, and wider brand collaborations, in addition to hosting pop-up events.
Tubby Tom's founder, Tom Hughes, commented: "If we didn't have the chance to work with The Growth Hub and re-evaluate what we were doing, it would have taken us a lot longer to get to where we are now. We knew what we wanted to achieve, but sometimes you just need to strip back to the basics in order to put your best foot forwards — and that's exactly what The Growth Hub helped us to do. My one regret is that I didn't get in touch with them sooner in my journey, so my biggest piece of advice for any business owner is to look up their local Growth Hub."
Commenting on the future of the brand, Tom added: "In the next four years, we hope to be using our latest project, which is a kitchen three times the size of our current one – currently being built in an adjacent unit. This will hopefully make us even more efficient, and as well as the new kitchen, we want to have more people working in it — adding to the already amazing team we have here. The key for us is to ensure that everything we produce still remains of the highest quality as our consistency and unique flavours are what really makes us stand out in a competitive market."

 
Andy Kime, Business Guide at The Growth Hub, said: "Tubby Tom's was one of the first brands I had the opportunity to work with and it's amazing to come back four years later and see where the business has gone. When we put a plan in place four years ago, Tom was at a point where he was looking to get serious and we were able to pull a strategy together that gave him some defined markers to push for in regards to turnover, profit, products and everything in between. Tom took this plan, stuck with it and has smashed every target we set out in 2018 — which is a true testament to his passion and commitment to the business. All of the targets we set at The Growth Hub are ambitious and designed to raise expectations because there's no point setting a target you know you can easily achieve. Tom is a glowing example of how true ambition can translate into real success."
Watch the video case study on YouTube here
The Growth Hub can take your business to the next level
At The Growth Hub, we are a one-stop-shop for business owners in Gloucestershire, delivering a range of fully-funded business support solutions. We offer free expert-led workshops, modern co-working spaces, online resources, as well as direct support from a team of consultants designed to provide business owners with a sustainable plan for the future.
Email: talktous@thegrowthhub.biz