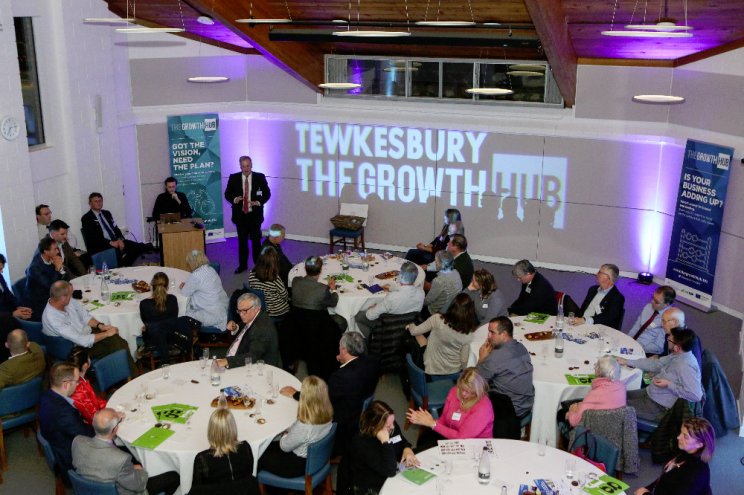 Tewkesbury Growth Hub is now open for business – an exciting new space where the local business community can work, meet and get access to important resources in a supportive environment.
In a first for the country, the Growth Hub is based inside Tewkesbury Borough's Public Services Centre meaning businesses can access unrivalled support and advice from council services, including important regulatory, planning and environmental health advice.
 
Promoting entrepreneurship, innovation and business growth in the area, the Hub offers support to businesses of all types, from pre-start to existing companies and organisations looking to grow. It forms part of the Gloucestershire Growth Hub network, supporting local enterprises to achieve their potential, expand and create jobs.
 
It was officially opened by Councillor Rob Bird, Leader of Tewkesbury Borough Council and David Owen CEO of GFirst LEP on 21 November at a packed launch event, including local businesses who shared their experiences of support received through the Growth Hub network.
 
Councillor Rob Bird, Leader Tewkesbury Borough Council, said:
The Tewkesbury Growth Hub is a major boost for local businesses of all types and sizes, and I encourage everyone to make full use of the help, advice, resources and facilities available.
 
It fulfills two key council objectives: practical support for business growth and prosperity and the one-stop customer service experience, by coordinating our services to businesses through one contact point.
 
This is the first Growth Hub in the UK hosted by a local council, illustrating our driving ambition to help businesses grow successfully, which creates prosperity for a thriving community.

 Nigel Dawson from Café Au Chocolat in Tewkesbury spoke at the event about his experience of business support through the council and growth hub. He said: "We have found the advice and guidance we received from both the council and the Growth Hub invaluable and I would really encourage small businesses to get in touch with them to see how they can help develop businesses further."
 
Jake Berry, Minister for Local Growth, said of the launch: "This Government is committed to boosting economic growth across the whole of the UK and building a Britain fit for the future.
 
"The latest addition to the Gloucestershire Growth Hub network in Tewkesbury, backed by £465,000 from the Local Growth Fund, will deliver jobs and boost productivity for local businesses.
 
"It's great to see the network expanding right across Gloucestershire, part of a £9.4m investment in Growth Hubs across the county."
 
Diane Savory, Chair of GFirst LEP added: "Back in 2013 we came up with the original concept of a Growth Hub network offering business support right across the county. The original Growth Hub in Longlevens, in partnership with the University of Gloucestershire, opened its doors in October 2014 and has worked with over 2,000 businesses since then.
 
"The Tewkesbury Growth Hub, forms an integral part of the public service element of Tewkesbury Borough Council.  It is fabulous and a real coup as it is the only Growth Hub to be located within and partnered with a borough council in England. 
 
"The Growth Hub is certainly an amazing space for local businesses to work, build wider commercial networks and access the support they need to encourage and realise their growth potential. It has been an absolute delight to work on this project from conception through to the development of this fantastic facility."
 
The Tewkesbury Growth Hub space includes three incubator units and the tenants benefit from access to a wide range of support services. There is also the opportunity for businesses to use the corporate meeting room suite for events, seminars or training. The rooms have all been upgraded, so they are business ready with updated IT equipment.
 
A full Business Navigator service is provided along with a range of workshops and training events, bringing these services out into the local Tewkesbury area.