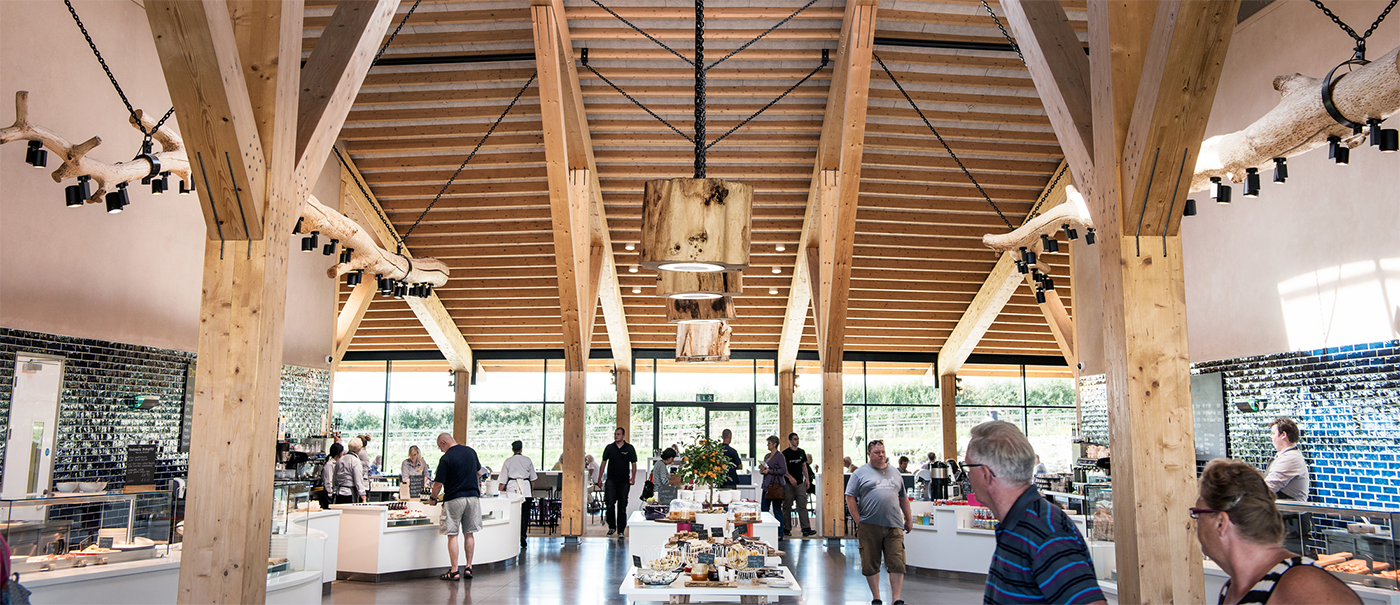 The University of Gloucestershire is working with Gloucester Services owners, The Westmorland Family, to bring together business students and the local suppliers to tackle real business problems as part of a campaign to turn classroom learning into real-life practice.
Part of the 'Make It' campaign, a joint initiative between the university's Business School and The Growth Hub, the scheme allows the suppliers to the M5 service station (complete with farmshop, butcher and fishmonger) to enlist the help of the students on a range of projects which will help them address a variety of business challenges.
Rebecca Mcgilvray, Brand and Communications Manager for Gloucester Services, said: "Our suppliers are part of our family and we want to help them to grow and reach their supply potential – this initiative is valuable as it allows them access to knowledge and fresh perspectives while it gives the students an excellent experience too."
Suppliers included Hobbs House Bakery, Hetty's Tea Party and Godsells Cheese. Sarah Churchill, who has been running her Barnwood-based company The Artisan Kitchen for almost 5 years, said, "Fresh minds and approaches are really important and, rather than experience, the right attitude is key."
First-year Business Management student Lauren Whittock was appointed to work with Hobbs House Bakery, famously run by the Fabulous Baker Brothers Tom and Henry Herbert. She said: "I'm really keen to get actual experience working with a real company on a real problem." David Maslov (in his first year of an Accounting and Financial Management degree) will be working with Nahashon Mwangi (first year, Business and Marketing Management) to help Kitchen Garden Foods. David said: "We've been asked to do some market research to allow the business to grow in the right areas and find the best market, so Nash will use his marketing skills for that while I'll make sure we stay on budget. It's a great way to use our own individual knowledge and skillsets to work with other people we wouldn't normally get to work with."
Another company hoping to benefit from their work with the students is Woodchester Valley Vineyards who have just started supplying Gloucester Services their artisan still white, rosé and sparkling wines. Simon Taylor, Sales and Marketing Manager for the vineyard, said: "The guys were really switched on and asked lots of interesting questions. They communicated really well and will help us look at a digital marketing strategy on how to promote our wines to a wider, global market. If this project helps us with our business and helps them with their studies, well, why not?"
Dr Gwyn Jones, Dean of Business at the university said: "Classroom teaching comes alive when students get the opportunity to put it into practice. Theory work in the classroom is one thing, but knowing how to apply it is another – this is a really valuable experience for our students but hopefully it will be just as valuable for the businesses with whom they work."
Following the initial meeting at Gloucester Services, the suppliers and students will be working closely together over the coming weeks to identify possible solutions to the challenges posed. To find out how your business can get involved in Make It and engage with local, entrepreneurial students; please get in touch.