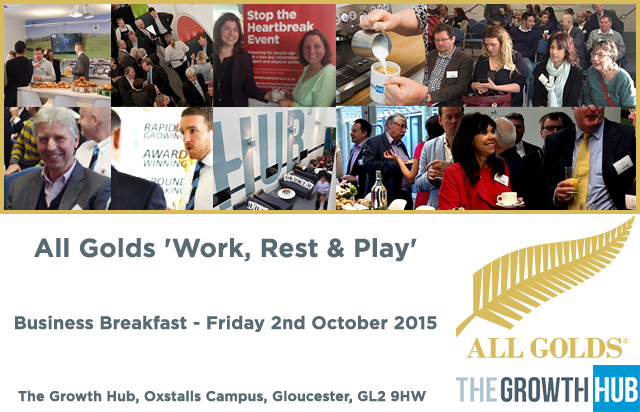 The All Golds Business Breakfast is a shorter, sharper version of your typical networking event. It's open to aspiring business leaders in Gloucestershire who want to make powerful connections, learn important lessons from sport and drive their business forward; all before the work day starts.
This month during the WORK session, Neill Ricketts, CEO of Versarien Plc, provided insight into achieving rapid business growth. Having helped to accelerate the growth of two companies, Neill explored the themes of how business leaders can stifle or stimulate growth themselves. His inspiring talk covered the importance of creating a company structure which delivers business objectives, how decision making can halt growth and why being out of the office is vital for fast growth.
You can see Neill's presentation on our Slideshare here.
After a busy networking breakfast, Nic Corrigan, Director of Rugby at Cinderford RFC, delivered his talk: A+ Attitude, B- Ability. Nic spoke about using his doctoral research to implement a selection, recruitment and management of a "character over ability" model at Cinderford; and how this activity is made a cultural impact at the club. Nic expanded on the wider lessons that he has learnt from a career spent in sport – and how these are so easily and readily applied to business.
You can also see Nic's presentation on our Slideshare here.
The next All Golds Business Breakfast will feature Luc Morel, General Manager of The Greenway Hotel & Spa. It will also see the return of the hugely successful festive market!
Pencil Friday 4th December into your diaries, you'll hear more from us soon.