Net Zero: The Build Back Greener and Heat and Buildings strategies
On October 19th the government has published its Net Zero Strategy which sets out policies and proposals for decarbonising all sectors of the UK economy to meet the net zero target by 2050.
The strategy sets out a plan for how businesses and consumers will be supported in making the transition to clean energy and green technology. The government has also published its heat and buildings strategy on how the UK will decarbonise homes, commercial, industrial and public sector buildings.
As part of the strategies, new investment announced today includes:
£3.9 billion of new funding for decarbonising heat and buildings, including the new £450 million three-year Boiler Upgrade Scheme

£350 million to support the electrification of UK vehicles and their supply chains and another £620 million for targeted electric vehicle grants and infrastructure, particularly local on-street residential charge points

£140 million Industrial and Hydrogen Revenue Support scheme to accelerate industrial carbon capture and hydrogen

£500 million towards innovation projects to develop the green technologies of the future

£124 million boost to the Nature for Climate Fund

£120 million towards the development of nuclear projects through the Future Nuclear Enabling Fund.
The Department for Environment, Food and Rural Affairs (Defra) has also set out today the government's response to the Climate Change Committee's report and their recommendations on adaptation.
The Growth Hub Approach
UK Business Climate Hub
No matter how small your business or what industry you're in, your commitment could make a real difference – to the planet, to your customers and to your running costs! Even the smallest businesses produce carbon emissions – it could be through your building, your vehicles or your supply chain.
We're asking you to take the first step on your journey, by committing to cutting those carbon emissions in half by 2030 and to reach 'net zero' by 2050. Net zero means that you are putting no more carbon into the atmosphere than you are taking out of it.
The SME Climate Hub has partnered with Oxford University to support small businesses in reducing their carbon emissions and to provide climate solutions to contribute to climate action in society. The tools and resources directly below help all SMEs take concrete steps towards climate action across multiple pathways. They're the first step to getting started.
Access the Climate Hub here.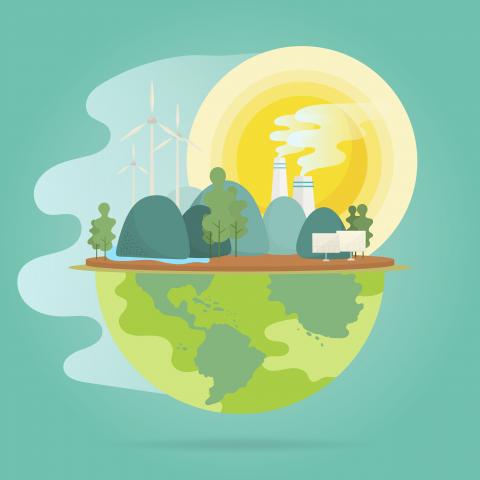 Climate Change Expertise in Gloucestershire
We have a specialist Business Guide, Andrew McKenzie, who can help support your Gloucestershire business to become sustainable. Andrew is a sustainable-business leader focused on helping organisations lighten their footprint as they address the opportunities and challenges of climate change. Andrew has worked across multiple sectors supporting clients to develop and embed purpose-driven strategies within their operations. As a champion of innovative technologies and solutions, Andrew has worked with businesses to improve their resource efficiency, reduce their environmental impact and establish market differentiators. 
Andrew has nearly 20 years' experience working with businesses across a broad range of sectors to manage and reduce their environmental impacts. He has worked as a consultant and an external project delivery partner, but has also spent 7 years as an in-house sustainability lead implementing an award winning CSR programme (including Queen's Award for Enterprise – Sustainable Development).
To access support from Andrew you can email him here.