Going green is often easier said than done.
So that's why we want to hear from local business leaders about the barriers you're facing in your Net Zero journey. Whether it's a lack of knowledge on the subject, the cost of upgrading, or the time it would take to create new systems and processes - we're here to simplify things and get you the support you need.
We've started to build the kind of local Net Zero support that your business needs. If we want to play our part in the UK's pledge to halve SME carbon emissions by 2030 and fully by 2050, it's time for Gloucestershire to step up.
The Growth Hub Approach
SME Business Climate Hub
No matter how small your business or what industry you're in, your commitment could make a real difference – to the planet, to your customers and to your running costs! Even the smallest businesses produce carbon emissions – it could be through your building, your vehicles or your supply chain.
We're asking you to take the first step on your journey, by committing to cutting those carbon emissions in half by 2030 and to reach 'net zero' by 2050. Net zero means that you are putting no more carbon into the atmosphere than you are taking out of it.
The SME Climate Hub has partnered with Oxford University to support small businesses in reducing their carbon emissions and to provide climate solutions to contribute to climate action in society. The tools and resources directly below help all SMEs take concrete steps towards climate action across multiple pathways. They're the first step to getting started.
Businesses of all sizes around the UK are committing to do their bit to cut carbon emissions and protect the planet.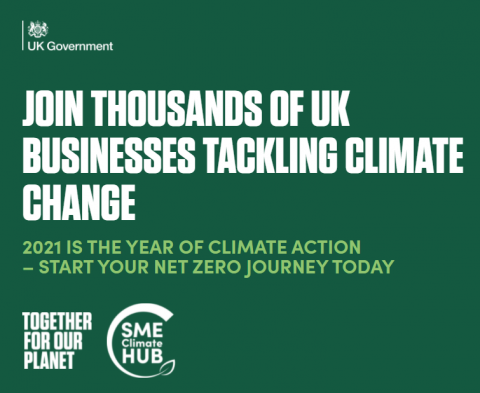 Climate Change Expertise in Gloucestershire
Andrew McKenzie, our specialist Business Guide, and our dedicated team behind Net Zero, have helped support Gloucestershire business to become sustainable. Andrew is a sustainable-business leader focused on helping organisations lighten their footprint as they address the opportunities and challenges of climate change. Andrew has worked across multiple sectors supporting clients to develop and embed purpose-driven strategies within their operations. As a champion of innovative technologies and solutions, Andrew has worked with businesses to improve their resource efficiency, reduce their environmental impact and establish market differentiators. 
Andrew has nearly 20 years' experience working with businesses across a broad range of sectors to manage and reduce their environmental impacts. He has worked as a consultant and an external project delivery partner, but has also spent 7 years as an in-house sustainability lead implementing an award winning CSR programme (including Queen's Award for Enterprise – Sustainable Development).