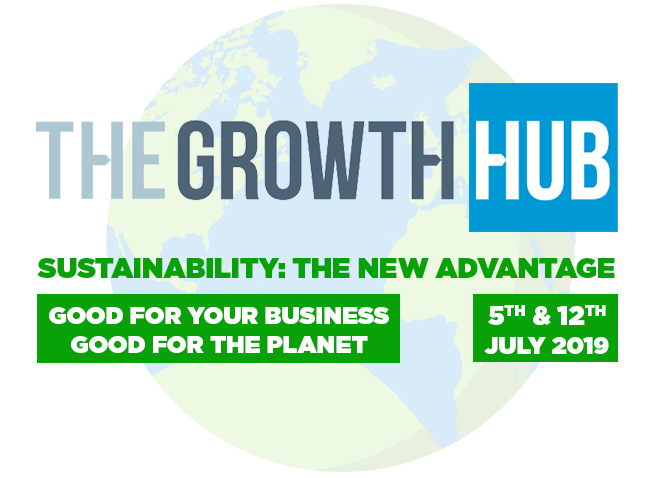 Safeguarding the planet should be a no-brainer for Gloucestershire's business leaders. Why?
Because environmental business strategies are good for every bottom line you can think of. Profit. Planet. People. Purpose. PR. Productivity.
I believe that sustainability is the new advantage and I'm especially excited to host six expert speakers who will share their knowledge and expertise to help your firm develop into a successful, sustainable business. Sustainable strategies can increase your resilience, lower costs, and drive new, high-growth business streams. They help companies recruit and retain the best people. And they address business risks associated with impacts of climate change.
So what strategies can companies use to address climate change and other environmental and social challenges? Good news: there are a lot to choose from!
Here are FIVE to get started:
1.

      

Lively Leadership and Good Governance

(Book now: Day 1 AM).
When business leaders take action to protect the world's natural resources, they send a message to their employees, customers, and investors, that they are committed to a sustainable future — for the planet and for their business, too. (Mark Tercek is CEO of the Nature Conservancy and author of Nature's Fortune. )
Future leaders need new approaches to navigate increasingly complex systems and lead with direction and purpose. Our experts Fiona Ellis and Dick Baker from Future Considerations (award winning leadership development organisation (clients include HSBC, KPMG)) suggest that future-proofing organisations and leaders for tomorrow will require knowledge and understanding of the underlying beliefs and behaviours that can bring about transformational change. Future Considerations top tips include:
Develop the whole-self; leaders who imbued passion and authenticity. Build relationships of trust, openness and collaboration between individuals and organisational units. Navigate complexity and facilitate collaboration to unite in addressing the great challenges we face.

 
2.

       Complexity is a fascinating topic? (Book now: Day 1 PM)
Complexity is a fascinating topic? So says Neil Gilbride (academic and consultant) you might be sceptical but after attending his engaging and energetic performance you'll be hooked too.  Believe it or not, complexity can explain human evolution, the notorious 'butterfly' effect and even why no matter how much planning you do there is always something you miss. In short, complexity theory explains why what happens, happens.  If you want to lead into the future, it's time to start embracing complexity. Neil's top tips:
Appreciating the complexity of the tasks in a day to day business can bulletproof our response - and seeing the complexity in the changes around us can help us be better prepared for climate change, more responsive and more agile. 
3.

       Commit to Transparency: B CORP (Book Now: Day 2 AM) 
B Corps are accelerating a global culture shift to redefine success in business and build a more inclusive and sustainable economy. Certified B Corporations are businesses that meet the highest standards of verified social and environmental performance, public transparency, and legal accountability to balance profit and purpose.
Bates Wells was the first Law firm in the UK to become a B Corp. Our expert David Hunter supported that process and is now leading on their response to the climate emergency. With endless experience in the impact economy, David helps businesses to flourish whilst acting more responsibly. Using B Corp certification organisations can embrace public transparency and attract investors that want to achieve sustainable as well as financial returns from their investments.
In the midst of the climate emergency and the sixth extinction, David is particularly interested in connecting with organisations looking to engage with wholesale change, not just improvement of the current system.
4.

       The World Needs Your Story (Book now Day 2 AM)
What is the story you want to change? Are you waiting for them to ask? Or are you proactively telling the world what you're doing? Rachel Savage will show you how to make sustainability a part of your regular pitch. Stories shape the world around us and now more than ever we need to vision a new story for the future. Rachel's top tip:
Don't wait for your stakeholders to ask what you're doing, develop a compelling story to explain your motivation and communicate your WHY. Tell them, "Here's what we're doing to tackle climate change, and here's why it makes business sense." Even if this doesn't result immediately in new business, your employees and your customers will be proud of you.
5.

       Consumers want sustainability (Book now Day 2 PM)
An international study of 20,000 consumers published in 2017 by Unilever found:
A third of consumers (33%) are now choosing to buy from brands they believe are doing social or environmental good.

An estimated €966 opportunity exists for brands that make their sustainability credentials clear.

Of Unilever's hundreds of brands, those that have integrated sustainability into both their purpose and products are growing 30% faster than the rest of the business.

Eoin McQuone, our expert on sustainable business models, can help you to think about new ways to incorporate sustainability into your business while at the same time use your company's buying power to push others to operate more sustainably. Eoin's top tips:
It is important to take a holistic approach and embed sustainability throughout your business models. Approaches based on reducing Carbon Footprint, Zero Waste or Plastic reduction can be unbalanced. Although the actions driven may be really worthwhile, they only focus on one element of sustainable business, and so may miss a wealth of opportunities to do good, as well as reduce harm.

The consideration of environmental and social issues has never been more critical to the successful future operation of your business.
Don't get left behind. We'll show you how to start developing sustainable, regenerative strategies that can grow your profits through product, service and business model innovation, while protecting resources for the next generation and enthusing customers and employees to embracing your purpose beyond profit.
Join us at The Growth Hub in Gloucester, on the 5th and 12th July, to find out how sustainability can become the new advantage: http://bit.ly/glos-green