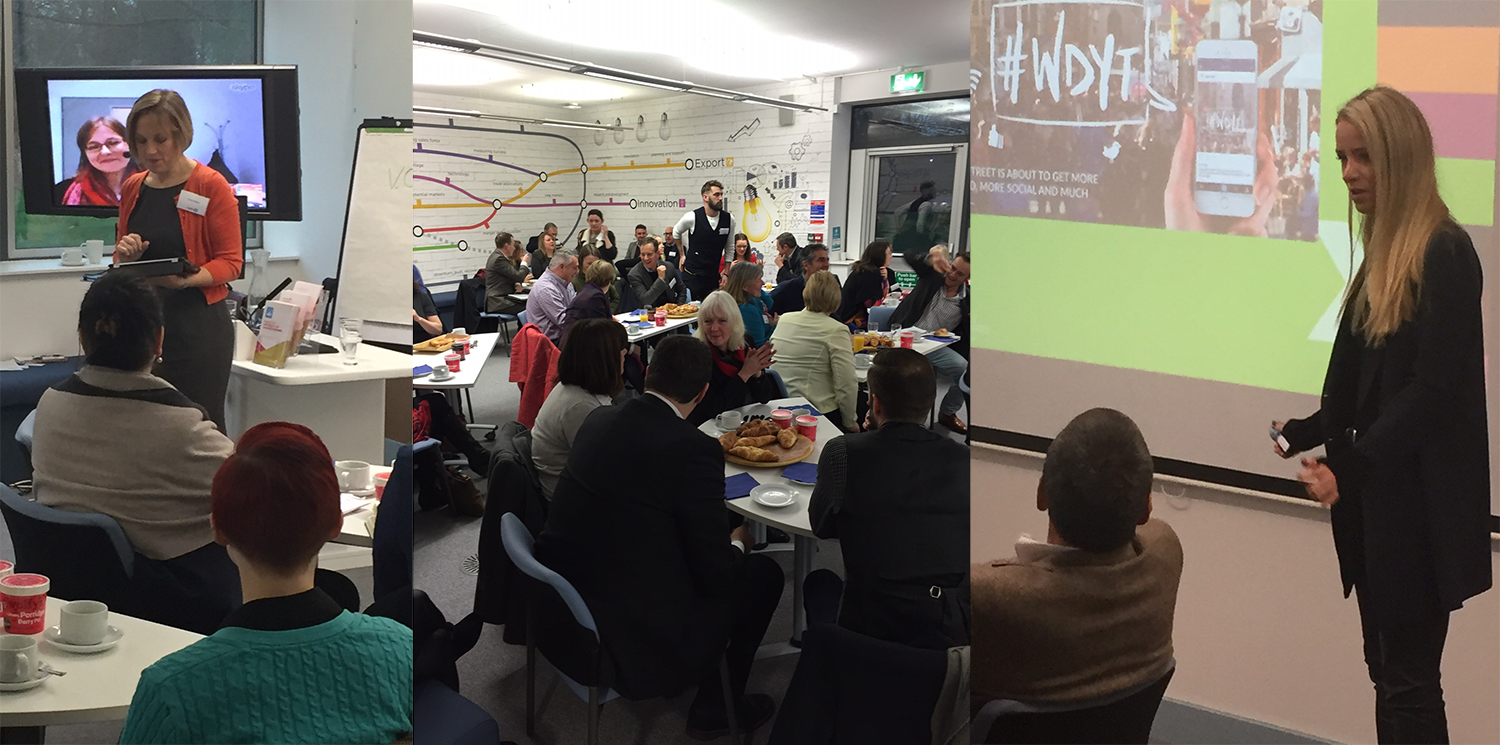 Last week we played host to our final University of Gloucestershire Business Breakfast of the year – which yet again proved to be hugely popular with local businesses. Participants explored the topic 'Retail – Manipulation or Management?' throughout the morning, led by researchers from three different schools from the University of Gloucestershire.
Neil Gilbride, Lecturer in Educational Leadership and Management, opened the session by challenging the attendees to think about the mechanics of perception:
What's in it for me?
Will someone else like me?
Is this decision going to stay true to my values?
How can others' thinking help me?
The room discussed how their perceptions are developed and how they influence purchasing.
Next Steve Edge, Course Leader in Interior Design, presented his thoughts on the impacts of a workplace. Attendees shared their thoughts on what defines a good workplace; discussing and challenging each other's experiences to find shared learning.
And Skype-ing in from Germany, Dr Philippa Ward (Course Leader in Interior Design) got the room thinking creatively about store image and the shopper. She asked attendees to explore the impact of emotive responses to environments, and the influence this has on purchase decisions.
Closing the morning was Hannah Dove, from local business Maybe*, who shared her experiences of High Street Digital Activation – which is the art of digital engagement and social media in physical shops.
Equipped now with research and fresh ideas, the group spilled out into The Growth Hub's Annual Festive Market to indulge in some appropriate retail therapy. 11 local businesses brought their stalls to The Growth Hub, raising money for charity and selling everything from soft furnishings to sportswear, with wine tasting in the middle.
Elaine Haines, Head of Academic Impact, summarised the event;
December is an incredibly busy time of year, so I was delighted to see such a great turnout and response to the subject matter. I was particularly pleased to welcome University of Gloucestershire students, who began their a project with Kitchen Garden Produce by selling jams & chutneys at the market.

Our 'Work, Rest and Play' format for breakfast meetings is growing in popularity, and thanks to the interactive format we ensure that we keep energy up and engagement high, so that people find time to come back and meet someone new, even on a dark winter morning. I would like to extend my thanks to everyone who made this event such a success. We are already planning our breakfast themes for 2017 and will be sharing these in the New Year.