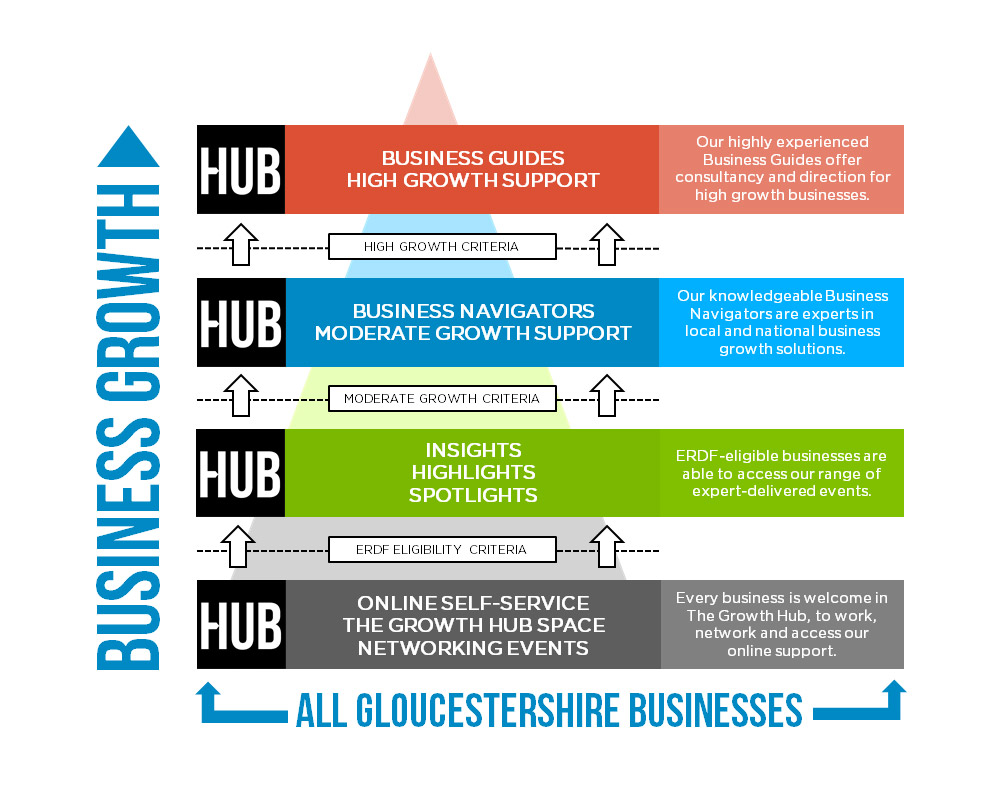 There are 37 Growth Hubs in England. Each has its own unique characteristics, catered to the business landscape of the county it operates within.
In Gloucestershire, where our make-up is predominantly SME, we have designed a Growth Hub to work primarily with these businesses. That's not to say that we won't work with pre-starts or conglomerates, but our service will be slightly different for those individual firms. Our service is split into four tiers of support, designed to supply businesses with what they need at different growth stages.
All growing Gloucestershire businesses will have use of The Growth Hub's physical space for working and networking, along with access to 1,700+ online resources, a free business directory and a number of networking events.
To access other services like business workshops, or sessions with a Business Navigator or Business Guide, you must satisfy the following ERDF criteria:
Your turnover does not exceed €50m

AND/OR your balance sheet does not exceed €43m
You do not employ more than 250 FTE staff
And you do not primarily operate within the following sectors:

Agriculture - production
Finance and insurance
Public administration
Education
Nuclear - power station construction and decomissioning
Even if you are eligible for a service to which you've applied, we may discuss alternative options that we feel are more suitable for your business at that time.
If you have any queries regarding your eligibility or suitability for any of our services, please get in touch.