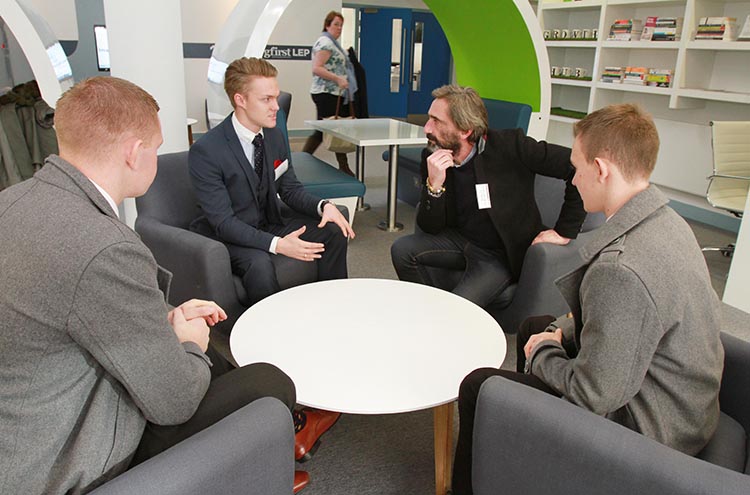 Entrepreneurial students and start-up businesses will have the chance to join the Institute of Directors in November, at an event hosted by The Growth Hub at the University of Gloucestershire.
Building on the success of last year's event, when 13 students and 8 start-ups were awarded student memberships, this year will recruit another 50 of Gloucestershire's next generation of directors. Each student can apply to be assigned an individual mentor and given support and guidance to fuel their entrepreneurial spirit.
Superdry Founder Julian Dunkerton has been invited back to see the progress of the new members that he met at last year's event; three of whom will be returning as speakers. Mel Higgins was a fourth year Business School student when she joined the IoD in November;
"When I joined the IoD I was assigned a mentor, Frank Lloyd-Murray. Frank has been instrumental in developing my confidence, plans for the future and my 'entrepreneurial mindset'. I am now Director of Event Management and am looking forward to gaining a full understanding of being a Director. I cannot wait to meet this year's new student members and share my experiences."
Along with business leaders and directors from around the county, Barbara Stopher, Chair of IoD Gloucestershire, will be congratulating and supporting this year's members;
"Last year was an incredibly successful pilot, with high levels of engagement from all student members. Besides fast-tracking young talent, the scheme is a real boost to the business community in nurturing entrepreneurial spirit and bringing fresh, creative minds to Gloucestershire business. This year we're hoping to build on that with the launch of a university Enterprise Society, in partnership with the IoD, by two of last year's first years, Laura Ghazireh and Dan Hewitt, that will put on a programme of events engaging with local IoD members."
Vice Chancellor Stephen Marston commented;
"It is through strategic partnerships like this that the University of Gloucestershire and The Growth Hub are helping to accelerate the growth of the county's economy. We want to equip entrepreneurial individuals, at the start of their journey, with the skills and support to succeed. Working with the Institute of Directors lets us take this one step further."
For more upcoming events and opportunities at The Growth Hub, please bookmark our Events Calendar.