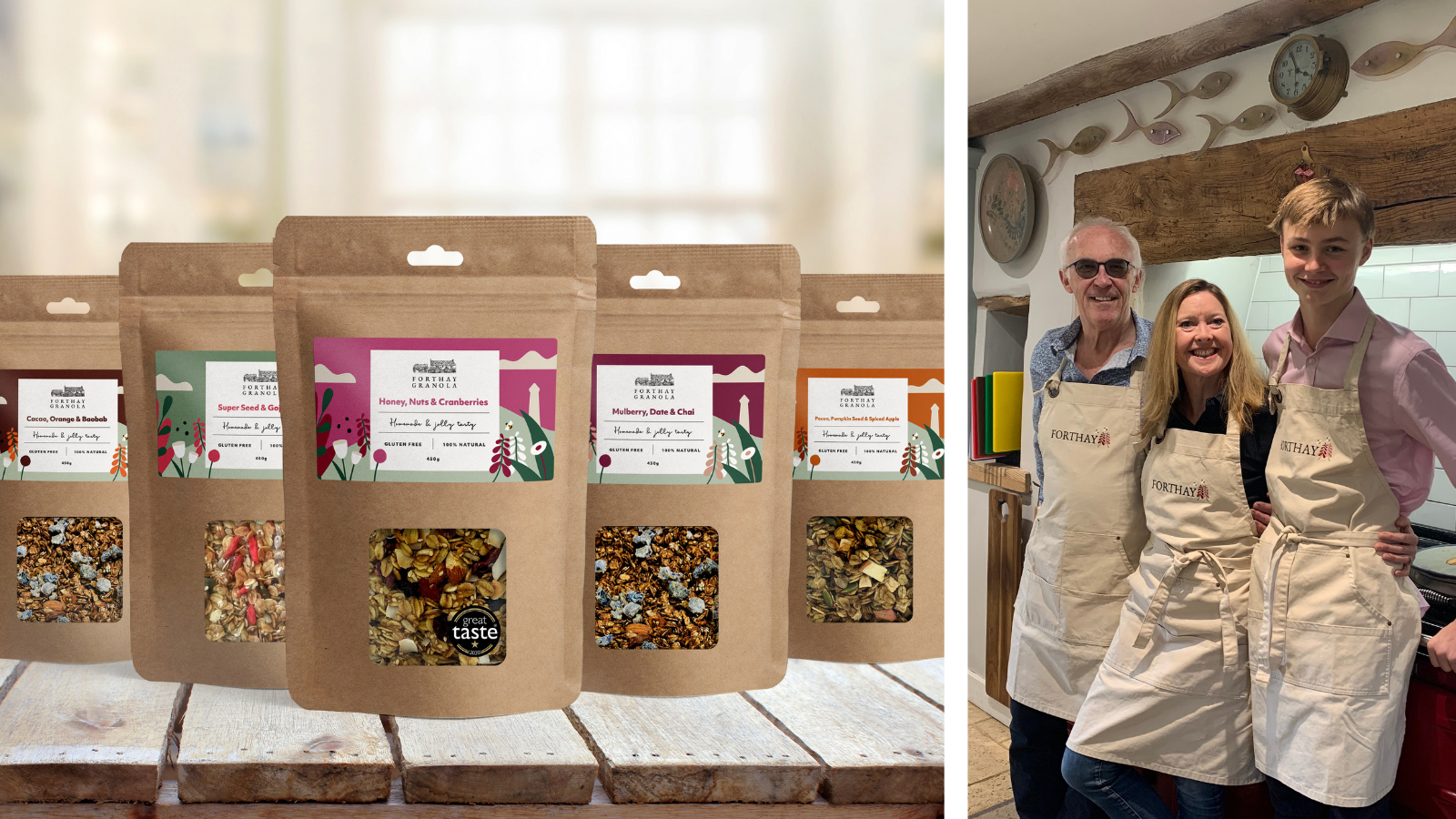 Deborah Lamplugh, founder and co-owner of Forthay Bed & Breakfast in Gloucestershire, who has a love for nutrition, fresh and local produce, decided to make her own granola to amplify the experience for her B&B guests. Little did she know that her granola would win awards, become an artisan foodie favourite and grow into a successful lockdown business of its own.
When she first made granola for her guests, she had many requests for it to be sold for guests to take home but she didn't think anything of it until a marketing director who was staying with them, made her realise that she had an opportunity that she needed to explore. In Deborah's true style, she wanted to make sure that she had the right quality of packaging and branding before she tested the market.
When the first lockdown happened in 2020, she used the time to test her product. In June, she loaded her car with a batch of samples and drove around to local farm shops and village stalls and handed out samples. The response was overwhelming as orders came in and Forthay Granola was born.
After the positive response, Deborah made contact with the high profile Newlyns Farm Shop & Cookery School in Hampshire and they agreed to a taster of her only blend, honey, nut & cranberry. The response shocked her, they wanted to stock Forthay Granola, but the caveat was that she needed more blends – they wanted to replace all of their granola's with Forthay and it needed shelf presence for them to accept.
Back at the Aga, Deborah decided what was going to set Forthay Granola apart – interesting and different blends, gluten-free, no refined sugar and a 45% maximum of oat and cereal filler ingredients. She invested in a graphic designer to help create a standout on shelf brand and after a couple of months, she sent three blends back to Newlyns and they accepted the new range.
At the same time, she entered the original blend into the Good Taste awards to gather panel feedback and was blown away when she was notified that they had won a 1-Star Great Taste Award.
By December 2020, Forthay Granola had 4 blends, an award, multiple stockists and was scaling faster than Deborah ever imagined. It was then that she started searching for business support and came across the Cirencester Growth Hub. After sending the initial email she had a call from Business Navigator, Stephen Meyer to discuss her business and what support was needed.
"After talking to Stephen, we identified that we needed a separate website for the granola as it was being sold through the B&B website and he advised us on which business grant we could apply for to fund this next step. Not only did he give us advice and business support, but he also connected us with new stockists. It was so nice to have someone believe in our business and help it to grow." Deborah said.
When the grant came through, she was signposted to Hannah Darby, Business Guide, who worked with Deborah and her web design team to create an e-commerce website specifically for Forthay Granola.
"Hannah became like my mentor – there were so many things she helped us with and was very involved to help create the best customer experience on the website." Said, Deborah.
The growth since then has been exponential, with product diversification, increase in direct and wholesale orders, PR exposure in top tier food magazines and an ITV feature with Ainsley Harriott due to air later this year.
As the business grew so did Deborah's needs – production and distribution became a larger focus as the demand increased. With Deborah wanting to convert their double garage into a commercial kitchen, the Growth Hub stepped in to support again with Business Guide, Peter Brown, helping her explore production expansion.
"This is what the Growth Hub is so brilliant with. Under their umbrella there are so many specialists and all you need to do is pick up the phone and tap into them." Said Deborah.
She is not stopping here with her sights set firmly on the future, Deborah plans to supply cafes, boutique hotels, farm shops and delicatessens, as well as developing a range of energy balls and stocking Forthay breakfast products nationally.
Grow your business with The Growth Hub
To apply for support from our expert Business Navigators, you can complete an application form or email our team via: talktous@thegrowthhub.biz. We'd love to hear from you.