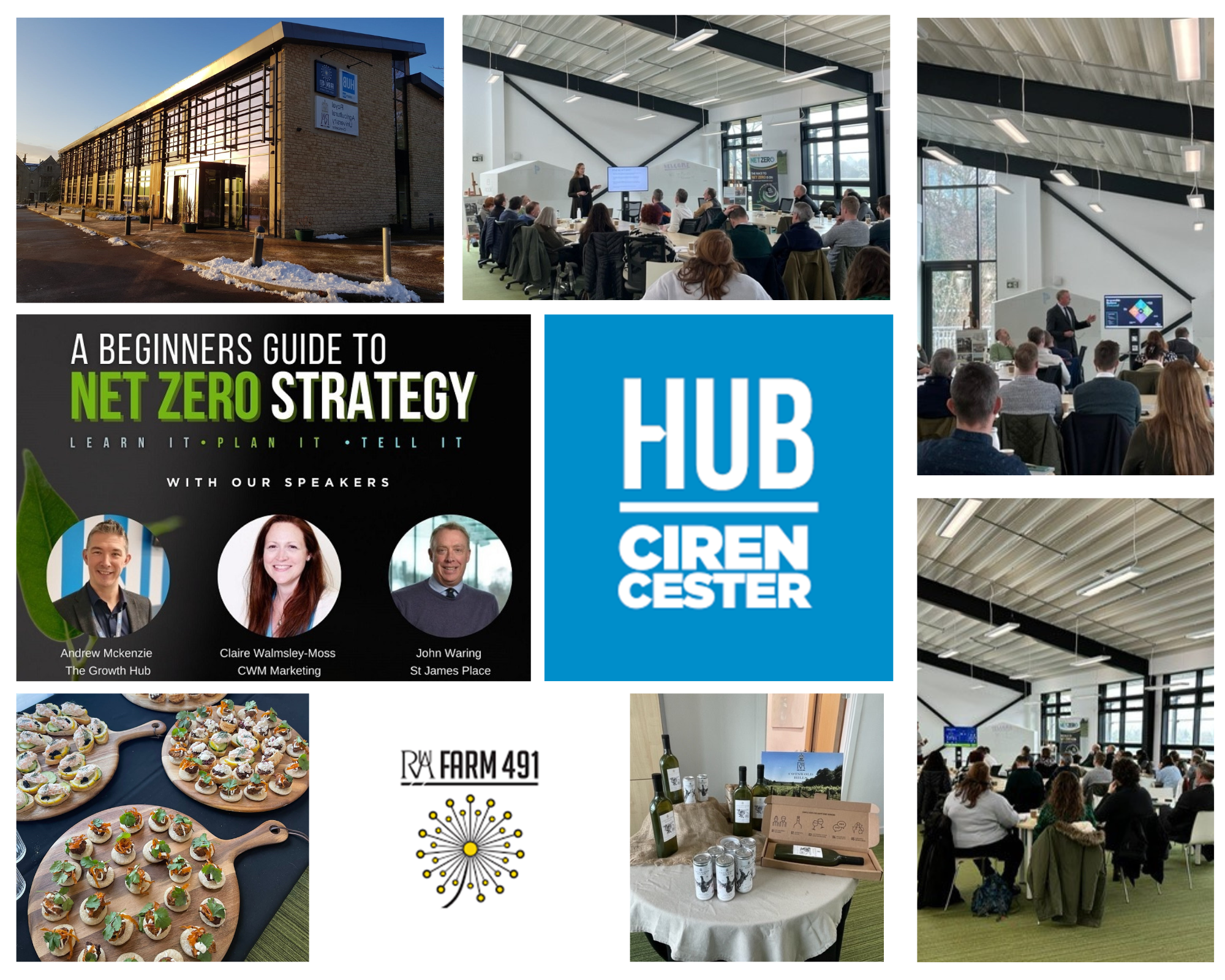 Last week, March 8th 2023, eager business owners came to the Cirencester Growth Hub to learn how to jargon bust, strategize and market their Net Zero Strategy.
A joint effort from the Cirencester Growth Hub and Farm 491 teams, this event brought together key speakers in the field to help Gloucestershire businesses get started with their all-important Net Zero journey.
Andrew McKenzie, Net Zero Specialist Guide from The Growth Hub, held the "Learn It" and "Plan It" portions of the morning, helping break down myths, worries, while giving key focus points within the business on where to get started.
John Waring from St. James's Place shared the ups and downs of the companies Net Zero Strategy and their plans for 2023 onward. A lively discussion was had during the Q&A section, which got attendees thinking how they might mould and implement the examples that John was putting forward to their business.
The event finished strong with Clair Walmsley-Moss, from CWM Marketing, who explained how businesses can clearly communicate their Net Zero journey, how it affects customers, and future plans for the company.
The feedback from attendees was nothing but positive, with calls to run the session again for businesses who were unable to make it this time around.
"It was a very informative event yesterday, good to join a lot of the dots and put things in context."

"Thanks for a spectacular event yesterday! Some great talks packed full of insight and knowledge to learn from, and a nice bite to eat at the end!"

"It was a really interesting day, so much detail packed into the event and very well organised and good to catch up with a few familiar faces! Thank you again, for organising it."
A sustainable lunch was served during the networking session that concluded the event. The Growth Hub and Farm 491 also wanted to thank the RAU catering teams for their efforts and contribution to the event. The team for made some lovely canapes and biscuits recycling surplus food that would otherwise go to waste.
Special thanks also to the representatives from RAU, Cotswold Hills and SWMAS who came along to support the event.
If you're looking to get started on your Net Zero journey, please apply for support from The Growth Hub: www.thegrowthhub.biz