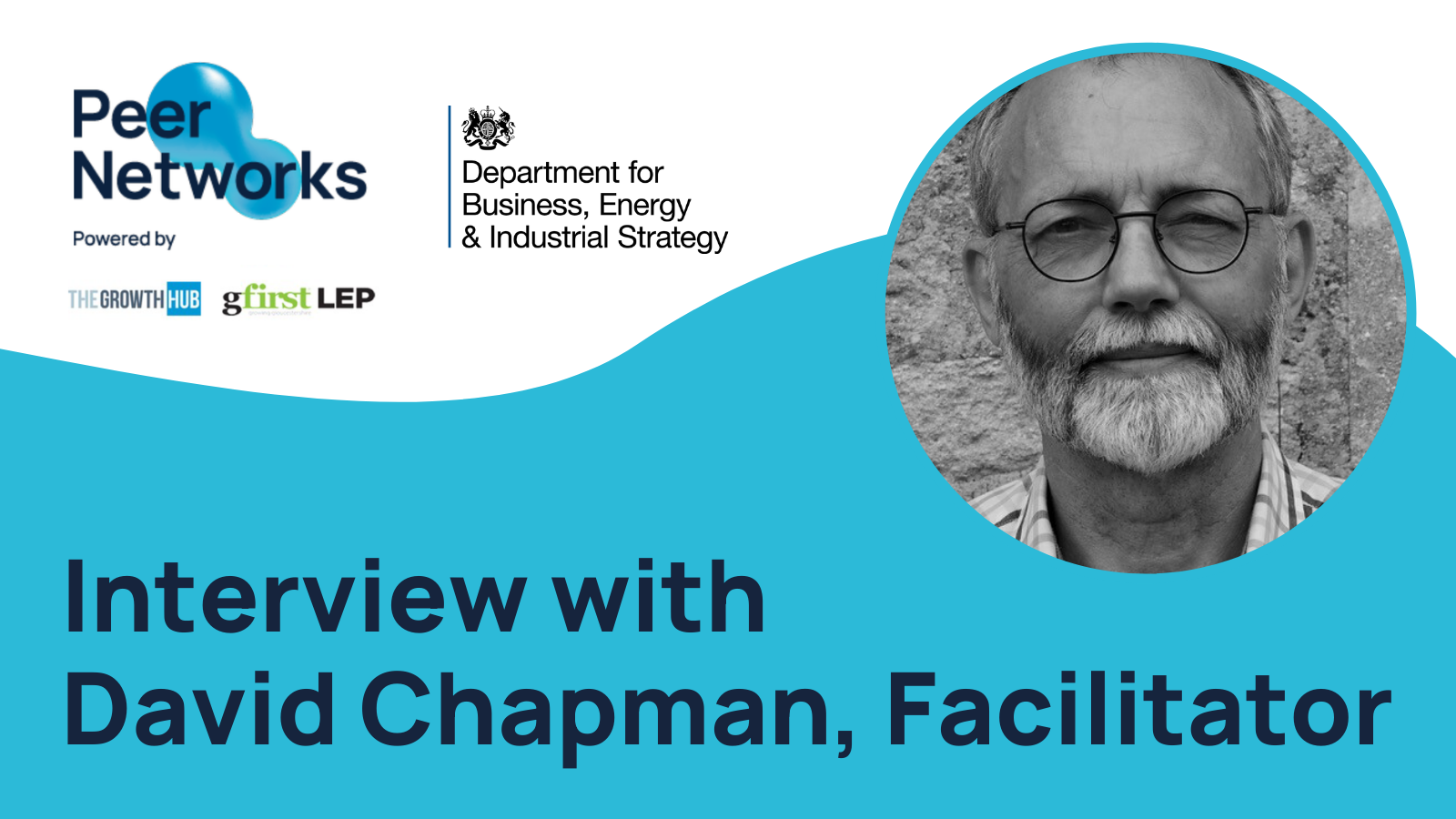 David Chapman, Managing Partner at Scott Hillam Associates, is a business development professional, with 30 years experience establishing and building international sales channels, partnerships and subsidiary companies mainly in a B2B technology environment. He has worked as a business consultant since 1993 on a range of international projects and contracts across Europe, US and Asia Pacific in strategic marketing and new business development roles.
David is also a Facilitator in Gloucestershire's Peer Networks programme, a fully-funded programme by the Department of Business, Energy and Industrial Strategy (BEIS). Peer Networks is designed for business leaders who want to grow and develop their established organisation for future success and meet the following criteria:
Operated for at least a year
At least 5 employees
A turnover of at least £100,000
An aspiration to improve
Over 100 business leaders have already taken part in the Action Leaning initiative. David comments on the benefits of joining Peer Networks and what businesses leaders can expect from the programme.
People might be surprised that business leaders, driven, capable individuals, also need support. What does the peer networking deliver for them?
"As a leader you have so many balls to juggle and sometimes it's like juggling in the dark. It's often a lonely place to be and easy to lose track. The Peer Networks programme gives business leaders and senior managers valuable time working with others facing similar challenges, all with a common interest in helping each other to help themselves. The programme is structured around the principles of Action Learning and combined with individual coaching so that participants benefit from both business and personal development. This is not a talking shop. It is strongly action oriented with participants taught the importance of defining problems through advanced listening and questioning skills."
What's your role in the peer networking process and how does that work?
"I have two distinct roles in the process. To the group I am their Facilitator; someone who helps the group master the principles of Action Learning and keeps the discussion focussed and moving towards a timely conclusion. To the individual, I am their Coach helping then to ask the questions they need to ask of themselves and to identify and implement the actions they need to take. As a trained coach and facilitator my objective is to make this a valuable experience for each participant."
Can you share an anecdote about how you have seen the process working at its best and the impact it has had – on the individual and their business?
"I have run two fantastic groups so far this year. In both cases the groups have decided to continue beyond the end of the programme.  With time such a precious commodity, it is an endorsement of the success of the programme that so many have chosen to continue. It is difficult to pinpoint any particular anecdote, but most would agree that Peer Networks provides a valuable space for them to come out of their business in order to work on their business."
We're all now very familiar with the benefits of online and Zoom etc. How much of the peer networking process is actually about the magic of human interaction at its best, the power of good friendships and community, and is this especially important post pandemic?
"It's all about the group and building that safe, confidential environment that allows participants to connect and support each other.  As the group gels, the role of the Facilitator should meld into the background so that the group more or less runs itself. Connections become established outside the group meetings, questions are asked and information exchanged. Zoom has enabled the world to keep ticking over during the pandemic. It is a highly efficient tool in reducing time and travel, however we are human and we do need to have that face-to-face connection from time to time so it is great when groups come together and discover that we all have legs!"
There are places remaining for:
Health & Social Care

Tourism and Visitor Economy

Cyber
The final three Peer Networks cohorts for 2021 are:
Female Leadership

Manufacturing

Professional Services
Limited to 11 leaders per cohort, leaders interested in joining the programme should contact: peernetworks@thegrowthhub.biz or visit our webpage for more information.