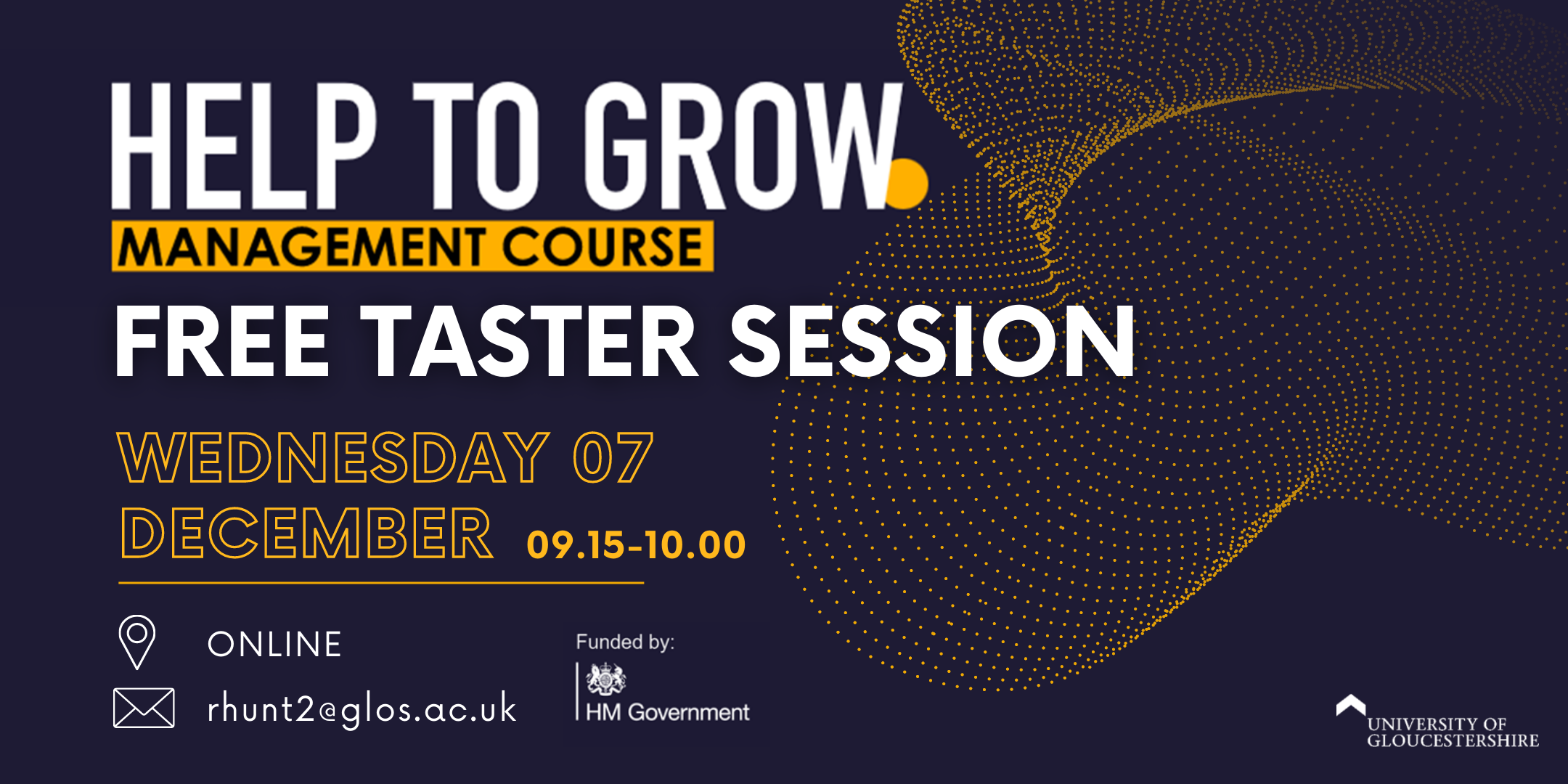 Join a free Help to Grow: Management Taster session online; boost your leadership skills and 2023 business performance. Register for your place here. 
Gloucestershire Business School are delighted to be hosting a free taster session of the Help to Grow: Management course. Taking place online on Wednesday 7 December, from 9.15am to 10am, the 45-minute online session will serve as a general introduction to the course, including the contents of the 12 different modules, how the course works in practice over its 12-week duration, and how you can make the most out of it as a business owner or leader.
The session will include some insightful content from the course modules, giving you some excellent food for thought as 2022 draws towards a close and you finalise your plans for 2023 and beyond. The taster will touch on all the following important areas:
Building an effective approach to marketing to your chosen customer segments.

Designing your organization to support future growth and a positive culture.

How to improve operational efficiency in your business to support easier growth.
Plus, there will be the opportunity for a Q&A session, to hear from people who have already completed the course to learn more about their experience of it and how it has already helped make a positive impact in their business, and details of what to do next if you'd like to join the course.
Our next cohort of the Help to Grow: Management scheme starts on the 26th of January, with a quick onboarding call on the 19th of January. Joining the course at the start of the year will put you in a strong position to go forward into 2023 with a structure to drive forward your business growth, and your own personal development as a leader.
If you'd like to join the taster session, but can't make this date – please get in touch. We'll be happy to send a copy of the session recording, arrange a 1:1 call or coordinate more Taster sessions if needed.
Graeme Leighfield, the Founder and Managing Director of GEL Studios, completed the Help to Grow: Management course held at Gloucestershire Business School in 2022.
GEL Studios are a full-service creative agency, specialising in three main disciplines: graphic design, website design and digital marketing services. Graeme started the business with a laptop in his bedroom nine years ago; the business has since expanded to employ a team of 10 and is now based at a dedicated office premises in Swindon.
Graeme said:
I saw the Help to Grow: Management course as a brilliant opportunity for two main reasons. Firstly, to go in with a completely open mind and learn whatever I could, and secondly to give myself a degree of personal reassurance about how I am leading my business. I don't have any formal business qualifications – I've only ever done what I've felt is right, and this has sometimes left me feeling a sense of imposter syndrome. Being amongst fellow business leaders and going through the content and case studies within the course, has both given me extra reassurance and filled in gaps in my business knowledge. The course itself is full of fresh, modern material, and all the case studies used are incredibly relevant, while the lecturers on the course all had an excellent style of delivery, while themselves being highly credible.

Going into the course, I was excited to learn – as I'm a developer at heart, the cycle of being introduced to an idea or concept, learning more about it and then implementing it is normally pretty short, and I loved the thought of being able to make real improvements to my business quickly. Coming onto the Gloucestershire Business School campus itself was fantastic – the facilities are amazing, and knowing I was going into that environment and being surrounded by other business leaders in a similar position to me gave me something to look forward to.

Looking back, the process of going through the course has given me huge reassurance – I know understand more fully why some of the successes I've seen in my business have come to fruition, and it has given me a lot of comfort that I've got a lot of things right. For me, the main takeaway has been creating a formal business plan; documenting where the business is now, and where we are heading, led to us identifying our vision as a business, and already led to some meaningful, productive conversations with clients and suppliers. I would never have had the confidence to have those conversations if I hadn't been through the Help to Grow: Management course.

For me, it was worth every single penny, and I'm enrolling another member of my team onto the course as well. It's well worth investing your time, money and energy into, not only for your personal development as a business leader, but for reassurance and guidance on your business.
Register for your free place at the online taster session here.