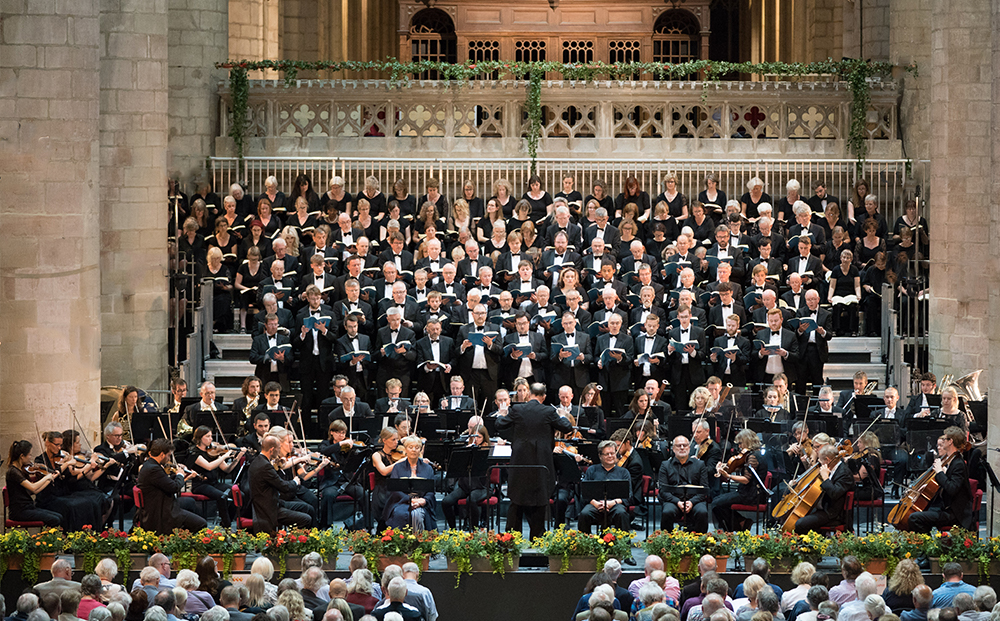 We all love going to a music festival. But have you ever considered their carbon footprint or impact on the environment? Would this stop you from attending in the future?
From their energy consumption, catering, waste and transport – how can you measure their effect? And where do you start?
This is where The Growth Hub can help. We got to work with The Three Choirs Festival to help them develop a framework to measure their festival's carbon footprint.
The Three Choirs Festival is best known for hosting spectacular concerts in the cathedrals of Gloucester, Worcester and Hereford, attended by thousands of audience members each year.
Transforming the cathedrals into professional concert venues is no mean feat. Temporary staff and volunteers run the festival on the ground, and 10 full and part-time staff members work for The Three Choirs Festival all year round, from a permanent office base in Gloucester. They also host a variety of events, exhibitions and free stages in venues around the county.
The Growth Hub reached out to Alexis Paterson, Chief Executive of The Three Choirs Festival, to see how we could help with their journey to Net Zero.
The Three Choirs Festival had signed up to the government's SME Climate Commitment but were struggling to find a suitable framework for capturing festival emissions. This is where we stepped in.  
Working with Anna Cosby, Production Manager of Three Choirs Festival, our primary objective was to develop a framework to capture their festival and event emissions whilst their organisation emissions were captured separately.
Over their three sessions with our Growth Hub Net Zero team, Three Choirs Festival learnt about the emissions the festival produces, in which Scope those emissions sit, how data can be captured for all emissions, and how those emissions can be set into a framework, to calculate a carbon emission figure.
By the end of our sessions together, they knew what data to use as well as the processes for determining the festival's carbon footprint.
As The Three Choirs Festival enters the 2023 festival period, they can feel confident in measuring and using data to calculate The Three Choirs Festival's first ever carbon footprint for the festival.
This footprint will be analysed and sent to their board and the SME Climate Hub. They will continue to analyse the 2024 festival in the same way, tracking progress by comparing data sets across festivals with the aim of reducing their carbon footprint and taking steps towards Net Zero.
"The work Anna's been supported through[by The Growth Hub team] is going to help bring about a real step-change in how we collate and report on our carbon footprint. I think it would have taken us considerably longer to reach this stage without the focused support of the Net Zero Growth Hub support." - Alexis Paterson, Chief Executive of The Three Choirs Festival
All businesses need to look at their carbon emissions, and this includes events and festivals too. If you're looking to get started on your Net Zero journey, please apply for support from The Growth Hub: www.thegrowthhub.biz