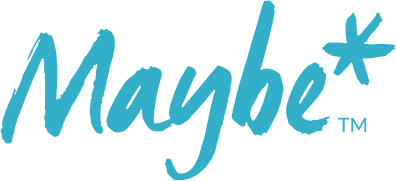 Introduction
Maybe* is a social shopping app that fills the decision making space that exists between shopping and buying. "Today shopping is a 24/7 activity that occurs across many channels on and offline" explains CEO Polly Barnfield OBE. "Despite all of our access to technology, research from Google and Ogilvy reveals that consumers are more influenced by word of mouth in their buying decisions than by print media, TV, brand websites and social media. Maybe* will help shoppers decide what to buy by facilitating their purchase journey. It will enable shoppers to save and store items from any channel or any retailer and then share them with friends or a wider audience, to gather opinions and collate feedback. Maybe* will make shopping more connected, more interactive and much more fun. It will merge offline and online retail onto one seamless personalised journey"
Challenges & Opportunities
Maybe* was one of the first businesses to approach The Growth Hub. An early meeting with Business Guide Sarah Gregg identified a number of possibilities to help transform Maybe* from start-up to fully-fledged business. Among the recommendations were branding, a website, focus groups, Beta testers, research, app development, a white paper and funding for all of the above. The Growth Hub also provided a support network for Maybe*, giving Polly a team of people to work with.
"One of the many challenges you face as a startup is resource. When you are in charge of a team, you can turn around and have people to delegate to. As a start-up life is very different; turn around and it's often just you. You are also working on a very limited budget, life is very different. It was a fantastic to have The Growth Hub's support."
Solutions to Growth
After the initial meeting, work progressed simultaneously on two fronts. Research began to investigate the customer journey, to perfect the app, and The Growth Hub helped Maybe* develop a brand identity. Maybe* hosted a logo design competition with students from the University of Gloucestershire, to brand the business. "We ran 3 rounds of a competition, wherein people submitted their ideas for the branding. Rather than having an agency going back and redoing each idea, it was the students who came up with the idea and Robyn and Nicole came out as the winners. Robyn and Nicole went on to have significant input into the website and are now "Honorary VPs of Innovation". The branding fed into the website which was built by Maybe* on the Hubspot platform."
While this was happening, focus groups were being organised with academic and retail specialist Dr. Maggie Zeng. Polly says: "We ran 5 separate focus groups with around 20 students each time. We had an agreed script where we didn't say anything until we'd asked a number of questions about how people shopped, to really understand the customer journey. We wanted to validate the idea of Maybe* before we started building the product. We let the students tell us about how they shopped, then we showed them the Maybe* prototype, saw how they would use the product, and then asked them to validate that. We made sure that the user journeys were right, and then asked for their feedback to make sure that we weren't barking up the wrong tree. It was incredibly valuable."
"We then had a really good Q&A session, the results of which have changed the product quite significantly. Importantly, going forward as we launch in Beta we will be going back to the students involved in focus groups for further consultation. They'll have a permanent honorary place on the team and we will provide references as they move forward, because unless our users love our product we won't have a business. It is very important that users love our product."
"Our brand, focus groups and research have all been made possible because of our relationship with The Growth Hub. We're about to unveil ourselves to the world, and what we're unveiling wouldn't be so impressive if it wasn't for the input from The Growth Hub and the access to resources that it gave us."
"Professor Neil Towers has also helped to create a white paper, surveying 2,000 millennial shoppers, looking at how shoppers decide what to buy. The white paper is very important with regard to helping shops to see the value of the product, and to establish Maybe* as the innovative solution that it is."
"Our Business Guide, Sarah Gregg, has been great; we would love for her to work for us full time! She's amazing with regard to sources of funding; her tenacity, her enthusiasm, willingness to make introductions, has been a pleasure to work with. Maybe* secured funding through the Innovation Voucher scheme which helped fund the focus groups and white paper. This is just the beginning."
What's Next
For Maybe* the next step is to take the product out of beta testing and fully launch it. The Growth Hub are continuing to provide support,guidance and introductions and are excited to support Polly and Maybe* through the next stage of their journey. The White Paper, "How Millennial shoppers decide what to buy" is opening up interesting opportunities and should open up a lot of doors in terms communicating with other businesses in retail. The Growth Hub will be with Maybe* every step of the way. For more information please visit www.maybe.xyz.