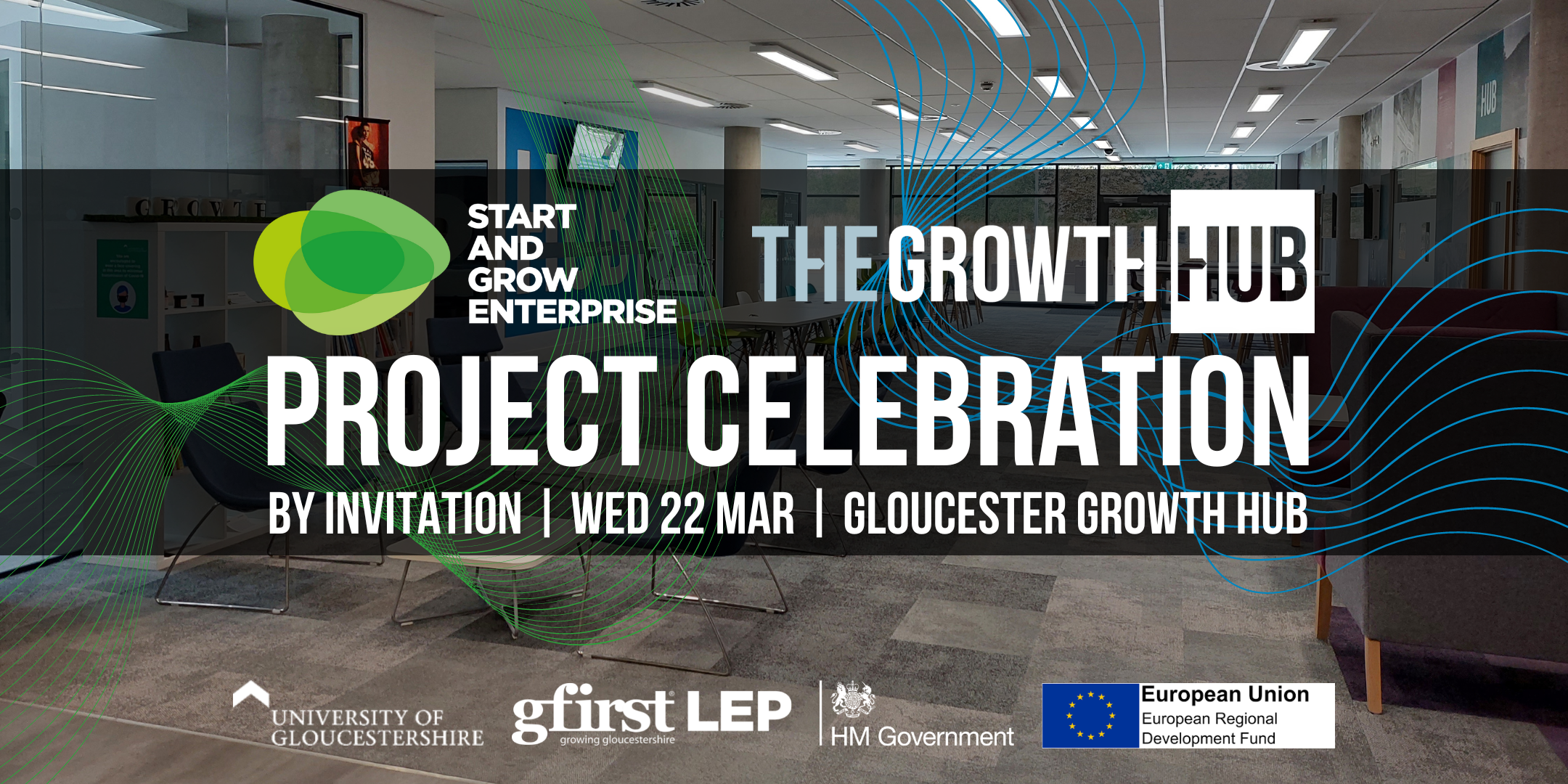 The Start and Grow Enterprise and Gloucester Growth Hub teams are holding a celebration event on the 22nd March, 16.00-18.00, to mark the achievements of both projects.
They have each met ambitious targets set by the EU, despite a pandemic, lockdown and the wider political and economic challenges. This success is down to the hard work and commitment of their expert teams, clients, and stakeholders.
This event is by invitation only due to space and the Gloucester Growth Hub would like to invite 50 businesses who have received support from the team to attend. These places are on a first come first served basis, if you would like to attend please email marketing@thegrowthhub.biz and we will confirm places for the first 50 emails we receive. If we reach capacity, we will offer places on a waiting list basis.
Start and Grow Enterprise has been providing support, training and advice to entrepreneurs and freelancers who are in the early stages of starting their own business. Over the last 3 years, 1132 people have joined the programme, and they have awarded £29,000 in grants. Many of the start-ups they have supported were formed by University of Gloucestershire students.

From 1 April 2023, support for early stage and start-up businesses will be part of the range of support on offer from the new Gloucester Growth Hub, who whilst also coming to the end of the EU funded period, are developing an exciting new range of services to build on the existing range of funded support. The University of Gloucestershire remains committed to supporting the business community in Gloucestershire and helping to drive growth.
Our Gloucester Growth Hub has been helping small and medium sized businesses to maximise their growth potential. Since the EU funded period started in 2017, the programme has delivered support to over 10,000 business, helped to create hundreds of new jobs, and engaged with growing SMEs across a wide variety of industry sectors acting as the single front door for business support in the county.
The Gloucester Growth Hub based in the Gloucestershire Business School at Oxstalls Campus will continue to offer a number of services. These will include events, workshops and support for business and enterprise, including student enterprise. It will also, in conjunction with the Gloucestershire Business School, offer a range of short courses developed to meet the needs of local businesses, as well as those further afield. This offer will also include the Government's Help to Grow programme.