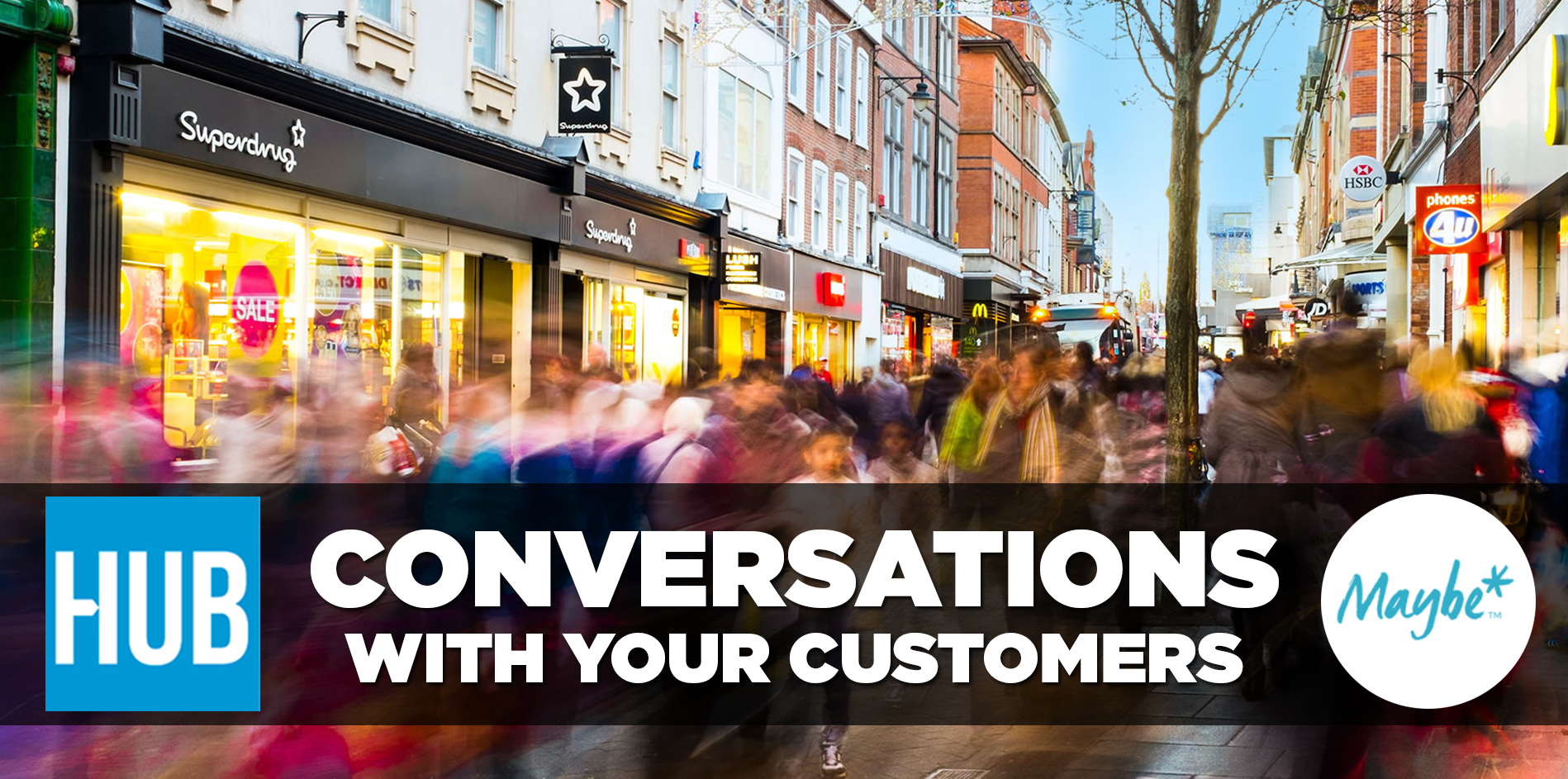 This post was written by Polly Barnfield OBE, Founder and CEO of Gloucester-based Maybe* and the #WDYT? (What do you think?) campaign. We are giving local leaders the opportunity to share their knowledge and experience, to help other ambitious enterprises grow. If you would like to contribute to the series, please email ross.jukes@thegrowthhub.biz

On using digital marketing to drive physical footfall and sales, Polly writes...
We all know that the world of retail is constantly evolving and customers are shopping in a very different way than even five years ago. How can businesses, towns and cities serve their customers holistically in the digital age and keep up with the ever-increasing demands of the consumer?
A government-endorsed campaign called #WDYT? is being delivered through the Maybe* platform and gives all UK retailers, towns and cities access to innovative tools that turn online conversations into offline sales. The voice of the customer is harnessed and turned into an asset for the business or place.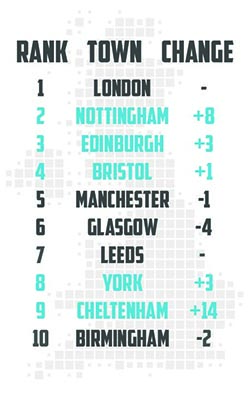 The campaign encourages and supports digital conversations with shoppers, retailers, towns, and cities, and is a proven way for places of all shapes and sizes to collaboratively increase their digital influence to drive an increase in digital skills, local footfall and sales. The platform enables retailers to increase their digital influence by sharing new products, events, and news daily on social media using the #WDYT hashtag, which amplifies their posts to thousands of shoppers. This approach has increased digital conversion rates by more than 2% and physical footfall by over 20%.
The platform measures the digital output of 150,000 physical addresses on Twitter, Facebook and Instagram taking into account audience size, message volume and engagement. This is then linked to over 1,300 towns and cities to produce a UK wide ranking. Every retailer in the UK is tracked every day enabling a robust comparison across all retailers and locations.
The ability to measure digital output by place has enabled both the impact of digital campaigns to be quantified and, importantly, has linked it with key physical data points; footfall and sales.
Participating towns and cities receive the digital ranking for each of their retailers breaking down what is driving digital influence and how to improve it. The ability to rank retailers has proven to promote action and engagement in the campaign activity and skill training.
This comes at a time when we are seeing an ever-increasing link between digital activity and physical footfall. Deloitte research shows that 37% of all on and offline retail sales are influenced by digital today and this number is projected to accelerate to over 50% by 2020. Despite this, our index reveals that up to 74% of retailers have no social media presence and around 40% do not even have a website.  
Shoppers increasingly start their journey online so it's imperative that retail destinations and businesses of all sizes become more proactive on social media. That is frequently the start of their digital journey.
Towns and retailers that engage in the #WDYT campaign have seen a rapid and significant increase in digital influence and output. This has proven to be a catalyst that encourages retailers to accelerate their digital strategy and uptake.
Gloucester is holding its position at number 12 in the index. The number of retail businesses in the city using social media has risen by 220% since early 2017 driven by the #WDYT campaign.
Cheltenham at number 9 in the index has moved up 14 places within a year. It is currently the leading town in the UK for Digital Influence and is catching up with the seven larger cities above it including Edinburgh (3rd), Bristol (4th) and Manchester (7th).
The data from the index shows that almost 600 retailers in Cheltenham are now active on social media following the town's launch of the #WDYT campaign in February last year.
A #WDYT Chatbot also helped drive interest in Cheltenham Cocktail Week last month and the city's Brewery Quarter attract more racegoers during the Cheltenham Festival in March.
In contrast, the data from the non-participating towns is clear: those places that do not engage in a #WDYT campaign, at best, will see a slower change in their core data and at worst will see an overall negative impact.
Places that do not have the skills or ability to engage their customers through digital channels will have less footfall and sales. Customers are on digital whether retailers choose to be or not and retailers need to be where their customers are.
Enabling and encouraging places and retailers to think about serving their customers in new ways is a key part of the evolution of retail destinations. Places that grow their digital influence increase their attractiveness to shoppers. Every town and city across the UK is the sum of its digital parts; it is the collaborative digital output that delivers footfall and sales. Put simply, places that grow their digital influence increase their attractiveness to shoppers. That's why the #WDYT campaign exists.
Find out more at http://www.wdyt.org.uk