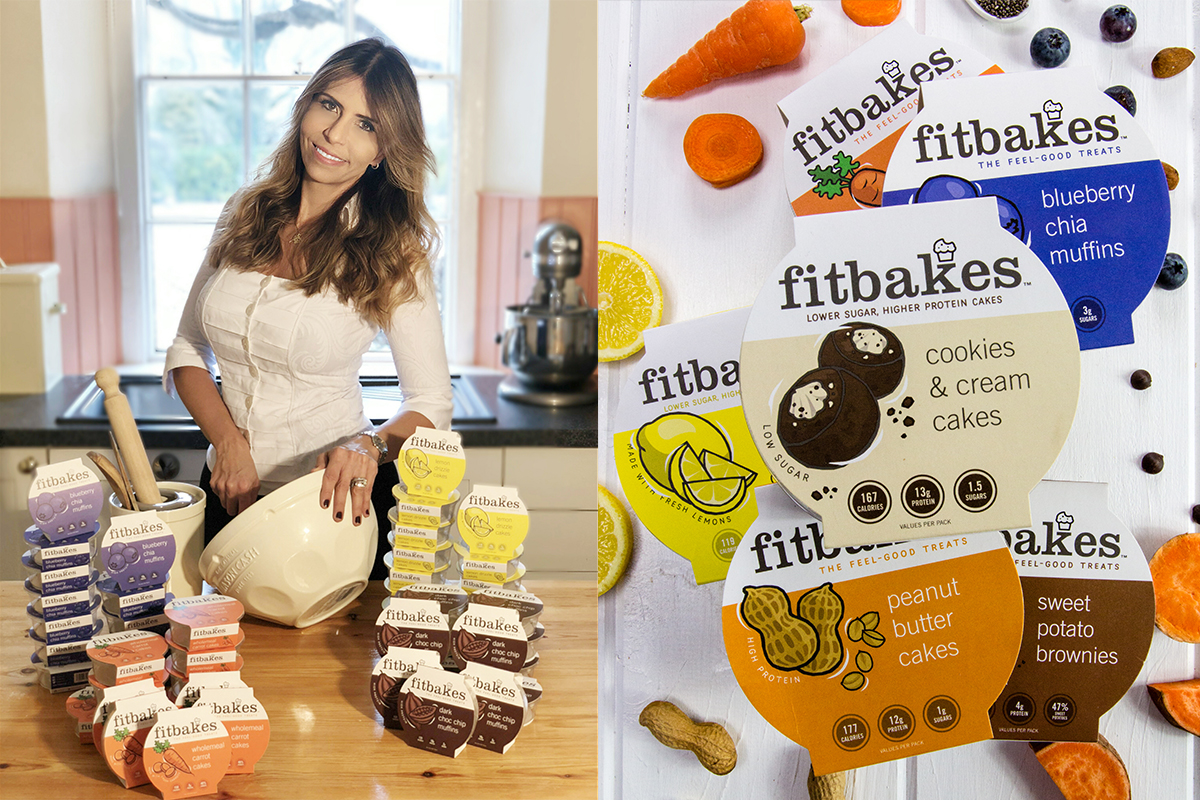 Fitbakes is a new low sugar cake range taking the market by storm. With online sales in excess of 100,000 units and products flying off the shelves in Selfridges, we talk to founder Ella Rauen-Prestes to learn how she baked her way out of a declining industry and into one of the fastest growing, but extremely competitive FMCG markets.
Where did the idea for Fitbakes first come from?
I had enjoyed a career in telecoms for a number of years, but with the rapid changes in technology and user behaviour I knew that the future for voice telecoms, my specialist area, was about to undergo significant challenges and change. If I wanted to stay in the sector I'd need to consider a move back to London which I didn't want to do. So I started thinking about my Plan B and saw it as a smart move to start looking at launching a business in parallel whilst I still had my career.
I'd always enjoyed baking and friends and family had long told me that I should go into business. But the thought didn't appeal. I was a self-confessed tech nerd. I didn't sell cakes! However, the more I looked at the opportunity and a particular niche for low sugar baking the idea started to take shape. Growing up in Brazil I was accustomed to finding natural alternatives to sugar as this is something that my family had been doing for decades. During the 80's my family had used Stevia as a natural alternative to sugar. Only now is this becoming well known in the UK food industry; heralded as the latest, greatest thing! So the healthy approach to baking was second nature to me. 
I started out small, selling batches of cakes to friends and at the gym. I then built my own website and started to sell online. The Fitbakes website launched in February 2017 and by February 2018 I had quit my job so that I could focus on Fitbakes and building the brand.



What were your biggest challenges?
It was always my intention to sell online. And when the first order came in, it nearly put a stop to the whole thing! I carefully packaged the order and took it down to the local Post Office to ship out to the customer. But an unfortunate delay by Royal Mail coupled with a limited product shelf life meant that when the product finally arrived with the customer it was  off! I was devastated and the customer was understandably furious. I offered replacement product, full refunds, complimentary products but try as I might the customer was lost. This was a sharp and steep learning curve and one that I took so personally that it almost derailed my entire business plan.
The other major challenge came at the point when I realised I needed to take on a baker. Having a stranger in the house was one thing, but also having to hand over the reins on the creation of the product was a challenging transition. I have a great team of 4 bakers now but even though I'd managed large corporate teams before, managing a team where I was so personally invested required a new approach.
Why Selfridges?
The Fitbakes products used to have a limited shelf life meaning I could not sell through distribution. I am also in the process of working towards specific certifications that I need to sell through the multiples. So, my target outlets had to be those retailers that could sell fast. And what better brand to work with than Selfridges!  
No small feat to get stocked in Selfridges! How did you achieve that?
Well I've got about 30000 people to thank for that! When you approach any retailer, you have to demonstrate how you can solve a problem for them.  Being able to show the buying team that I had already delivered more than 100,000 cakes online provided reassurance. On top of that proving that I had 30,000 social media followers, many of whom live in and around London and looking for high street outlets, told Selfridges that I could draw new footfall to their store.
And how's it going?
Funnily enough once this interview finishes I have to dive back in to the kitchen with my team as Selfridges have called this morning to say that they have sold out of a particular flavour more quickly than they thought. So it's all hands on deck to produce more product and get it back on shelves in store. It's great news really and I'm very fortunate to be in a position to be able to respond and react as quickly as they need.
Where did the Growth Hub step in?
Our original business plan was to sell online. This made sense from a cash-flow perspective as we didn't have huge cash reserves, so payment before dispatch was key. We've had great success with this now being listed with major online retailers such as Musclefood.com, but we decided to consider retail options too.
Our branding agency Hills Design, suggested we speak to The Growth Hub and connected me with Growth Hub Business Guide, Peter Brown. His vast experience in retail with an international career in the cosmetics and FMCG arena made him the perfect expert partner that we needed at the time.
I had a basic knowledge of retail but Peter's first-hand experience was invaluable. Helping us to set our 'direction for travel', Peter came with me to my first factory meeting. Having his expert voice at the meeting was so helpful, and in fact what I learned from him in the car on the way there and back has given me insights I would never have had from elsewhere.
And a word from Peter Brown, Growth Hub Business Guide…
I have really enjoyed working with Ella and the team on the Fitbakes brand. It has been a real pleasure to see her enjoying such success that is well deserved. In a challenging and competitive market, Ella has done very well in creating a workable and planned strategy; identifying new opportunities and balancing these off against the very real practicalities of starting and new business; cashflow, investment, outsourcing and maximising margins with no compromise on product quality. I have been pleased to be able to bring my experience in retail to her business and help advise and signpost her to the very best opportunities for advice and support.
What still excites you, Ella?
I still get really excited about the power of social media and, more importantly, how far it can take us.  We currently have 23,000 followers on Instagram with a total social reach of more than 30,000. And the numbers are increasing all the time.  We still sell more on line than through retail and our work on Instagram; especially with Influencers has had a huge impact on our success. We don't pay Influencers as we are looking for honest reviews; no advertising, no paid messaging – just legitimate, honest feedback. In fact, we put such faith in this approach that we have even made changes to our range based on feedback we've had from Instagram, for example taking certain flavours out of the range. The maths just makes sense too. Sending a sample to an influencer costs us £8 and the ROI that we get from that in terms of brand impact, engagement and endorsement is invaluable. It's been an unbelievably successful way of building our brand and has led to press coverage in key media and on prime time TV. 
Where next?
Our focus now is looking at outsourcing. The business is at a stage where it requires more than we can manage from the current set-up, so that's really exciting. We have secured angel investment, which has allowed us to take the next step for the business and set our sights on other channels. Notably the large multiples. We are working towards the certification that will allow us to sell in through this channel, which will be game changing for the brand. Outsourcing will also free me up to spend more time on the creative aspects of the brand; looking at recipe developments for limited edition and seasonal variations. Whatever direction we take, it's vital to me that I remain the creative heart of the Fitbakes brand. 
Finally, what advice would you give someone looking to follow their dream and start a new business?
It might sound obvious but I think it's so important to have a realistic chat with yourself about the selling part of any new business. It's great to have an idea and to be able to turn that idea into reality is an amazing opportunity. But really do your homework. Think about the practicalities. Check the market, what makes your product unique and think about how you're actually going to get it in front of potential customers! Do you like to sell? Because you are going to have to do a lot of it to get your idea off the ground. 
And more obviously, be realistic about your cash. Where is it going to come from and how long can you afford to live without any? Because you will work for a long time for free, so you really have to believe in what you are doing and let your passion and commitment carry you through the early stages of your business plan.