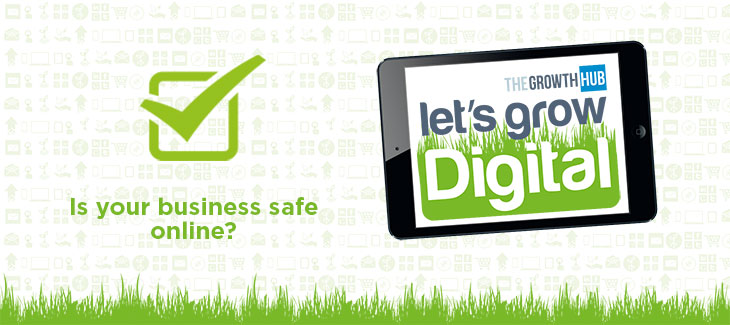 We all take care not to lose our hardware or put it in harm's way – clutching it protectively in the rush hour scuffle, wrapped lovingly in a designer laptop case or locked safely in our offices overnight. But do we pay the same attention to protecting the data on it?
In most cases we don't, and lots of small businesses don't realise the risks attached to poor cyber security.
According to the 2014 Information Security Breaches Survey, the cost of security breaches to UK business is billions of pounds a year, and has doubled since 2013.
Why update security?
The reasons to update your security are pretty straightforward – to protect sensitive information – all businesses have something of value to someone, and to keep your IT system running smoothly so there's as little disruption to productivity as possible.
Recent studies have found that a day's worth of system downtime can have a considerable effect on small businesses for many reasons.
Firstly, your reputation may suffer, and as an SME this could be really damaging. If you're an online shop, customers may go elsewhere if they can't make a purchase. Plus, the power of social media means that if your IT doesn't run smoothly, others can review and comment on your company instantly. And most importantly, productivity will be down, and so will revenue – even just a day's worth of downtime can have significant financial repercussions.
In terms of the monetary value a day's worth of downtime is estimated to cost between £1,000 and £5,000.
What are the common problems?
There are two main areas of concern for small and medium-sized businesses:
Attack from unauthorised outsiders
Infection from viruses or malicious software
45% of small businesses were victims of infection last year according to the 2014 Information Security Breaches Survey – that's a pretty big number. So being of the opinion that 'it'll never happen to me' is not a wise one.
Loss of big business
Poor security can give you bigger headaches too. If you want to work as a supplier to a large organisation, or undertake work for the government you're going to need to show that you've got the right cyber security in place. They need to see that working with you isn't go to put them at risk.
The basics
There are some pretty simple ways that you can help keep your precious IT systems safe and sound – and they don't have to cost the earth.
Password security is your first stop, as you need to make your network and router are secure. So make sure you have some sort of password policy in place – change passwords from the obvious to something more obscure and only give limited access to this password.
Update software with the latest editions and keep antivirus software updated. Now that more and more people bring their own devices to work, plug in USB sticks to office computers, or open infected emails, there's a much higher chance of exposing your IT system with viruses. If you've got the latest software, you're less likely to be affected.
The Government has an excellent site that has loads of great advice, simple steps and downloads that your business can use to keep safe online. It's definitely worth checking out if you feel you need to know more.
Help your business reach government cyber security standards
Thankfully there are now ways that you can achieve the set requirements that show you have a good set of security policies in place, thanks to the new standards set by the government and the industry.
Available either as a self-assessment or independently audited standard – the IASME standard, funded by the government's Technology Strategy Board, is a cheaper option for smaller businesses who need to show they have the right security credentials.
The Growth Hub can help you
As part of our Let's Grow Digital campaign at The Growth Hub we are offering a subsidy for SMEs that want to work towards the IASME standard. If you're interested and want to find out more then why not come and visit us at The Growth Hub or call us on 01242 715400 for a chat.