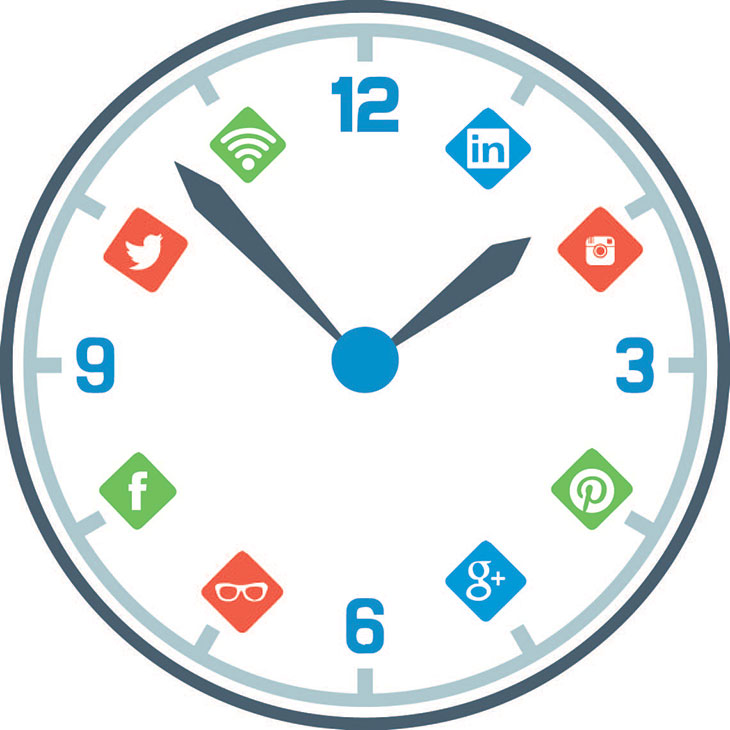 We no longer live in a 9-5 world. With technology at our fingertips, we are consumers 24/7/365.
When running a business this means that we often need to be available to provide information and answer questions 'out of hours'. Or do we?
A recent study showed that 62% of people working in social media find managing out of hours' engagement an issue. Because audiences drive social interactions according to their own schedule; and it's invariably not 9-5, Monday to Friday!
One way to manage this is to set and manage expectations.  On your website, in your social media profiles (the bio) why not make it clear what time you are available and/or highlight response times.
Royal Mail have a Twitter account dedicated to customer service. They clearly state their hours of working. I asked them how this worked for them and they responded (via Twitter): "It let's our customers know when they're likely to get a response. We don't tend to tweet outside of those hours although we can".
This is a great example of managing communications, rather than letting the 24/7/365 nature of digital channels manage you.
In practice, however, this isn't always that easy. There will be times when 'out of hours' communication is required, and times when self-discipline is hard to maintain!
Customers do expect a fast response, particularly on social media. However what I believe to be most important is managing expectations, and some response. In addition to Royal Mail, I tweeted two other organisations the same query. Organisations that, just like Royal Mail, clearly specified customer hours in their bio. Sadly they have yet failed to respond.  This is a far bigger crime!
Anyway, out of hours communication is really about being prepared. Having the tools available to help you manage the situation.  Ensure you go through the settings on each social media tool and set notifications you need to be made aware of – such as mentions and direct messages.  With a smartphone by your side you can respond to bleeps without having to be chained to a screen.
If you find your evenings are constantly interrupted with notifications it may be time to review your schedule and working hours. Building up a backlog for the next day is not such a good idea as it may be a few hours more before your customers/prospects receive the response (if they only happen to be online out of hours).
Should you outsource this out-of-hours management?
Well, only if you have sufficient budget (that represents savings over doing this in-house) and a very clear brief to enable someone outside of your company to respond on your behalf.  I would be more likely to recommend investing in some experience/knowledge to help you set up effective listening and monitoring tools than a day-to-day role of engagement.
This post was guest written by Luan Wise as part of our Let's Grow Digital programme.
Luan is an independent marketing practitioner, with 15 years experience in full service agency, client side and consultancy roles.  Luan has worked for clients of all sizes, from household names such as Hilton and University of Cambridge to the kinds of companies that are big in their field but unknown to the wider world.  Luan chairs the Chartered Institute of Marketing team for Gloucestershire and is also regional spokesperson for the Growth Voucher Programme.
If you'd like support to get your business online, or grow what you're already doing, get in touch with us on 01242 715400 or talktous@thegrowthhub.biz