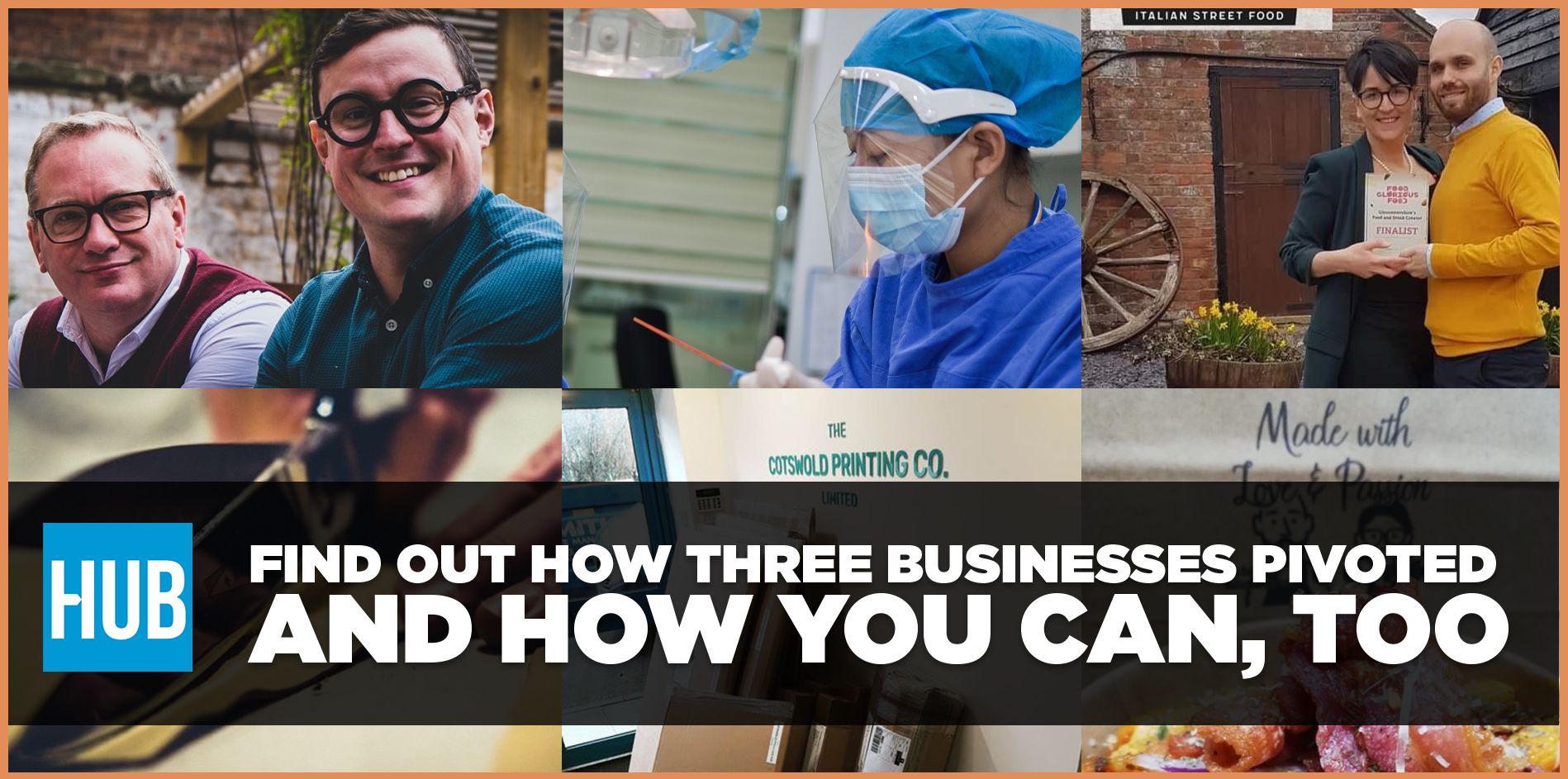 When the country was put into lockdown in March this year, many business owners were in a state of shock; not knowing when and how their businesses would be operational again and what their future looked like but for three very different businesses in Gloucestershire, this became a time of innovation and with the support of the Growth Hub, they implemented diversification and saw success they never expected.
From Printing to PPE: The Incredible Response of Cotswold Printing Company.
In 2019 Adam Soble, MD and owner of Cotswold Printing Company, was signposted to the LEADER program by Growth Hub Navigator Agi Seabright.
Through this scheme Adam applied for, and secured, funding for new equipment to expand his business. This, in conjuction, with the expert free direct business support he received from Business Guide Andy Kime, set him on a path to becoming not only a highly profitable business but also the largest supplier of face visors to the Gloucestershire Hospital Trust during the height of the COVID-19 pandemic. Here he shares how Growth Hub support allowed him to support his local community when it needed it the most. 
When the pandemic made the news and the PPE shortages started to make headlines and Adam knew that with the new equipment, they could help by cutting the material needed to make visors, so he approached Gloucester Royal Hospital and Community trust about demand, and they requested 45,000 visors. "The shortage was so bad that they asked us to supply as many as we could make."
Next, they started a community production system, with visors being cut at Cotswold Printing, then sent elsewhere for assembly and returned to Cotswold Printing for distribution. At the 15,000 mark the NHS declared they had enough PPE and ceased ordering. With the excess materials and the talk of lockdown restrictions lifting, Adam decided to create a PPE range for businesses needing to fit out their stores according to the new regulations. For this to be a success, Adam knew that he had to develop his eCommerce strategy and he quickly got this in place to be able to capture the demand.
This traditional printing business discovered an entirely new consumer market through eCommerce, with big corporations like the BBC, Ikea and UK theme parks purchasing their new COVID-19 line of products. Previously the business that did 1-2 online sales a month was reaching 100+ online sales a day. "It has made us realise that we aren't going to go back to the old business format and be that local printer. It is easier to find customers online nationally than it is locally," he commented.
Through registering with the Growth Hub, Adam was able to work with the Growth Hub team which enabled him to access the LEADER program grant to purchase the equipment needed to expand his business. The same equipment which allowed Adam to create protective products for the local healthcare organisation when it was most needed. "Andy has always been there to bounce ideas off, and I really value Andy's opinion on business. If it wasn't for the Growth Hub, we wouldn't have been able to help in a time when the world really needed it," said Adam.
From Market Stall to Retail Shelf. How Non Solo Pasta Adapted in Response to the Pandemic.
Family run business, Non Solo Pasta was approached by Yesim Nicholson, Cirencester Growth Hub Manager, and invited to Lets Graze, a monthly networking event for food and drink businesses in Cirencester at the Growth Hub. Following their attendance, Matteo Conte and Clara Cardillo signed up to get additional support from the Growth Hub and met with Navigator, Stephen Meyer who signposted Growth Hub Business Guide, Peter Brown for his background and experience in FMCG.
The couple's distribution was focused on the market stall, but after working with Peter to commercialise their product for retail they secured a top 10 spot in the Food Glorious Food competition and in January 2020 began commercial distribution to 16 Midcounties Coop food supermarkets located across the Cotswolds. Then in March, all retail demand had ceased and there was no route to market for their food brand. As parents to two small children, they had to think quickly, stopping was not an option. Clara said, "We had to diversify our service offering because our entire business model was non-operational."
They decided to use the loyal customer base from Cirencester market and offer home deliveries. At the same time, they were approached by a local community delivery service to join their platform. "This turned out to be a successful partnership. "We reached an entirely new customer demographic of younger families that we didn't serve at the markets," Clara said. The couple saw a big increase in social media activity from this new customer segment so adjusted their marketing to capitalize on all the activity by focusing on new digital campaigns.
Peter said, "The primary focus for the Growth Hub was to support the Non Solo Pasta brand to take the next step up and to commercialise their market stall business to retail production for speciality grocery stockists like the Midcounties Coop" He continued "The webinars and strategic support from the Growth Hub around brand creation, pricing strategies, communications and marketing were where we were able to add value from the Growth Hub range of workshops. " Both Clara and Matteo attended workshops and I connected them to a networking partner who is a food regulatory professional. That is what we do – we connect clients to business partners who are exactly what they need, to grow their businesses to reach their unique business goals."
"It is a very difficult time for everyone, we don't know what is happening from one month to the next. We do know that had we not been approached by the Growth Hub last year we would be in a very different position now, and for that, we are so grateful."
Clara and Matteo plan to continue to be open to all opportunities. After being able to produce larger quantities at the rented industrial kitchen, they have converted their garage and fitted out a commercial kitchen to be able to stay agile in the current situation. Home Deliveries now form a major pillar of the production, sales strategy and this diversification have allowed them to grow their business during the pandemic.
A Stitch in Time. How The Boys Who Sew Navigated the Challenges of 2020.
Curtain making duo, Ryan Whittaker and Pete Eastwood, started their business with a showroom on a Bristol high street where they built a loyal residential customer base. Due to the operational cost, they were forced to close their business. It was then that they decided to create an at-home workroom and they relaunched as The Boys Who Sew in January 2020.
They saw their residential clients return and quickly were at full capacity for product orders. Then in March, everything came to a sudden halt and all orders were cancelled or placed on hold. "Our industry stopped overnight. Along with everyone else, we were immobilised, and we were in that state of contemplation trying to understand the impact that COVID-19 was having." Pete said.
After listening to a podcast they heard Eddie Hearn say, "If you're not working in your business at 8 a.m. tomorrow, your business may as well be dead", they felt mobilised to do something different. They decided to shift their focuses to trade instead of consumer and spent a few months gathering up over 850 prospects who they pitched proactive campaigns about their workroom. During this time that they came into contact with Richard Peers, a Business Navigator at the Stroud Growth Hub. In the past, speaking to the Growth Hub would have ranked low on Pete's priority list, but after he saw the slogan, "We are here to help", he said that was enough for him to make contact knowing they needed to be open to any help if they were to survive.
Andy Kime, Business Guide, said: "Pete and Ryan had already realised that they needed a new operational model when we met, so we built on this and crafted a 3-year growth plan and some useful spreadsheets and frameworks that are tailored to their business and their business goals."
The Boys That Sew have not just survived, but thrived, by diversifying to offer a trade workroom which will continue to be at the forefront of their business growth strategy. "The support we got from the Growth Hub was immense, helping us organise our strategies into an effective way to create structured operational and business systems which helps to inform our business decisions based on probability and our business success factors," said Pete.
As diverse as these businesses are, they all have commonalities; they are dynamic in their approach and they have found value in having business mentorship through the Gloucestershire Growth Hub.
If you are a business owner and would like fully-funded business support, you can register on the Growth Hubs website to unlock a wealth of information and support from their business navigators and guides.