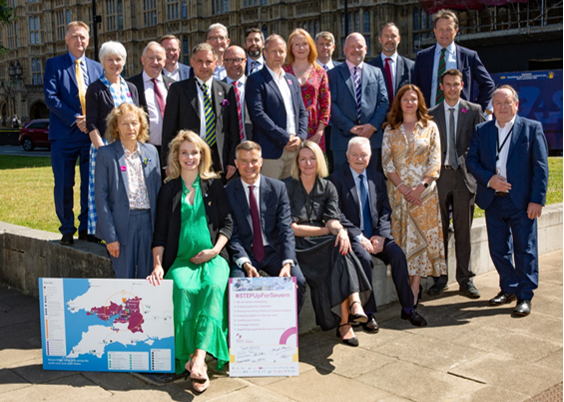 GFirst LEP is proud to support the #STEPUpForSevern campaign to make our area the home for the UK's future fusion industry. 
With over 30,000 jobs and £billions in investment on offer and the clock ticking on an imminent announcement, the need for action has never been greater. On Wednesday 15th June, MPs, local leaders and industry representatives from across South Wales and South West England gathered in Westminster to show their support for the Western Gateway's Severn Edge bid to bring UK's first prototype fusion plant to the area.

Why should Severn Edge be the winning site?
Immediate delivery

- The site at Severn Edge is ready to go with an active nuclear training college that has capacity to expand. It benefits from the skilled workforce and supply chain in the region which is currently delivering Hinkley Point C. There is also substantial local expertise in high-temperature reactors and technologies in Gloucestershire, and the area is home to leading digital engineering, cyber, robotics and advanced manufacturing expertise.

Strong cross party-political support and a highly supportive local population

- The Severn Edge team is working closely with Welsh Government and has the support of MPs from Wales and England, as well as the backing of council leaders, businesses, universities and town and parish councils – including from those communities in the closest proximity to the site.

A flagship project to unite the union

- Severn Edge would be a flagship project that unites Wales and England together on a major infrastructure project. 

Levelling up in action

- Areas of real deprivation across Forest of Dean, South Wales, Gloucestershire, South Gloucestershire, Somerset, and Cornwall will benefit from siting STEP at Severn Edge – including immediate investment through an apprenticeship programme centred in our long term educational "cold spots". 
A strategic location for UK fusion that will support the development of a great British export potential - We are geographically close to the UK's national laboratory for fusion at Culham, to the prominent Welsh steel industry; and to sustainable lithium extraction. Severn Edge is also a place where people want to live, work, visit and invest in. We have unrivalled transport links via road, rail, sea, and air.
Read more here.