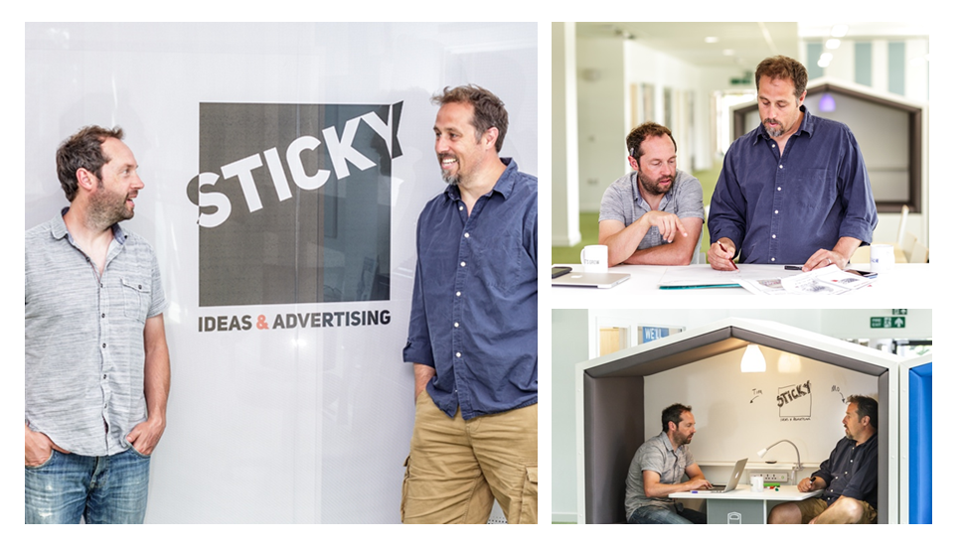 Advertising agency, Make It Sticky, leased an incubation office in the Cirencester Growth Hub after hiring their first team member. Now, a couple of years on the business has outgrown this facility and are moving into their own premises as part of their ongoing expansion plans.
Maurice Fullarton and Tim Orr, the founders of Make It Sticky met when they both worked for GWR Radio Group (now Global Radio) in the creative department after leaving university. The pair were based in different offices, working in collaboration until they were stationed at the same office where they formed a friendship beyond work.
Both of them eventually moved on from the radio station and Tim opened an agency in Wales whilst Mo was a creative director for a marketing agency in Cirencester.  After seeing huge success in his agency, Tim decided to sell his business and launch another agency and at that point, Mo joined him, and they launched the Make it Sticky Advertising Agency in 2015.
After a couple of years of operating, the duo met Yesim from the Growth Hub and she helped them with some business advice tailored to support them in the growth phase of their business. She recognised that their work premises were not conducive to running a larger scale agency and approached Mo and Tim offering office rental facilities within the Growth Hub. "The facilities were modern and a perfect space for a creative agency and it was a great fit for us. We moved in 2018 and quickly expanded our team with a dedicated designer" Maurice Fullarton said.
The following year the duo made some changes to their sales and client management strategies and frontloaded their team with another two employees to offer their clients a full and varied spectrum of services.  Mo said "with the business showing potential we have grown our foundations to have more team members to be able to super-serve our current and new accounts. We wanted to make sure we offer the best customer experience for all our clients." With the team expansion, the agency has outgrown the facilities at the Growth Hub and are now moving to new premises at Trent Lodge within the Royal Agricultural University.
When asked about the impact on their business due to being based at the Cirencester Growth Hub, Mo said that the networking opportunities were second to none. There were the more traditional business networking meetings that they had access to, but for the Make It Sticky duo, they found the opportunity to network in a more natural environment with business owners who were using the facilities for work purposes, was integral to growing their profile within the local business community.
Yesim Nicholson, Cirencester Growth Hub Manager said "Mo and Tim moved into one of our offices at the Growth Hub the day we opened our doors in July 2018, and over the last 2 ½ years they've become an integral part of the Cirencester Growth Hub community. Apart from making us laugh every day, they have also inspired us with their creativity and dedication to their clients. It's been such a pleasure to be part of their fantastic journey, and while we'll all miss "the Sticky boys", as they are affectionately referred to by the community, we're so happy about the success they're experiencing. We wish them all the very best and will continue to support them in any way we can."