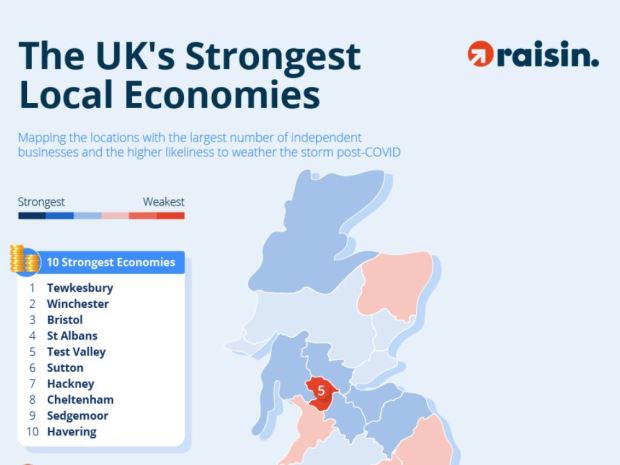 This article was written by Andrew Merrell for SoGlos. The original article can be seen here. SoGlos reaches an audience of 256,000 across its online magazine, email newsletter and social media. Smart, stylish and effortlessly user-friendly, SoGlos provides innovative advertising opportunities which are proven to deliver results, alongside quality editorial content exclusively written by journalists.
Those of us who live here will champion Gloucestershire as one of the greatest places to live and work in the UK, but it is always good to hear that endorsed.
Raisin UK, an online savings platform, has released the findings of an economic study it says reveals the strongest area in the UK for local business.
It names Gloucestershire as that place, then drills down to name Tewkesbury Borough as the place likely to recover the fastest from Covid-19 – and then name-checks Cheltenham too.
'The Gloucestershire towns came out on top with Tewkesbury taking first place as a result of 79.9 per cent being in work, whilst large businesses have also grown by 10 per cent in the town since 2015,' said a spokesman for Raisin UK.
'Furthermore, the population has grown significantly by a staggering 22 per cent, stimulating Tewkesbury's economy even further.
'Neighbouring town Cheltenham also comes in at eighth, with the five-year survival rate of new businesses for both towns 47 per cent – a positive sign for potential entrepreneurs in the area.'
David Owen, chief executive officer of GFirst LEP, said:
'The findings are extremely encouraging for the county, to have two Gloucestershire towns Tewkesbury and Cheltenham feature so highly within the ranking is some feat.

'Against a challenging back drop of uncertainty, the findings show how Gloucestershire really is becoming a magnet county for the south west region, we have a number of large-scale projects in progress at the moment that will continue to drive investment and economic growth even further forward.

'Finally, this is a testament to the excellent work being done across our Growth Hub network who support start-ups and scale-up businesses right across the county.'
Mike Dawson, Tewkesbury Borough Council's chief executive officer, said:
'I'm delighted that Tewkesbury Borough has been recognised as the UK's strongest local economy, acknowledging amongst other factors our high employment rates.

'This accolade is thanks to businesses having successfully adapted to the Covid restrictions in force, and was helped by the council's readiness to support the local economy through our in-house Growth Hub offering fully-funded business support, as well as grant opportunities and practical assistance on matters such as introducing Covid-secure measures to workplaces.

'I am confident that our local businesses will bounce back from the pandemic and will go from strength to strength.'
Those aware of the forthcoming £400 million cyber-themed Golden Valley Development (near Cheltenham, but in Tewkesbury Borough), huge development work underway courtesy of the likes of Robert Hitchins off Junction 9 of the M5, and the growing concept of the Western Powerhouse, will probably be nodding in agreement.
News that Bristol came in third, with an 8.3 per cent increase in large businesses within the past five years, with more than 175 new large businesses being started and staying successful over the five-year period – will also make sense.
The study analysed criteria including the number of large businesses, business survival rate, net growth of birth and death rates, rate of people in employment, amount of people receiving income support, average government spend per head and CPI Index.
Raisin UK describes itself as a trailblazer for open banking, with parent company, Berlin-based fintech Raisin, founded in 2012.
In Tewkesbury the Growth Hub offers fully funded support for businesses. From free online events to direct business support. You can apply for support here or email the team to find out more.