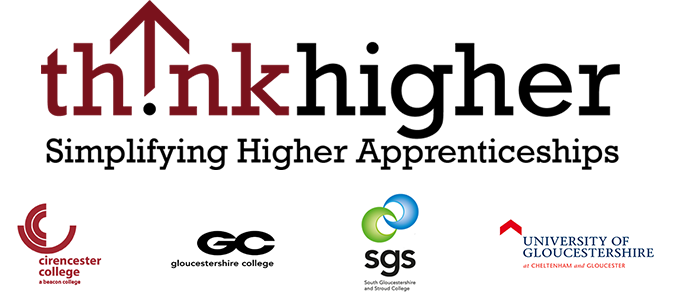 Further and higher education providers in Gloucestershire are inviting employers from across the county and south-west to 'Think Higher' on Friday 15 April, by choosing higher and degree level apprenticeships for their workforce.
Apprenticeship programmes can lead to many different levels of qualifications, and it is now possible to achieve higher education qualifications, including a full Honours degree, through an apprenticeship.  Higher and degree apprenticeships provide more choice for people looking for a higher level qualification. They are the best combination of on-the-job training and classroom learning, and also great news for employers, making businesses more competitive and more productive whilst retaining and attracting a more talented workforce.
The launch of the Think Higher Campaign at The Growth Hub in Gloucester on 15 April, is a exciting and unique collaboration between Cirencester College, Gloucestershire College, South Gloucestershire and Stroud College and the University of Gloucestershire.
As well as finding out about the latest apprenticeship offer, experts will be on hand to explain the potential impact of the Apprenticeship Levy, being introduced by the Government in 2017 for all large employers.  From next year, large employers will be able to use their apprenticeship levy funds to meet the costs of supporting their staff to take higher and degree apprenticeships.   There will also be one-to-one advice clinics on how your company could benefit from an apprentice.
Principal of SGS College Stroud, Sarah Jane Watkins explains, "The apprenticeship offer nationally is changing. The introduction of Higher and Degree level apprenticeships will provide businesses and leaners with more options when it comes to choosing a higher level qualification. SGS College is pleased to be part of the ThinkHigher collaboration, which is proactively taking steps to offer local SMEs and large employers the opportunity to further their knowledge in this area and looks forward to welcoming businesses from the region to the event on 15th April."
Stephen Marston, Vice-Chancellor of the University of Gloucestershire adds, "We're working in partnership with the colleges to ensure there are clear progression routes for learning.   We want to expand the range of higher and degree apprenticeships available, because they offer attractive training options for both students and employers, leading to valuable qualifications.  They will help people working in Gloucestershire to gain the skills and qualifications needed for county-wide economic growth and help employers to recruit the staff they need locally."
Kim Clifford, Principal of Cirencester College explains, "Gloucestershire Colleges and the University of Gloucestershire bring together excellence in education in Gloucestershire with a wealth of industry specialists who put the employer and the apprentice at the heart of learning.  All four institutions have a track record of experience and expertise of working with employers and people to maximise their potential."
Matthew Burgess, Principal of Gloucestershire College said: "We're delighted to be working in partnership with key education providers across Gloucestershire to simplify higher apprenticeships for employers. I believe that higher apprenticeships will attract the attention of both ambitious young people and current talent within Gloucestershire's workforce, as they enable individuals to study for a higher level qualification, to earn a salary, and to gain professional accreditation, whilst benefitting from a clear career pathway."
Alan Mead, Head of Learning for creative agency Bray Leino who have been employing apprentices for 4 years said "From a business point of view the apprentice scheme has been an excellent source of young talent for us. Apprentices add real value to the business while getting first-hand experience of exactly what it's like to work in a hectic agency. Working closely with Cirencester College we're able to take a very active role in defining and developing the vocational skills in them that we know they'll need to be successful."  Bray Leino, to date have employed twelve apprentices, nine of those twelve, were taken on as Higher Level Apprentices.
You can register your place at the Think Higher Launch by visiting the Think Higher website www.thinkhigherglos.co.uk.