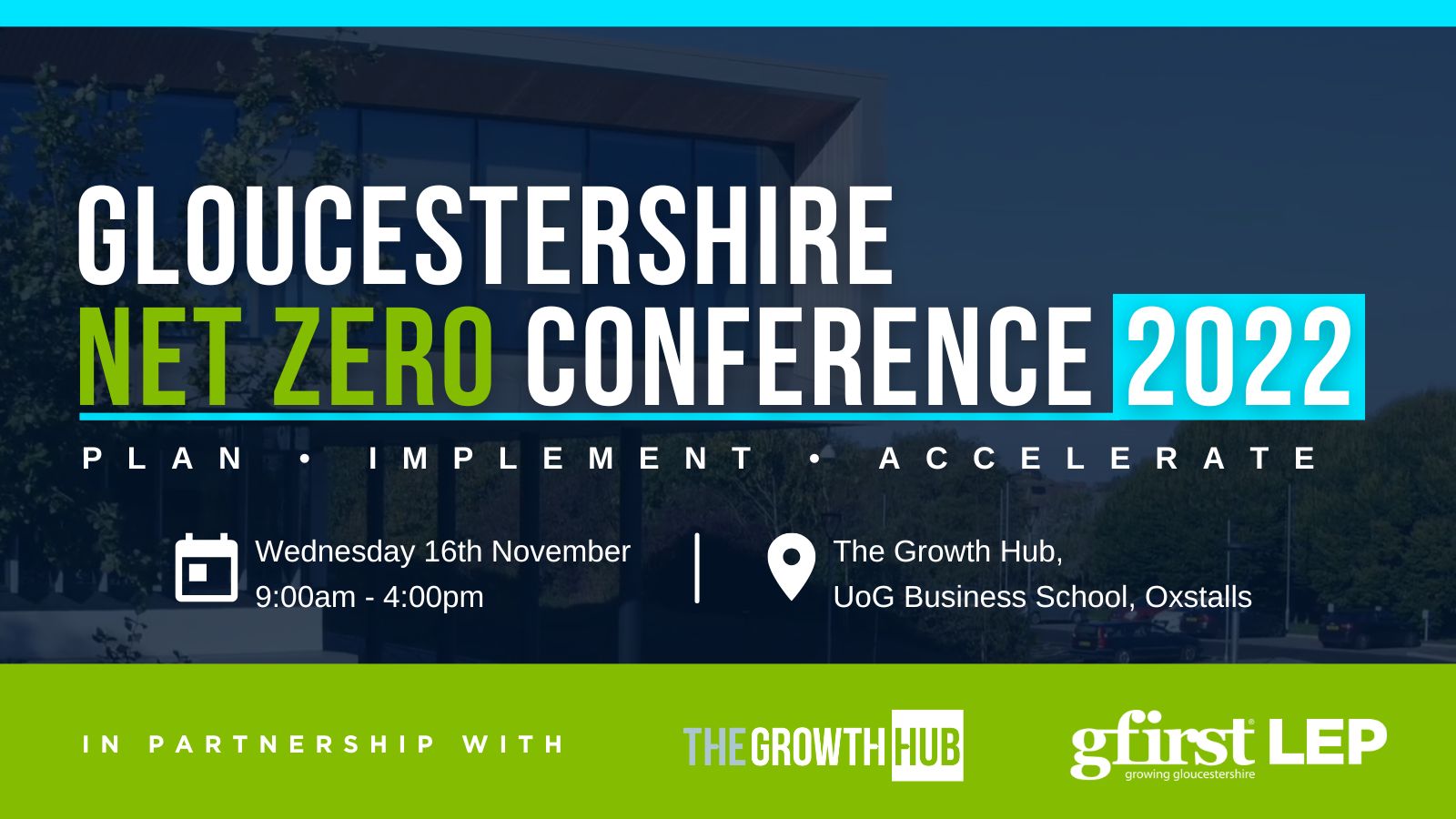 The Growth Hub and GFirst LEP are hosting a Gloucestershire Net Zero Conference aiming to inspire the business community to start their Net Zero journey. Taking place on Wednesday 16th November 2022, 9:00am to 4:00pm at The Growth Hub's Gloucester base within the University of Gloucestershire's Business School, this conference will bring together a wide array of Net Zero and Sustainability business leaders across the county. Attendees will come away having learnt how to plan their Net Zero strategy, implement green skills into their workforce, and accelerate their marketing and finance plans.
Gloucestershire has a hive of sustainable businesses, experts, help, and support available, and is aiming to be recognised as a leading example of Net Zero and Sustainability innovation. Now is the time for local businesses to get on board and help Gloucestershire lead the charge and Build Back Greener.
Ben Goodare, Head of Sustainability at Renishaw, will be the keynote speaker at the conference, demonstrating key attributes when it comes to strategising Net Zero business practises and busting myths on Net Zero implementation.
The Growth Hub is also pleased to welcome Matt Cleevely from Cleevely EV, green finance specialists from Triodos Bank, Caroline Aistrop from Green Spark Marketing and Rob Malin from When in Rome, who will all be speaking in the morning sessions. They will be joined by Andrew McKenzie, Specialist Business Guide for Net Zero at The Growth Hub who can offer fully funded support for Gloucestershire's SMEs to help them on their Net Zero journey.
Conference agenda
9:00am – Arrival, registration and refreshments

9:30am to 10:15am – Introductions and Keynote Speaker: Ben Goodare, Head of Sustainability at Renishaw
10:15am to 11:15am – Session 1: Myth busting and sharing success with Matt Cleevely from Cleevely EV and Andrew McKenzie from The Growth Hub

11:15am to 12:15pm – Session 2: Green marketing with Caroline Aistrop from Green Sparks Marketing

12:15pm – 1:15pm – Lunch break and networking plus free use of Growth Hub space for coworking

1:15pm – 2:15pm – Session 3: Green Finance and sustainable product development with specialists from Triodos bank and Rob Malin from When in Rome

2:15pm – 4:00pm – Exhibitor showcase and networking
After hearing from the specialist speakers, throughout the afternoon, there will be a generous diversity of exhibitors consisting of local businesses, demonstrating their Net Zero successes, showcasing their products and services, and steering businesses towards local help and support. Confirmed exhibitors include Cleevely EV, When in Rome, Severn Wye, Share Energy Coop and Visit Gloucestershire with more to come.
Sarah Danson, Director of Strategic Growth at GFirst LEP, expressed how important this conference is for Net Zero support within the county:
With all the pressures on our business community it must seem difficult, if not impossible, to add a commitment to Net Zero into your future business plans. But, businesses don't need to feel they have to achieve Net Zero tomorrow, they just have to make a start and that's where we can help. With increasing pressure from customers, employees and supply chains for businesses to be climate positive, we would encourage any business to come along and find out more. In particular, to hear from and speak to the businesses already on their decarbonisation journeys, the positive impact is having on their organisations at all levels and to be inspired by their ambition and achievements.
This event is free to attend, but spaces are limited so don't delay in securing your place. Places can be booked through Eventbrite and if you have any questions you can contact the team at: netzero@thegrowthhub.biz.