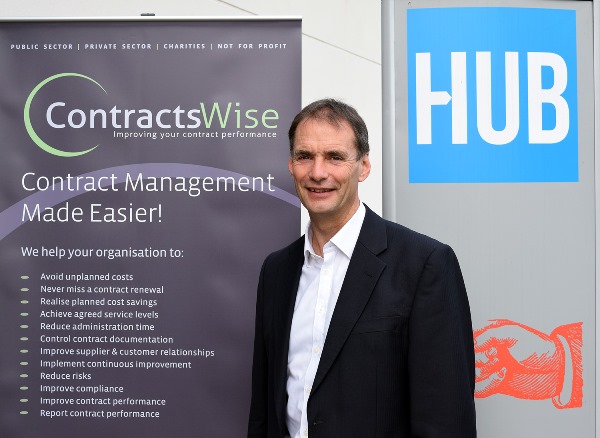 The Growth Hub incubates a small number of growing businesses at facilities around Gloucestershire, giving them heightened access to mentoring and business support. One of these, ContractsWise Ltd, narrowly missed out on the top spot at IACCM's recent Americas Conference in San Diego.
The International Association for Contract and Commercial Management considered ContractsWise founder Noel Green for the Personal Initiative category of their 2016 Innovation Awards, as an individual "who has shown outstanding leadership or endeavour in delivering value and raising the profile of contract and commercial management." Finishing as runner-up in a membership organisation that boasts 40,000 members and half of the world's Fortune Global 500 companies, ContractsWise is making great use of The Growth Hub's incubation programme to punch well above its weight.
ContractsWise Ltd
In 2012, Noel Green recognised a market need to improve the commercial support available for contract managers and inexperienced contract management professionals.
Utilising his experience of the industry, Noel set out to design, produce and launch a suite of simple-to-use contract management software that was affordable for organisations of any shape or size. As an innovative first for the market, version 1 of the ECMS (Effective Contract Management System) was launched in December 2013, supported by expertise and funding from the University of Gloucestershire and the Innovation Voucher scheme.
After a successful launch, Noel responded to feedback from customers and developed a second product; ECAS (The Effective Contract Administration System). Offering a more simplistic version, this provided scalable contract administration functions without the performance and risk management, but with an easy upgrade path to the full functionality of ECMS.
IACCM Innovation Awards
At the awards, Noel competed alongside companies including Shell, Telefonica and Nationwide Building Society. As well as having placed as runner-up in this prestigious competition, Noel and ContractsWise have also enjoyed success in having their software adopted by the Chartered Institute of Procurement and Supply. ContractsWise is also certified to the international data security standard ISO27001 and was successful in being a awarded a place on the Crown Commercial Services G-Cloud framework. Noel comments;
"Missing out on first place is disappointing, but coming in second is a huge plus for a business of our size. Being based at The Growth Hub gives us superb opportunities that we might otherwise not have discovered, whether they be making business development contacts or getting involved with the programmes that The Growth Hub and the University of Gloucestershire organise to help growing businesses. As well as having access to fantastic mentorship and expertise, we have benefited from networking events and collaborative working; that being based in The Growth Hub naturally promotes."