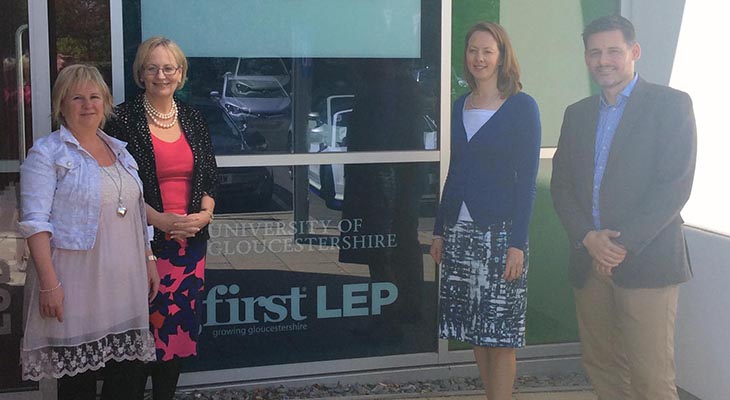 Julie Girling MEP visited The Growth Hub recently, to learn more about the unique partnership between GFirst LEP and the University of Gloucestershire, and its involvement in Europe.
Julie was welcomed to The Growth Hub by Laura Crabb, Director of Business, and David Owen, Chief Executive of GFirst LEP. After a short tour, they were joined in a round-table discussion by Dr. Diane Savory OBE, Chair of GFirst LEP; to look at the first twelve months of The Growth Hub and its plans for the future. The group discussed the challenges and opportunities of European funding, in particular the EU Structural and Investment Fund, along with the benefits that Gloucestershire businesses can gain from Europe.
As an MEP, Julie is responsible for representing the South West and Gibraltar in European Parliament, particularly focusing on the growth of micro-business and SMEs in the region. Julie is also a member of a number of committees, including Environment, Public Health and Food Safety, Agriculture, FEMM and ASEAN Delegation.
Laura Crabb, Director of Business for The Growth Hub, commented:
"It was great to welcome our European representative to The Growth Hub. It was a chance to showcase the work that we're doing with local business, to Julie who is directly concerned with business growth in the South West."
David Owen, Chief Executive of GFirst LEP, commented:
"Being able to discuss the European landscape with Julie is always invaluable to us. It represents a strong connection for GFirst LEP and The Growth Hub, both of which are becoming more involved with Europe and European funding."
After being shown around The Growth Hub space at the University of Gloucestershire, Julie commented:
"I was very impressed with the facilities at The Growth Hub and left feeling confident that Gloucestershire business was in good hands. It's important that we work hard to support local business growth and this partnership between the University of Gloucestershire and GFirst LEP is doing exactly that."